Backfill #8 – Part 2: Sunday, August 14th Afternoon


San Francisco: Hanging with the eCrowd
Before I had could take my helmet off I was surrounded by a group of kindred efolks – numbering close to 20 by rough count and instantly plunged into a Q&A before I could really compose myself after 7 arduous hours on the bike. And I mean this as an apology if people were put out by my desire to get to the heart of the matter and figure out what the actual plan for the day was: Are we going to
San Rafael
or not? If so – I must recharge
now
. Are we going to ride around in the city? If so – I must recharge
now
. Within 10 minutes this was sorted and I quickly my bike up for charging thanks to the great willingness of the locals to assist.
(San Rafael was bagged and instead we stayed to ride around the City by the Bay.)
The Q&A continued nonstop – filming, picture-taking, more questions while I am changing my shirt or repacking. It was a little awkward…
I would have been happy to have 5 minutes to myself; splash water on my face – that sort of thing, though there wasn't much letup to the attention and – it is with great hope that I did not offend anyone. I can relate and understand that people had to leave; my fault for arriving late. For the most part – I am a very structured and organized individual; I like process and formality to my functions owing to many years of organizing public events and giving presentations. My personal habit is to drive when in the vacuum of leadership, however – I am a guest and this is your town, and I am most pleased to be here and meet with each of you personally and professionally!
After about 30 minutes of charging we packed it up; I managed to pick up 0.8 volts that raised me to 56.2V. A solid core of 7-10 ebikers remained, each of them riding their own unique creations and formats, from the fast recumbent, to outriggers, and hub motors galore – such as myself. Together we blasted around the
Presidio
. No real plan existed; just cruise around the hill. At some point though we took a short break in a wooded section and the guys took turns testing
Green Machine's
incredibly speedy recumbent. This meeting however was broken up by some park maintenance joe in a white truck who seemed to take
a serious glare
at me as he motored by; I just waved and smiled… Then a joke popped into my pointy lil' head:
"Hey - what do you call 3 guys in a CalTrans truck parked on the side of the road?"
Generally: "Hmmm, I dunno. What?"
"Sleeping!"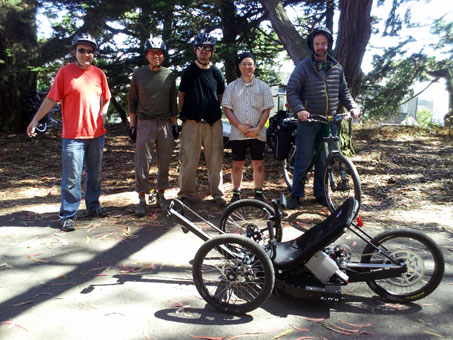 EDITED: The Electric Amigos! L to R:
Stingray17
(Ivan) from Berkeley CA,
Snowranger
(Kelvin),
Chroot
(Trevor),
KF
(Alan). and
Green Machine
(Eric). (Edward)
Lyen
took the picture
With that great laugh we blasted on through the City maneuvering our way towards
Golden Gate Park
. It was great to cut loose like that – but there is one artifact about
San Francisco
that I was completely unaware of, unprepared for, and downright surprized: The general lack of respect for traffic law by cyclists.
Evidently cyclists just plain flaunt the Law when it comes to stop signs, signal lights, lane monopoly, cutting in and out of traffic… I mean literally –
no control
. This explains the strangeness of my experiences as I entered the metro area; I'd stop and allow the person to the right to proceed – and yet most just waved me through anyway. It really begs a larger question, and I know that the guys in the group probably do not share my sane desire for respect of traffic laws.
It is after all

a personal choice

that I made to put taillights, stop lights, turn indicators, and red-flashing blinkies on my electric bike, the one that weighs 300 lbs. when fully loaded before I get on and able to travel faster than a moped. For myself – I have this survival gene that kicks in and says: "You know - it would be very wise to let the driver behind me know when I am braking so he doesn't cruise right up my arse and flatten me, especially those logging trucks hauling 80 tons of lumber."

But that's just me.

The fact is – I am an advocate of public safety for drivers of all sorts. I want them to know when I am going left or right, especially when I can't lift my hands to signal as I am heading down a steep stretch which requires my utmost serious attention. It is the same reason why I have both left and right mirrors: To see what is behind me, to find an exit route should an unexpected event unfold before me. I look forward to breathing each breath, to rising each day and having a fresh cup of coffee, reading the news, being able to use my hands and my feet, to use tools, to type, to see and hear and smell, and to be able to think cognitively and with reason, without handicap from injury. I cannot afford to be careless; I am self-employed and I must take care of myself and be safe – and encourage others to be safe as well.

This is my opinion.

I understand that cyclists can flaunt the traffic laws in San Francisco; I just don't accept it of myself. My $0.02
As a group we entered Golden Gate Park (GGP) which was sealed off to road traffic during some 3-day festival. It was perhaps too much disunion for my tastes as there were knots of people milling around, lots of police on foot and on horses, perhaps not a great place for a bunch of electric-augmented cycling enthusiasts. And – I was quite hungry. After a bit of squirreling around we finally made our way to the
Park Chalet
at Great Hwy & JFK Drive beside GGP; the guys ordered up pitchers and food and we ate and celebrated our day together!
Here I could finally speak frankly and privately about technical issues with Edward Lyen about my machine; Edward is full of insight and knowledge, and I am glad he is my friend.
After describing the traits of the rear hub as it was cutting out, he suggested wisely that perhaps I should manage my throttle more effectively; in essence ~ go easy when under load because it's the signal voltage of one controller driving two and there could be more going on with the system as a whole. A novel approach; I shall try it!
Afterwards we motored a bit more through the park, but then eventually parted ways. My evening was hosted at
Green Machine's
pad not far from
Seal Rock Inn
and
The Cliff House
. There we set my bike up for recharge, with the voltage now down to 55.4 – this would take all night.
Zzz,
KF