Yet another Addendum:
New Tire Link:
http://www.conti-online.com
Continental Tires
Expanding Search to Motorcycle Rims:
As an
alternative
, decided to open myself up to more options as I began to have some serious concerns about having enough choice between rims and tires. The gating factors being:
Diameter
,
Width
,
Aspect Ratio
,
Hole Count
,
Product Type/Usage
,
Quality of Workmanship
,
Reputation
,
Price
, and
Availability
. Failure to meet criteria of any one of these attributes could sink a potential match. Here are some
motorcycle
rim manufacturers/suppliers that I reviewed:
http://www.mooseracing.com
Moose Racing Rims (this official site is lame, so Google a supplier)
http://www.rkexcelamerica.com/mx_excel_rims.html
Excel Rims (so is this one; other retailers do a better job)
http://www.prowheelracing.com/products/mx/rims
Pro Wheel Racing Rims
http://www.buchananspokes.net/categorie ... l_rims.asp
Buchanan's Rims; supplier of several types - including
bare
,
unpunched rims
for custom orders. Spendy!
Suppliers:
There are a lot of sites out there to help us find the proper tires and rims. The problem that I had with many of them is that they want us to provide the
make
,
model
, and
year
of the
motorcycle/scooter
before offering a selection which in my mind is ass-backwards if I already know the diameter, width, hole-count, etc. Google, TheFind, Amazon, eBay, and their ilk were of limited value, and often frustrating as a utility when attempting to craft a proper search string. One gem though stood out…
http://www.tyres-pneus-online.co.uk
Pneus-Online
finds the tyres we need in the UK! This gets the
Most-Useful Website
award: Big time saver, a great tool for comparison, with up to date reports, and best price listing. I found this site at like 9PM last night and I am still on it this morning. ***
Picking a Favorite:
I have decided upon the
Continental Conti-Go! 2.75-18 M/C 48P TT
(70-457) tyre mounted on an
Excel Takasago 18x1.85
(457-47)
36h Rim
. I will leave the front and rear to be the same since I am crafting a 2WD bike.
I cannot begin to explain the challenge here in attempting to match a tyre and rim – it was a struggle until I found the very last link
Pneus-Online
***.
However by then I had pretty much figured out the math and formulas for converting the sizes on the fly and I was in the final stages of sorting out the suppliers.
Why Continental:
I have close to 9 months experience running the
Continental Contact Reflex
both F and R on my current e-build; they are adequate and give me little trouble. That ended up weighing in during in the process of removing
unknowns
from the calculus.
There are some great manufacturers out there
, but most of what they offer is difficult to source, and if it is found – pray it doesn't cost your next-born child. The
Continental Conti-Go
appears to be a decent modern all-weather road tire, though I will need to pick something else for snow or off-road.
Continental Conti-Go! New City tyre for light motor bikes.
Why the 18" Wheel Size:
The Excel 18"/457mm rim when combined with the 2.75"/70mm wide tire (and similar aspect ratio) should not exceed a total diameter of 24"/610mm - thus meeting the criteria to drop the overall bike height by at least an inch/25mm. Presently I have the Mavic EX 729 Disc Rim with the Hookworms pegged for install - effectively setting the wheel diameter to 27.5"/700mm and exacerbating the already tall-for-a-medium-sized frame (it's a Felt-Compulsion 1). Then I added Marzocchi 888 RC3 EVO DH forks which will raise the height even more.
As for why I picked 18" over 17" or 16", I just thought that it might look a little odd if the tires were too small. The other problem is that the rear suspension framework is too narrow to load a 3"-wide tire; even if the diameter was smaller there's just not enough room. Once I gave up on the 3"-wide tire idea another struggle ensued to find any tire narrow-enough to fit.
The last factor was based on selection and availability: There simply is not enough choice, and that can be easily proven by using the
Pneus-Online
*** website. U.S Domestic supplies are limited: I had to go look across the pond to Europe before I finally found the tyre.
The 1.85"/70mm-wide x 18"/457mm diameter Excel motorcross competition rim, being machined from lightweight 7-series aluminum, is stronger than any bicycle rim, and as a 22" equivalent-bike size - it falls neatly between the 20" and 24" inch gap. Trivia: This size also called an
ISO457mm
standard, 22x2.125, and 22x1.75, …and
impossible
to reliably find in bike-size.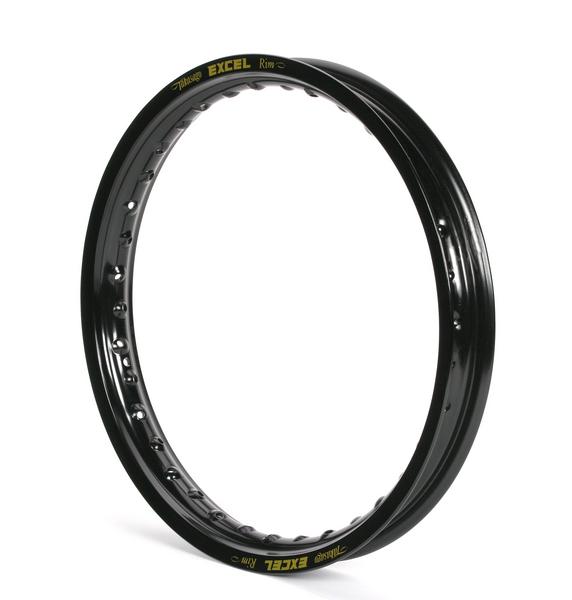 Excel Takasago Signature Series Rims, available in several colors.
Caveats:
There is lots of poop about the Excel rims needing their own spoke kits; another work item.
Need to source a tube and rim-liner as well.
Then figure out how to get the tires balanced.
No doubt it will be a burly-strong setup though when complete!
<pause to graze, looking for something to nibble on…>
Conclusions:
Q:
Rhetorically, can we find and mount a 16"/406mm motorbike/scooter tire onto a 20" BMX wheel?
A:
Yes
, certainly. For example, mounting the Continental Conti-Go!
2.75-16
on say a
Bombshell BMX Revolution Pro 1.75" Rim
would create a wheel that drops a standard Mtb frame by more than 2 inches; a viable solution – it's lighter, less expensive, more bike-like, and exceedingly meets the criteria.
My choices however are constrained by many factors, beginning with the narrowness of the frame. Picking a slightly larger rim expands the selection, raises the load characteristics and the top speed, and I end up getting a more durable pairing.
In the end, I guess one could say
"if you look hard enough, you will likely find what you're seeking"
…or maybe it will find you.
Trouble
always finds me; no need to look that.
Thoughts?
KF