I just want to say thank you for all the knowledge I've gathered for the past year. It has helped me get to where I am and to build my bike to my requirements.
The bike is a simple cheap wally world bike called genesis V2100 with front disc brakes and rear v brakes. Since this is my first build I wanted to keep it simple and cheap so I didn't change any components.
Picture of the bike as it shipped ($150 shipped from the walmart online store)
And assembled with a topeak rear rack and bag
Now since I live in Florida I don't really need crazy torque or voltage for now, a simple 36V DD kit is everything I need. I ordered my kit from campsolutions (AOTEMA motor) for 220$. I had to do some truing to the wheel but other than that the kit is really simple to install. It comes with a 18 amp sensorless controller that gets you to 22 mph throttle and cables. Since the wheel I got was silver I took the liberty of painting it black to match my front one.
Some pics of the progress
Aotema DD motor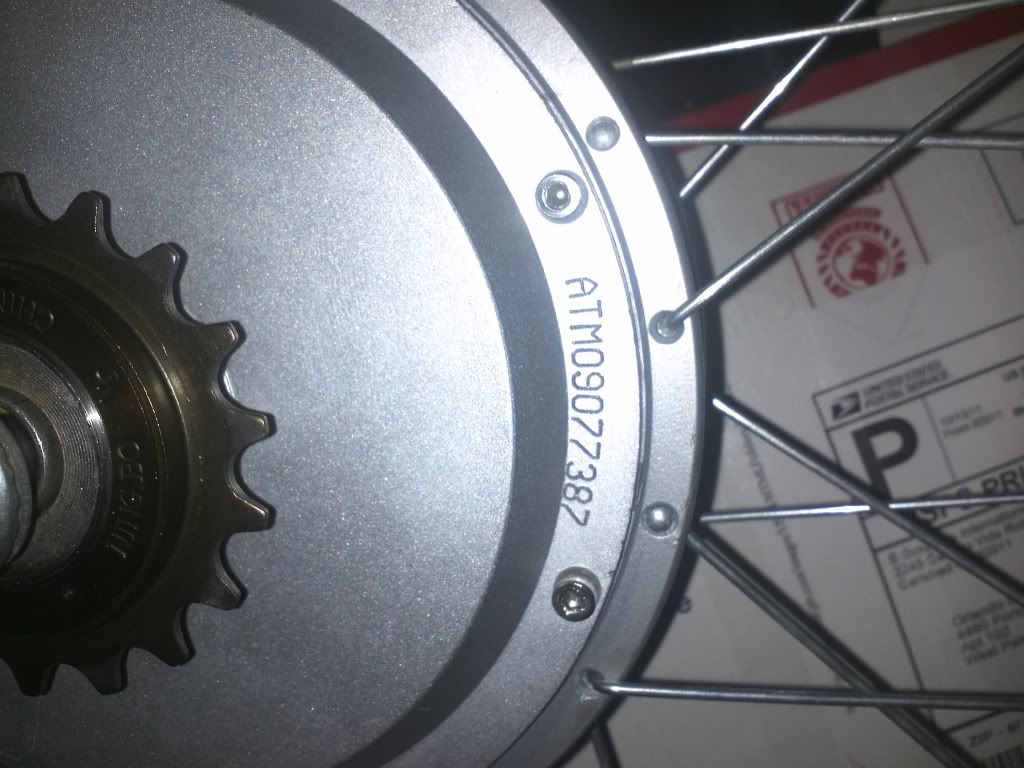 Disassembled bike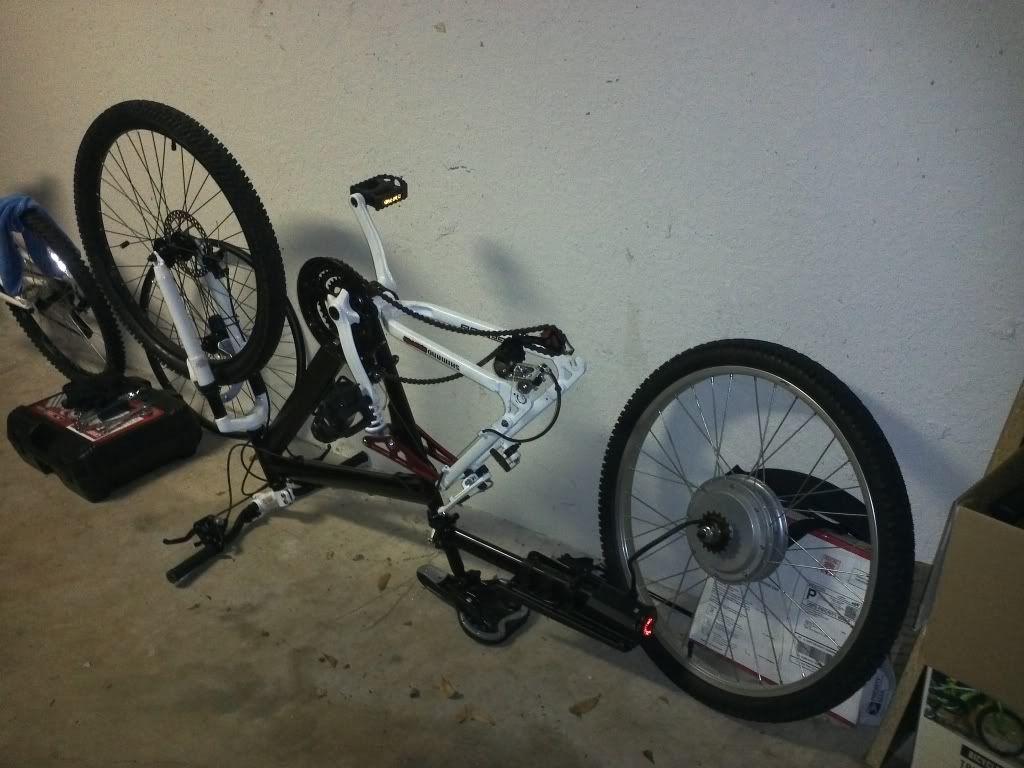 PAinting the wheel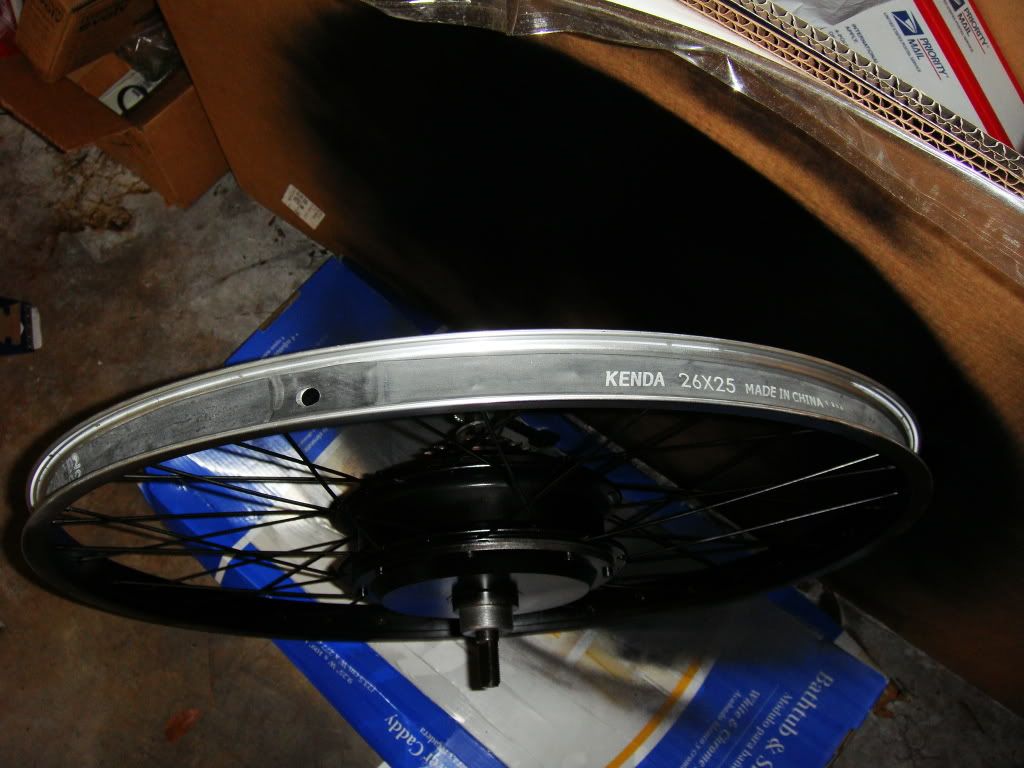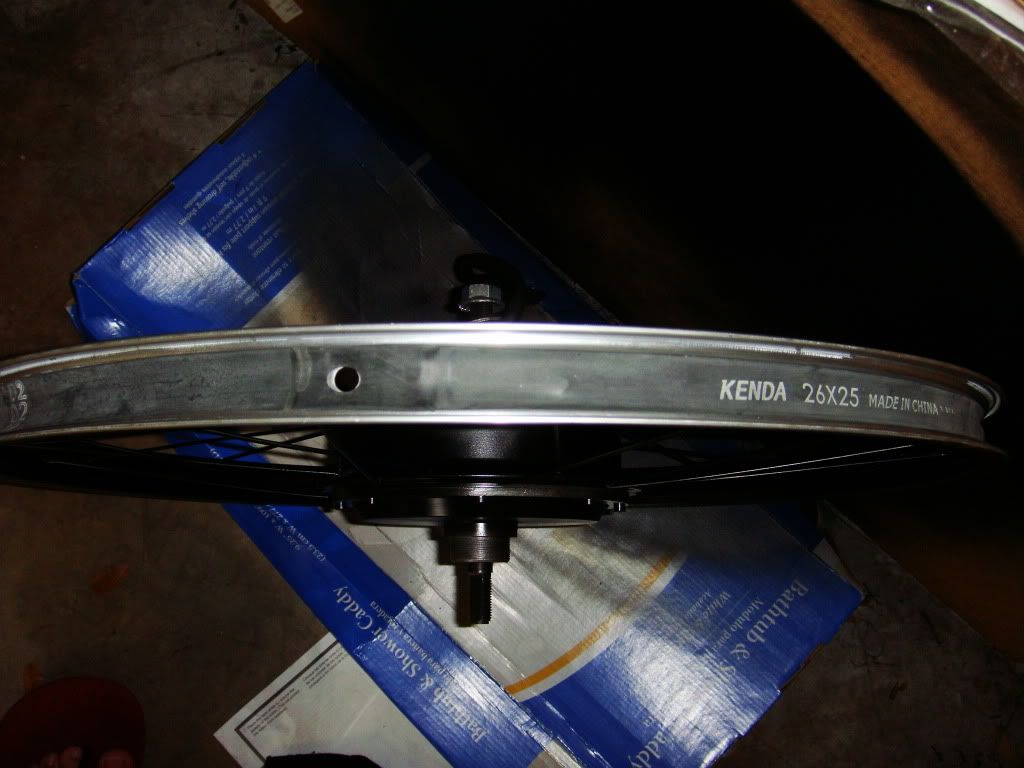 And bike semi-assembled with rear hub and controller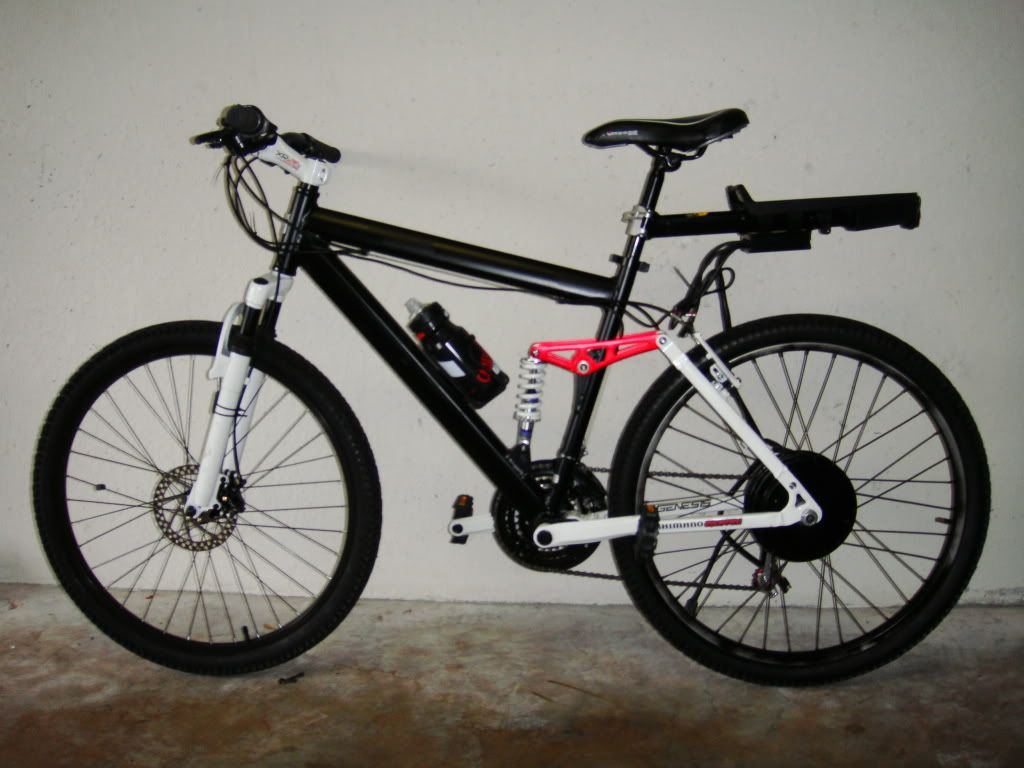 So after all that it was time for batteries, I went the simple way of adding a small pack inside the triangle by using recycled laptop 18650 batteries inspired by this thread
http://endless-sphere.com/forums/viewtopic.php?f=3&t=26383
The batteries I selected are samsung pink cells which have 2.6Ah capacity. The laptop battery packs I got were in a really good condition so after I assembled my pack (10S6P) the capacity test was more than 14 Ah to 3.5V when the first cell reached LVC. I selected cells by an extensive and exhausting cell testing process. Got 5S balance connectors and andersons off ebay. Anyway here are some pictures of the battery pack
6P bricks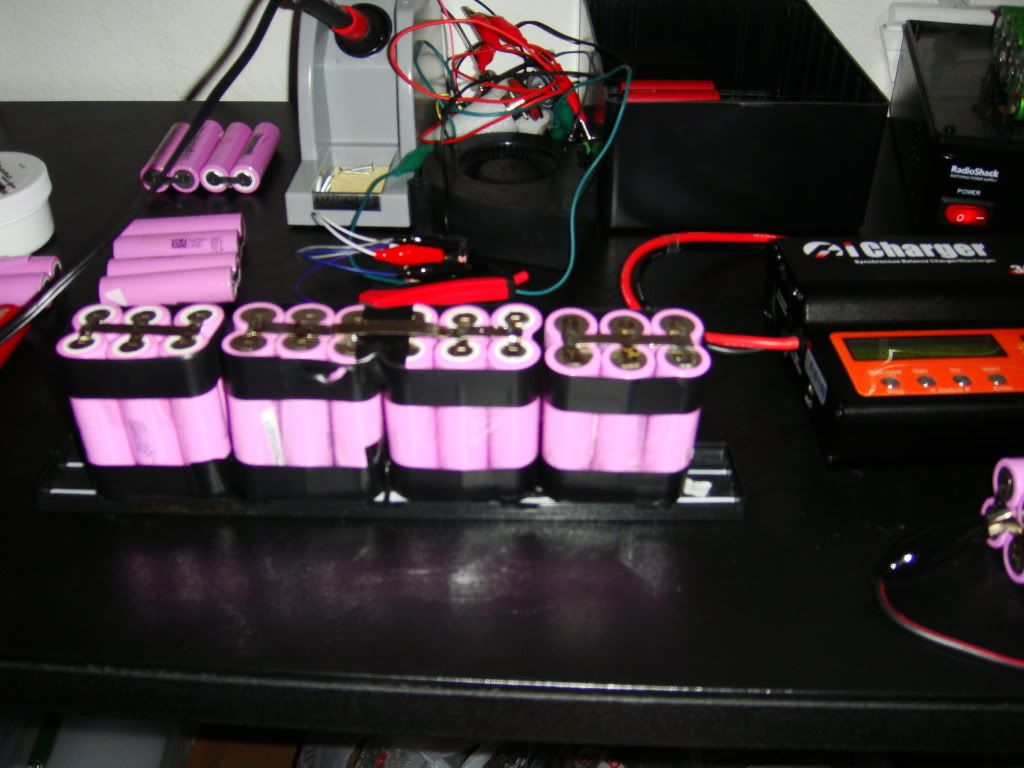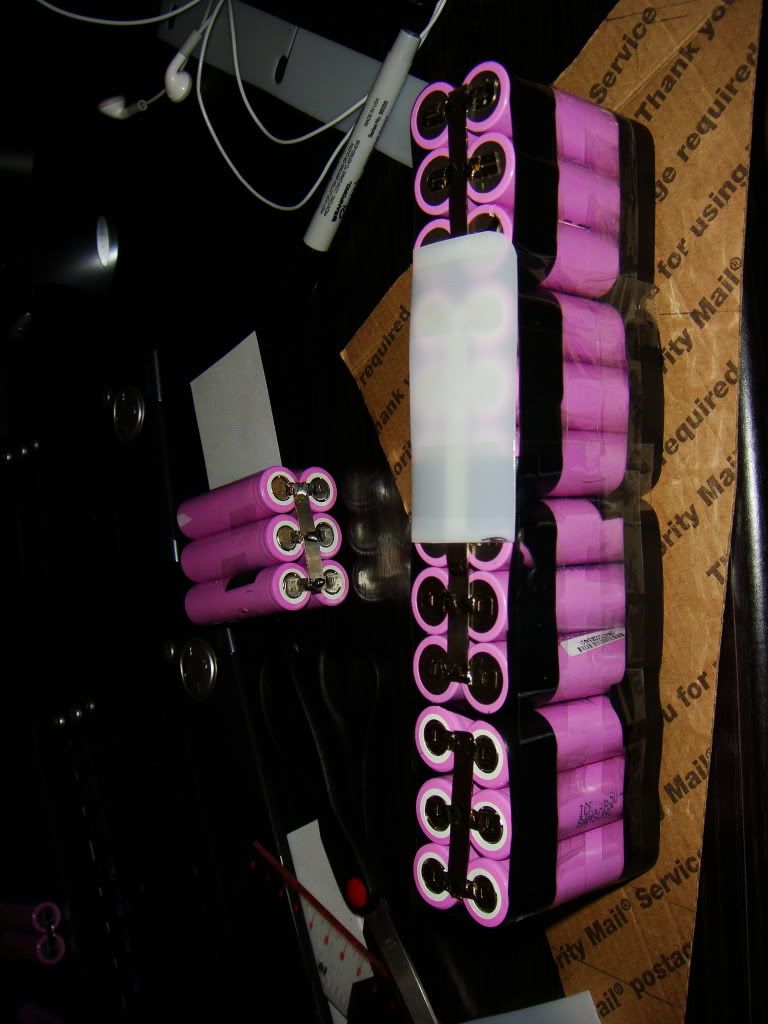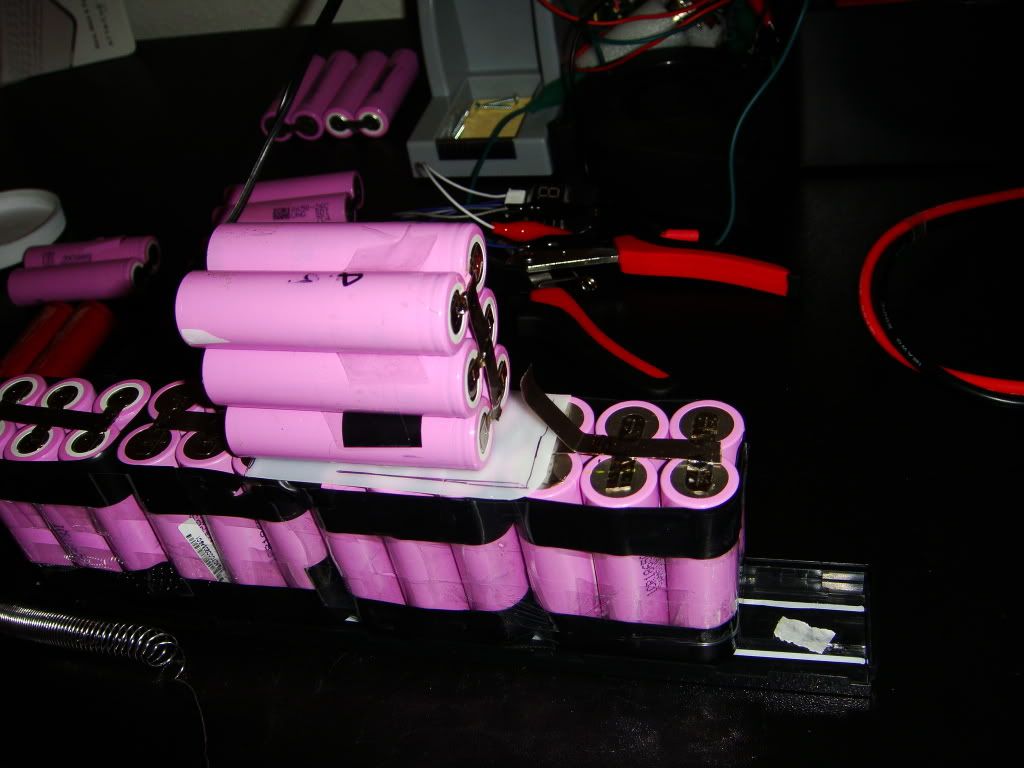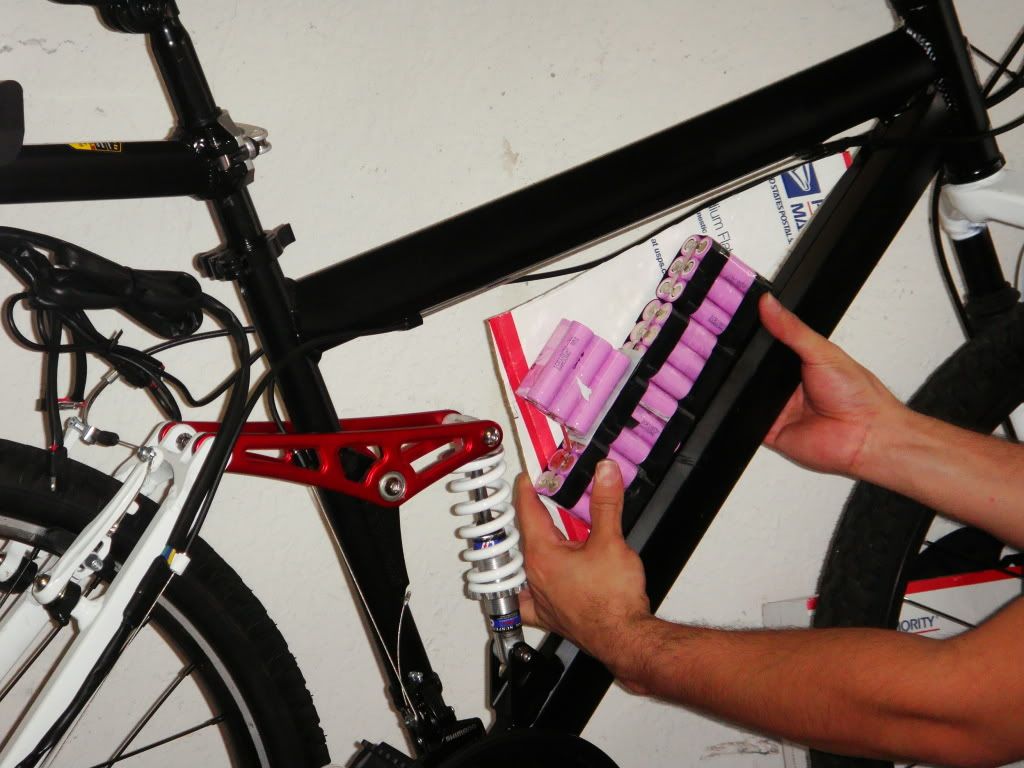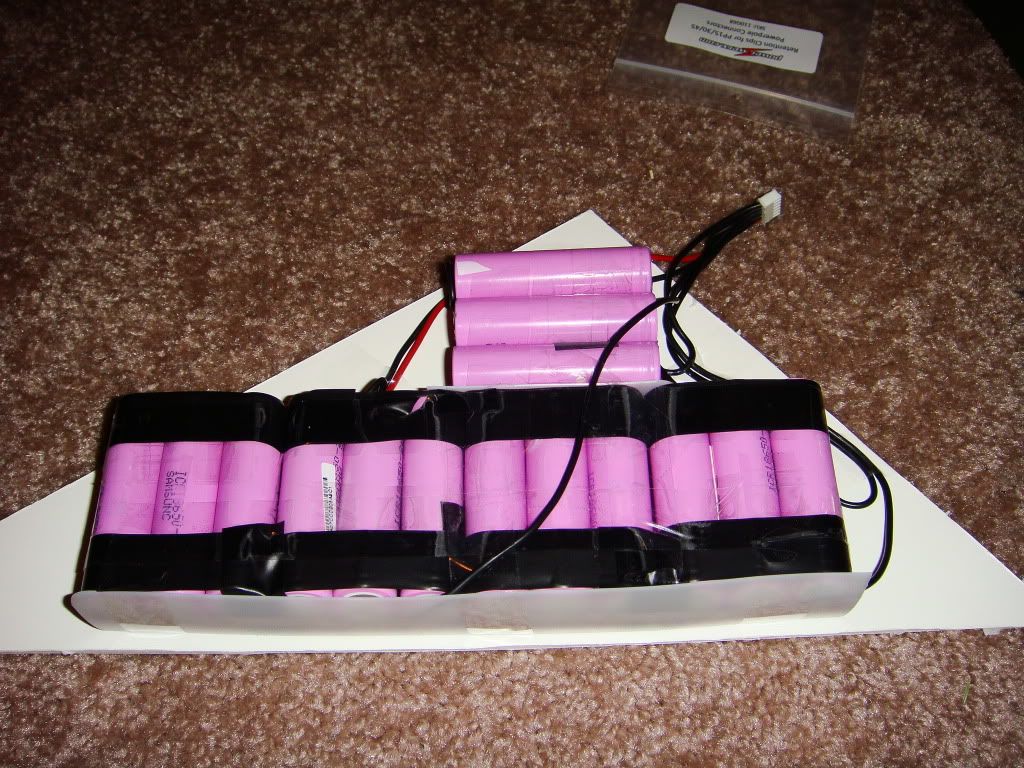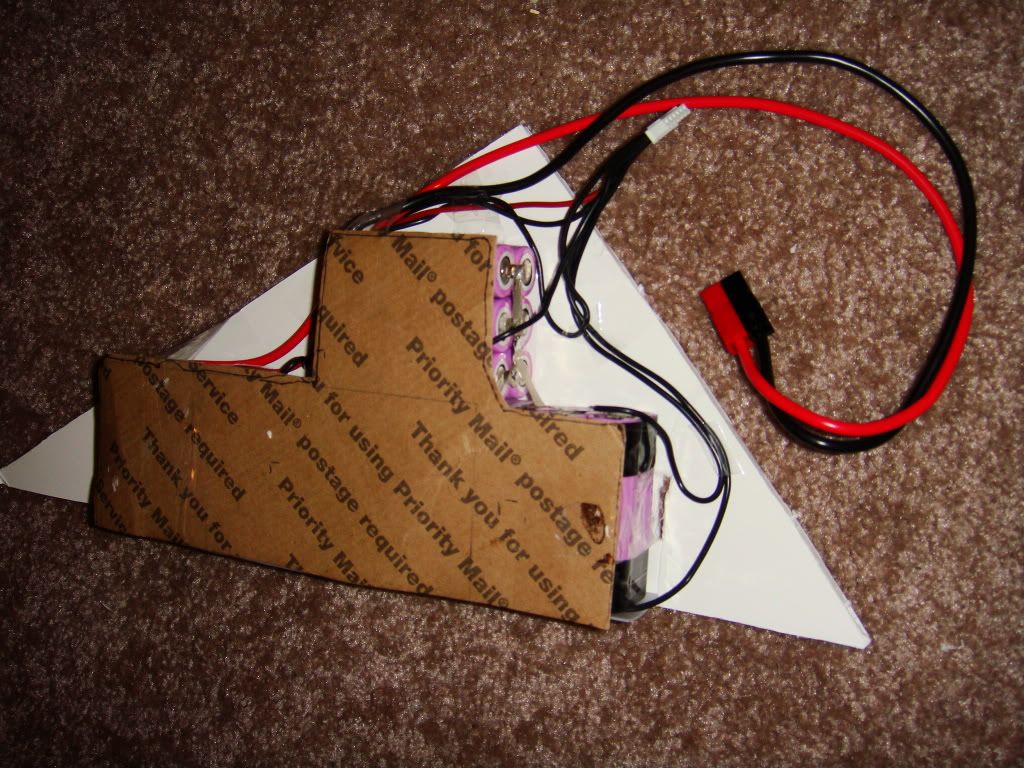 And of course I followed the tradition of using gorilla tape to tie the battery to the triangle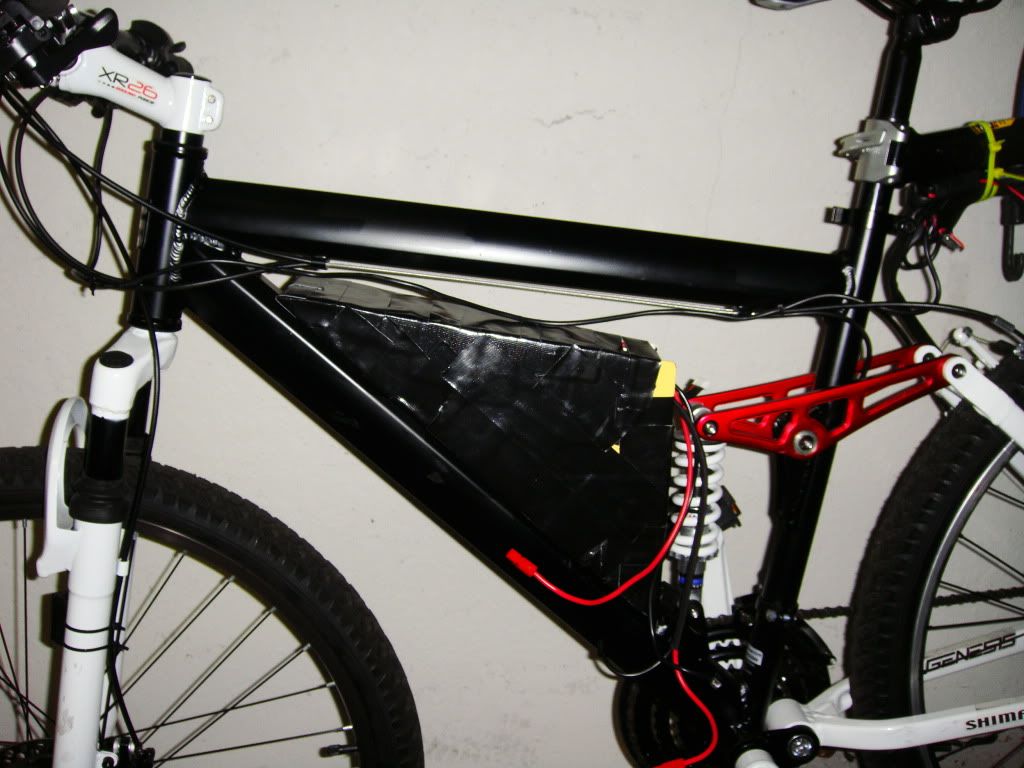 And the "almost" done ebike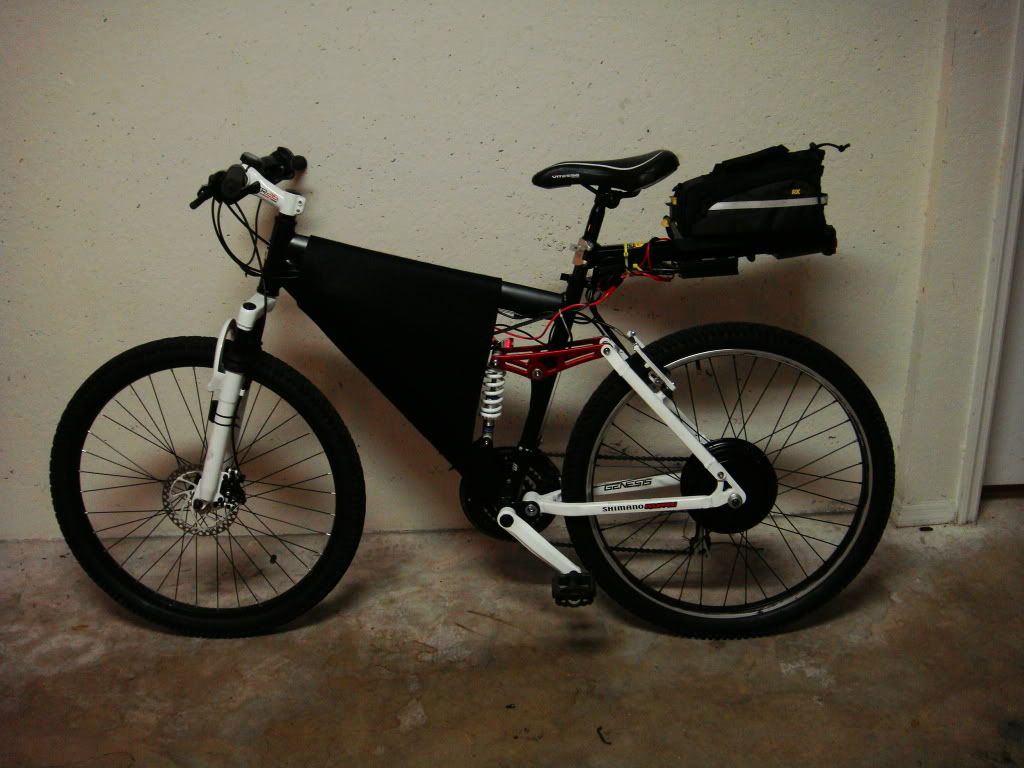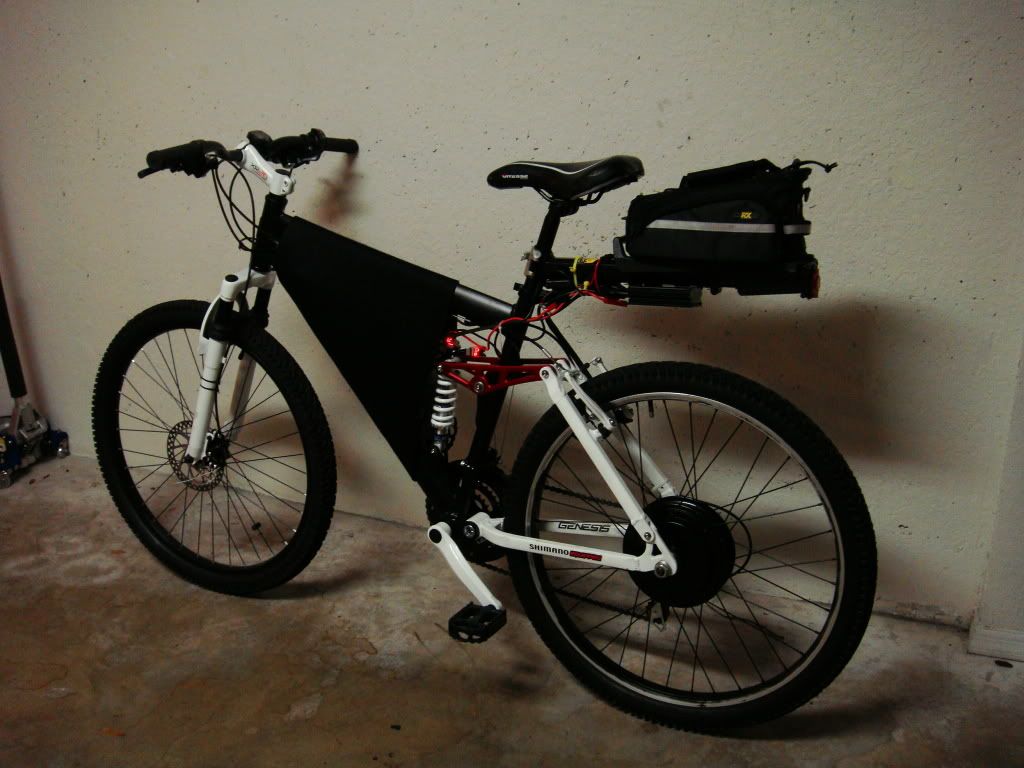 The bike is currently a Single Speed and still has the derailleur as a chain tensioner. My next step is to remove the derailleurs and shifters and add a dedicated chain tensioner. I need to find a single speed crankset for MTB that'll give me a better acceleration. I do all the accelerations on this bike and only use the motor for cruising which helps the battery a LOT specially with these 1C 18650 cells, but for my application they work pretty well. So far I did a short 2 mile test and by doing accelerations myself and almost no pedaling while cruising I did ~.5 Ah/mile on my watt meter
This is my first build so feel free to add your feedback to help me improve. I am in the process of rearranging the wiring and adding braided sleeves for stealthiness.
Cost summary:
Bike
-
150$
with free shipping to store and no tax from Walmart
Topeak rack and bag
- ~
60$
shipped from amazon
Cheap but functional Cycle computer
-
7$
shipped from ebay
Ebike kit
-
220$
shipped from ebay
Battery
-
115$
Purchased a lot of 28- 5.2Ah as is laptop batteries for 50$ shipped. Each one had 6 cells total 168 cells out of which only ~110 were in really GOOD shape my 36V triangle battery pack uses 60 cells so I still have some more in case I want to make it a 48V
Balancing plugs were purchased on ebay for less than 10 $ shipped
Andersons I purchased a lot of 10 pairs for 14$ shippped
Gorilla tape - 8$ from local autozone
Hard Foam Board for enclosure - 3$ from local walmart
Big tie wrap assortment 10$ from harbor freight
Purchased a bunch of lipo alarms for ~3 each off ebay as well so lets say 20$ for 5
Wiring , fuses , etc
I have 50% discount at the shack so most of this was really cheap I am gonna put
40$
for the total quantity
Charger
-
Imax B6 off ebay for
23$
shipped
Radioshack power supply 13.8V 19 amps
40$
Battery Cover
-
Velcro tapes and nylon cloth was around
20$
from a local johan fabrics store
To total is 675$
for a 36V 750watt kit running strong. I could've saved some money here and there but I kind of like each of the components so.
I also purchased an icharger 3010b+ but I am not going to put it in the cost as this was extra luxury and my pack is built as two 5S packs that i charge with the Imax.
Stuff I want to upgrade :
Tires to semi-slick tires
Front and rear brakes
Remove deraileurs and shifters
EDIT - Tue Jan 17, 2012
Couple of pics of the bike with more light, upgraded the front disc and used andersons to make a battery harness that connects my 2 packs in series and without it I charge with a 2 - 5s parallel setup which is easy to connect to the charger, will post more pics of the setup later. Also ordered some braided split sleeving which will make the bike so much cleaner.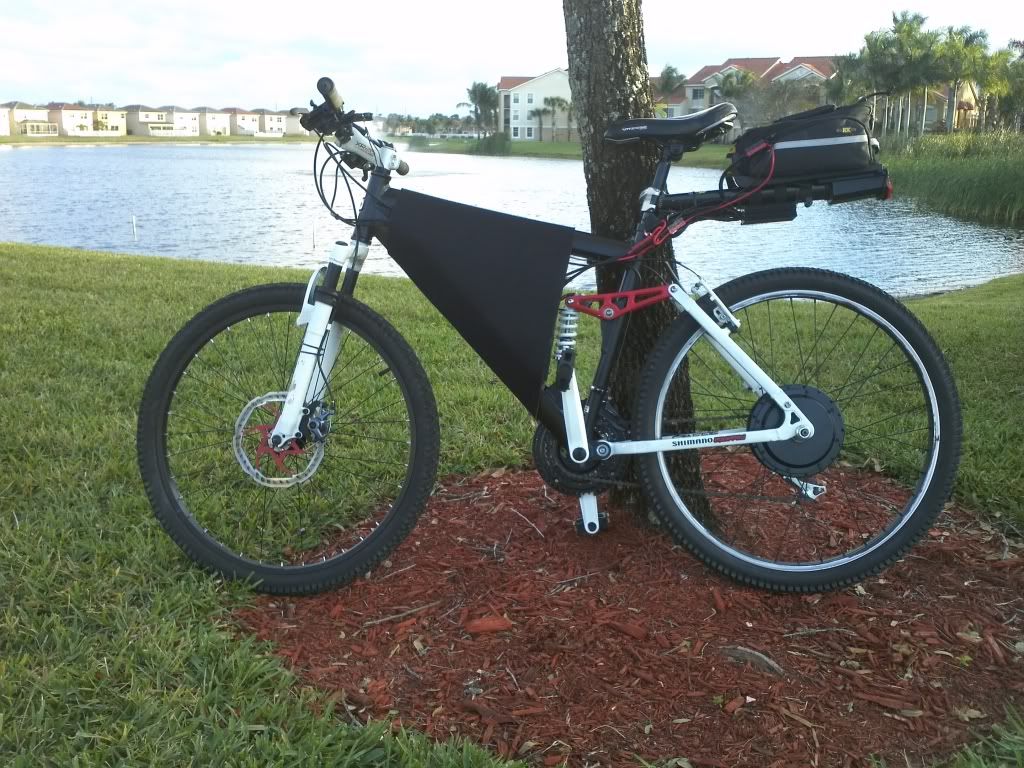 EDIT - Tue Jan 28, 2012
Got the kenda k838 tires for both front and rear. Also purchased avenir thorn resistant tubes, rear v brakes cool stop mtb shoes, rear fender, 1200 lumen bike LED light and everything is installed. The lbs did a bit of truing on the rear wheel for 15$. Now at 25mph there is no sense of wobbling AT ALL.
BTW I think amazon does a really stupid job at choosing their box sizes I mean they sent these tires in individual boxes when they could've send them in one box.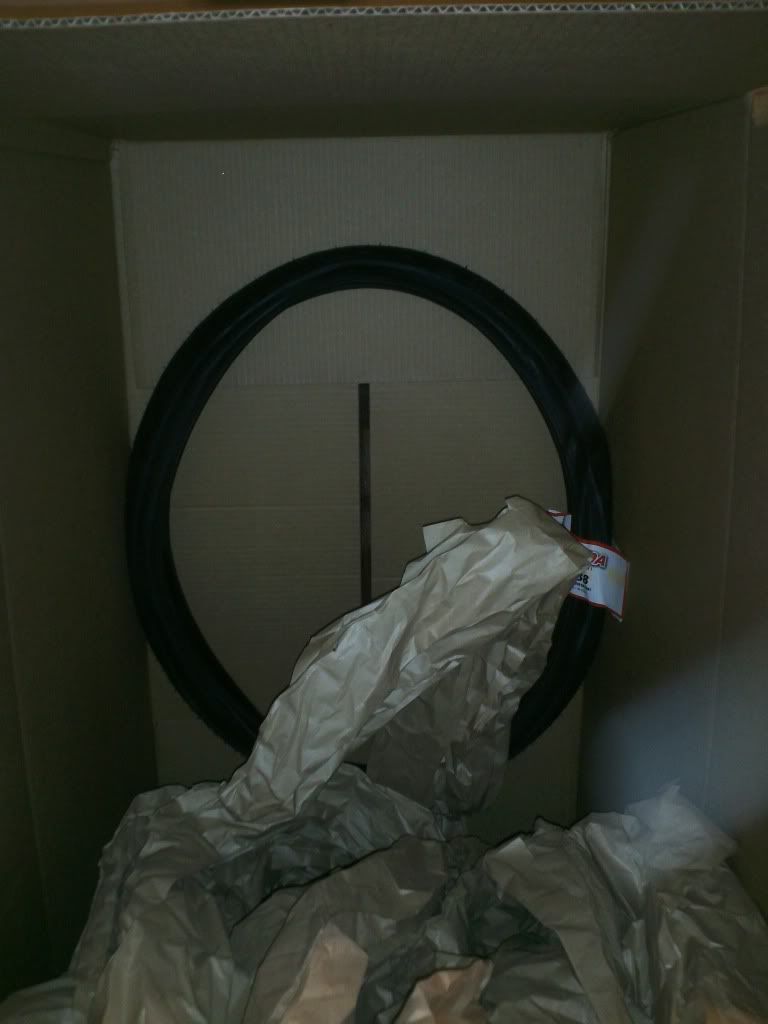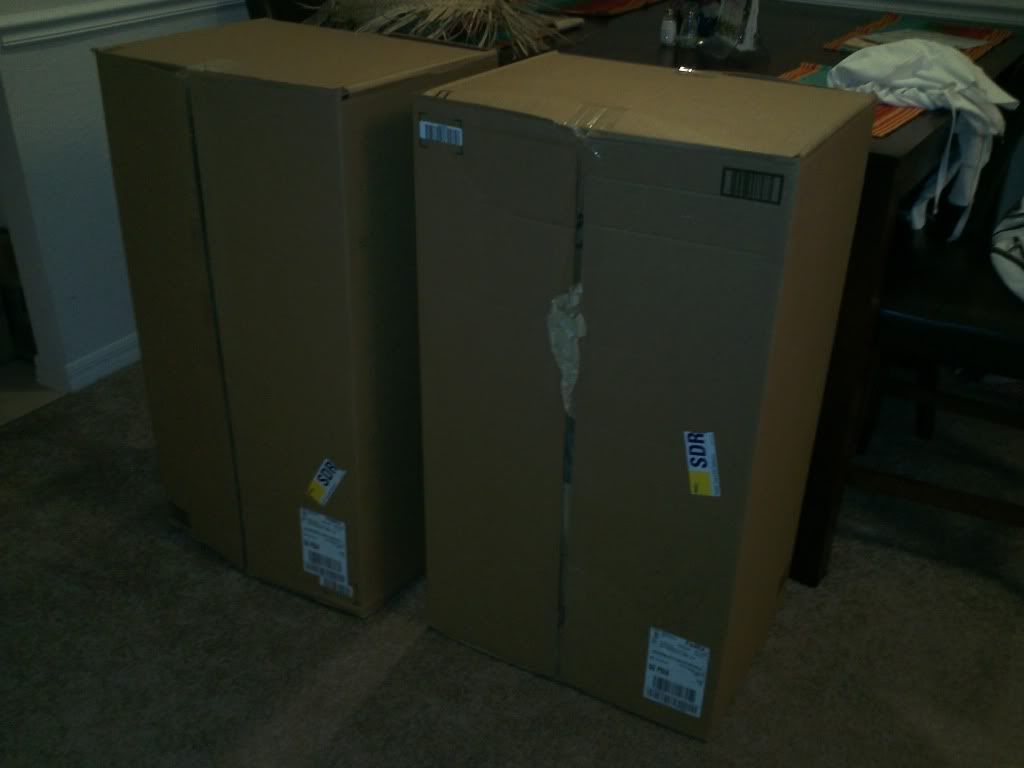 Comparison with the old cheap tires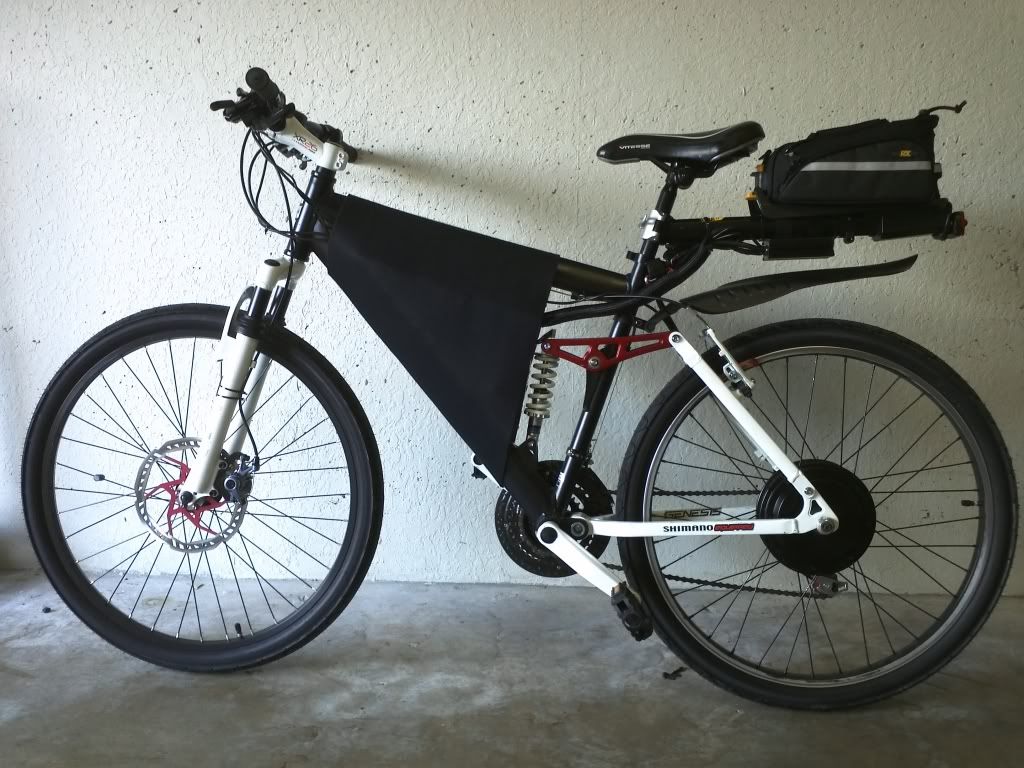 EDIT - Tue Feb 22, 2012
Made a 5S2P A123 4.6 Ah Booster Pack for my morning commute. It turns out that during the morning when I commute to work I ride a straight road 7 miles long and the total one way distance is 7.7 miles. I usually leave my apartment @ 6am and at that time there are virtually NO cars on the road. So I think during the morning I can take advantage of this Booster Pack and then remove it at work and charge the main 36V pack in the triangle if there seems to be a need for it. During the afternoon there is much more traffic and I always keep it below 22mph. This pack gets me 30mph steady and the voltage sag on the main pack is not bad at all. For a couple miles I don't hit 3.7V on the li-io pack. I started with a 2.3AH booster pack but that only gave me like 4 miles so I added a second string of A123's and enclosed it in a project box. Now I love my bike even more. I've attached some pics of the pack.
Good thing is I still have more than half the space on my rear topeak bag.