This is my first post so I would like to say Hi to everyone on this forum. I came from Poland, and last six years I have been living in New York.
English is my second language so please forgive me my mistakes. I would like to say, you guys are really people who have passion to create really amazing things.
You are my inspiration, thank you all of You.
I have been reading this forum for few months, and I decided join to you guys, because I think, I can finally contribute something. Hopefully some of you might find this helpful.
I would like to share with you my experience from my e-bike build (I started experiments january2010).
My first goal was build city commute e-bike (work-home, and a little around), with relatively light weight drive. Top speed about 20-22MPH, and 20 miles range.
For my project I took my 700cc wheel bike with Shimano Alfine SGS500 Disc brake 8-spd Internal Hub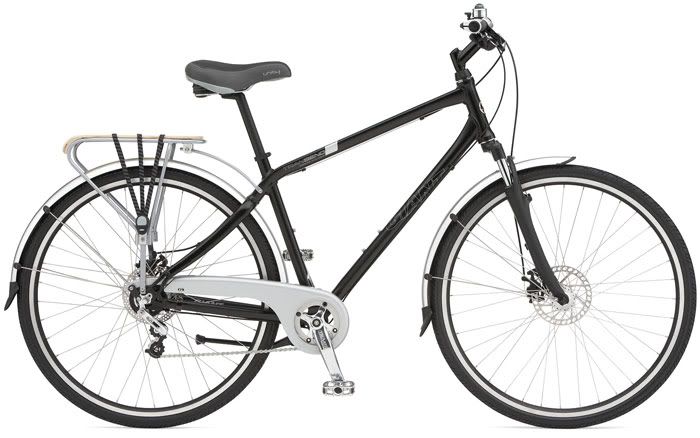 I picked motor Hacker A60-18L 150kV due to low gear ratio needs, and I planned to run this on 6S LiPo 22.2V because I try to stay close to legal requirements with is 750W and 20MPH. I estimated if Hacker rated this motor with 45A constant current it shouldn't develop more than 1000W at 22.2V. Minus energy lost about 10-15% on gearbox and minus another 10-20% on chain, it stay about 810 – 680 W delivered to rear wheel. (But later turn out my estimation was so wrong). With this I decided go to angle grinder gear box Bosch rated as 2HP. So I ordered new set: Gear crown and pinion. Next fabricate gearbox at my work. Small pinion was placed directly on motor shaft. Everything works in oil bath.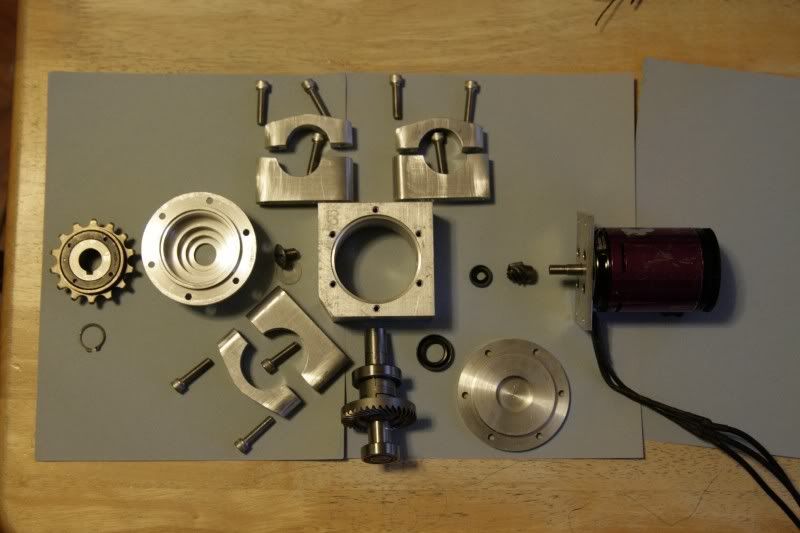 I used ESC CC Mamba Monster form my RC car E-max.
Speed was regulated by Turnigy servo tester, battery also from my RC car 10Ah 6S LiPo
Than I did quick assembly, and had first test run.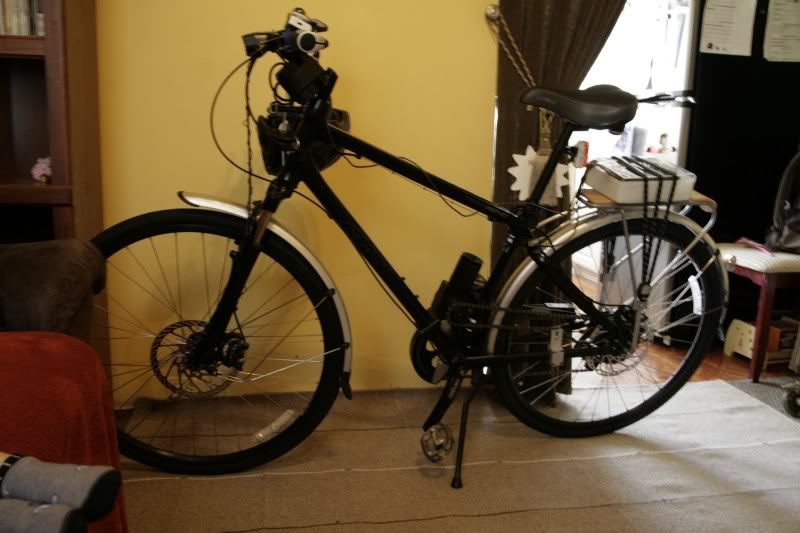 First; max. speed turn out to be 24MPH, (for calculation I used nominal 3.7V per cell, but fresh charged is ~4,2V)
Second; power close to 2000W during acceleration
(whooooaaaaa!!!)
100A current just amazed me, I thought that, impedance at half of max voltage should not let reach so high current. What else interesting is, even though motor is rated for 65A max. @15 seconds current, at 100Amps (during very often acceleration on NYC streets) never got hotter than 65°C - this just make me happy.
So I was wondering what is going to break first. After 80 miles of run, motor shaft snap, and small pinion was worn out about 30-40%. There was no sense to fix this.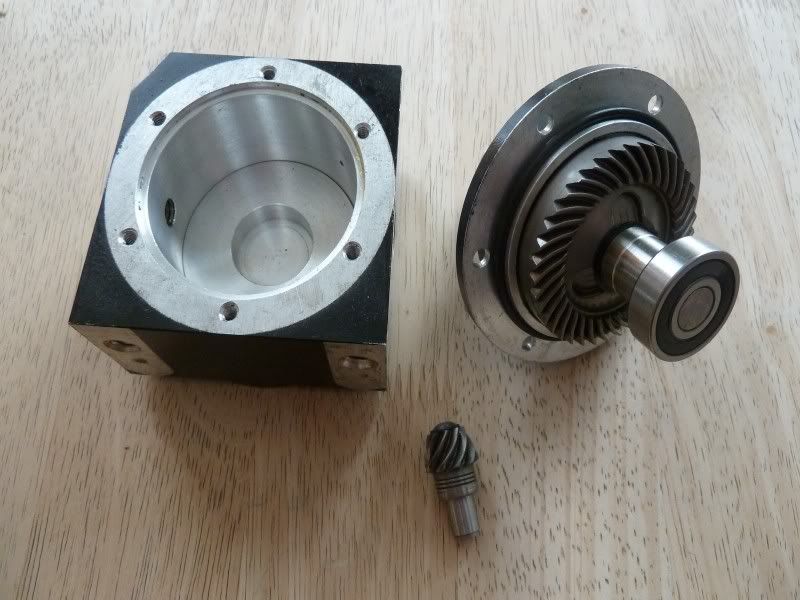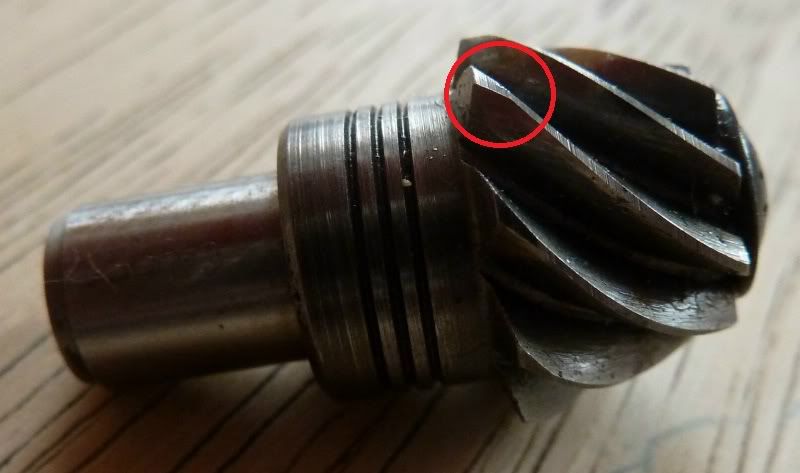 During these 80 miles I realized that, I need stronger breaks at the front wheel, so switching from 160mm to 203mm was necessary.
One more thing, it might be big rain of criticism on my head, but I realize that active safety wasn't on right level. My e-bike was to slow to flow with traffic, an especially on switching lines for left turns. Thereafter I kept in mind to build 7S Battery when that time will come.
I decided to make new stronger gear box. I calculate torque and this Time Dewalt grinder rated 5,3HP was able to handle that. I mount small pinion on bearings independently from motor shaft, and like previously gearbox filled with oil for long life. Total ratio is 10,5:1.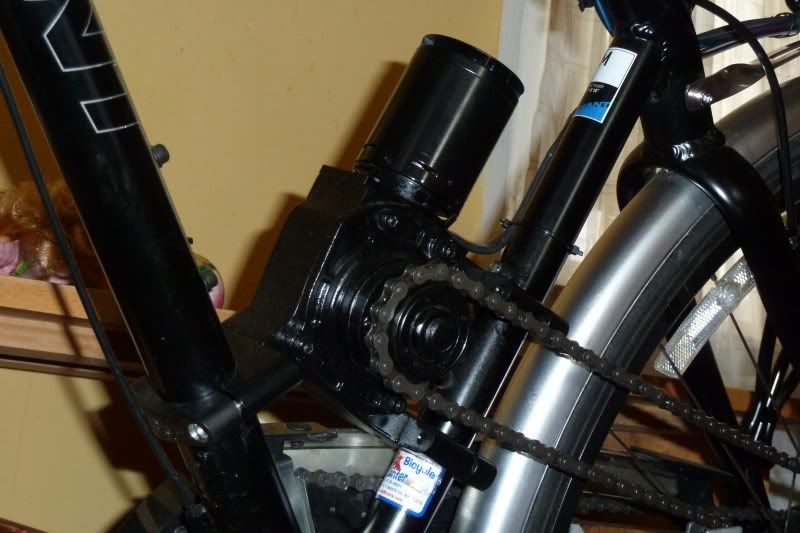 Right after I build new battery pack using LiMnNi Rechargeable 26650 Cell: 3.7V 4Ah, rated – 10A continuous max. Discharging current. I pick cylinder shaped battery because are more resistant to vibration and unfortunately my bike have no rear suspension. I build 7S10P pack, over 1KWh. This gave me about 30 - 35 miles range @27MPH (NYC a lot accelerations and stops). And of course I had to buy new ESC capable handle higher voltage – CC Phoenix Ice 100. Now top speed and acceleration is very satisfying.
Some pics of my battery pack: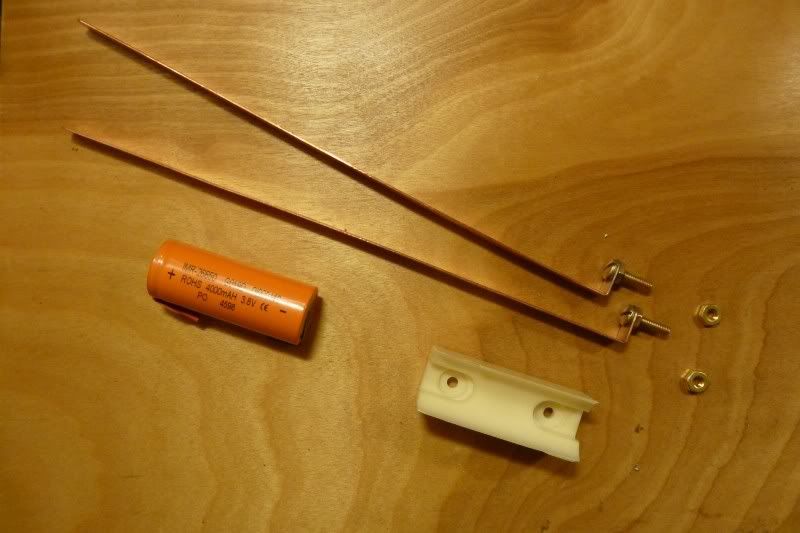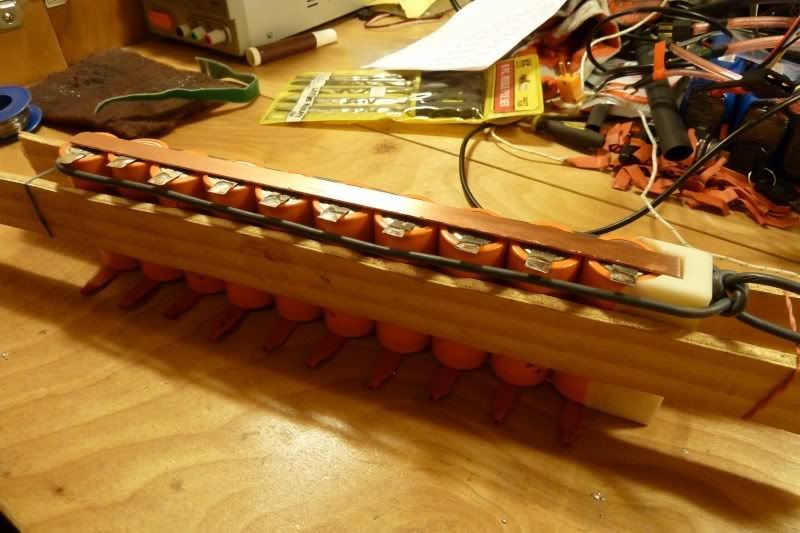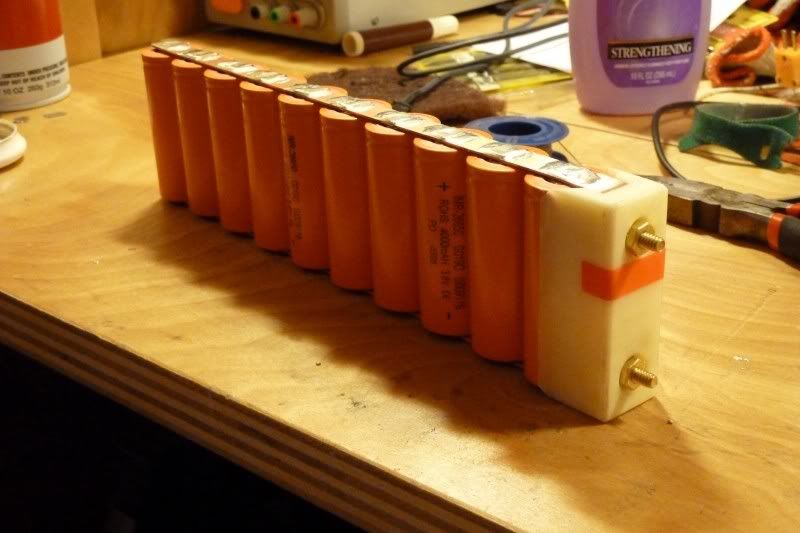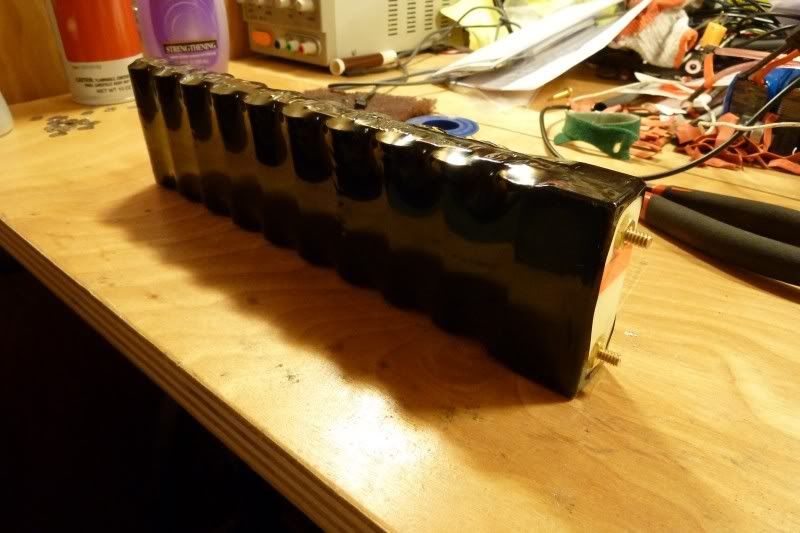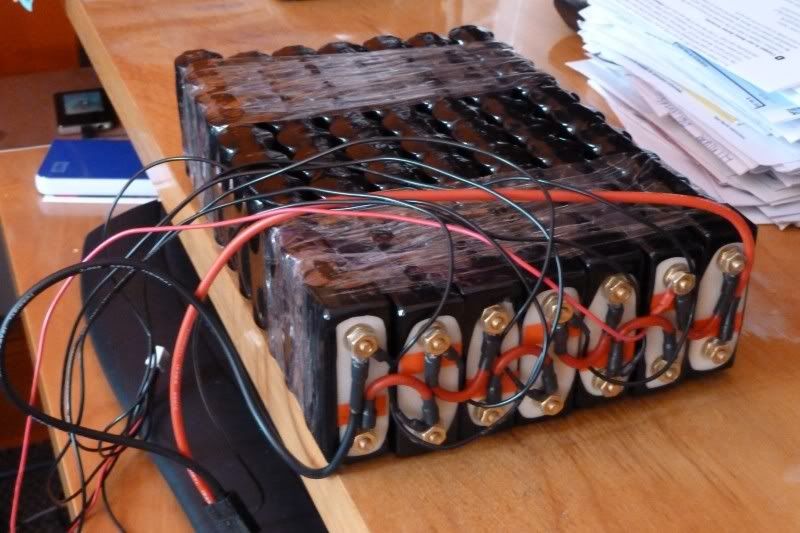 On new gearbox and new battery so far I have done over 600 miles and I realize that chain must be replaced with belt because:
1. Noise
2. Nonstop dirty pence or leg and bike
3. No effective breaks on rear wheel after every chain lubrication
I bought small pulley POLY CHAIN TIMING PULLEY 8MX-22S-12 and fabricate rear pulley 50 toth.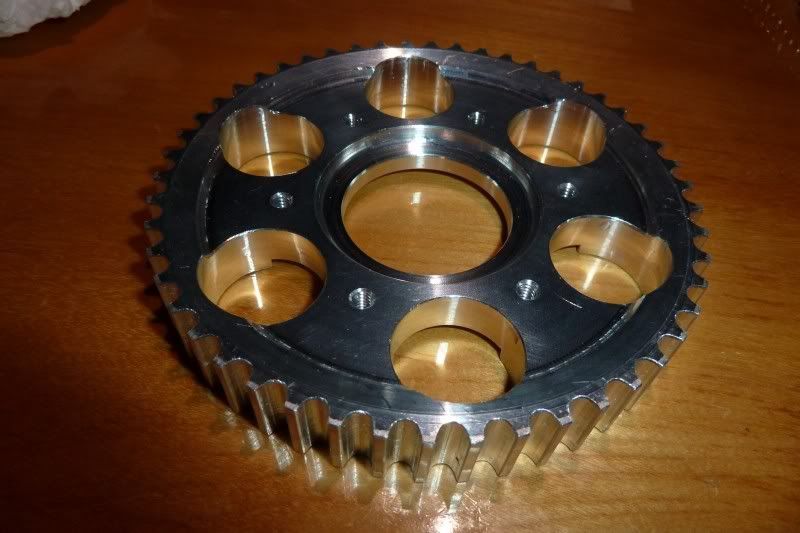 O new belt I have done 35 miles so far and looks like going to works fine.
If I do some modifications, or error come out I will write about this.
SÅ'awek