---
It looks uncannily like a Chili Works Gordo fork I bought on eBay over 15 years ago.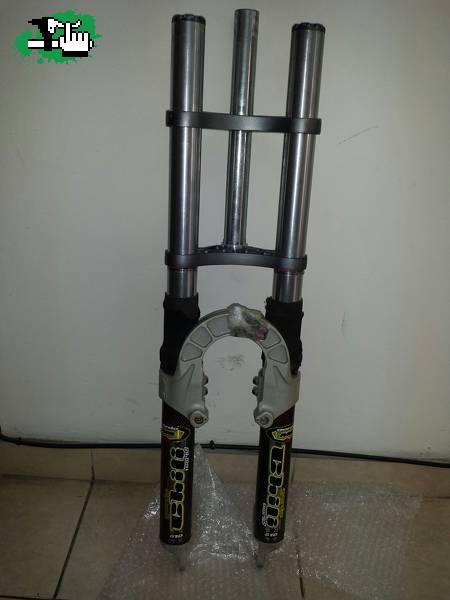 (Mine looked like this, but this is just a photo I found on the web.)
That thing was a very crude and crappy pogo stick of a fork. Just springs, no damping at all-- unless you think friction in the plastic bushings is damping. Note the carbon-look finish on the lowers. I think these were original equipment on BSOs in their day.
The fork was easy to modify, though. I made a new steer tube for it to fit a bike with 1" headset. I stacked both crowns next to each other at the top of the fork legs and used it as an extra long single crown fork on a chopper bike. That arch is clamped onto the legs, so you can loosen it and slide it down to fit a smaller wheel. I used 20" on that chopper.
This is to express my gratitude to Justin of Grin Technologies for his extraordinary measures to save this forum for the benefit of all.
---
The thing that appealed to me was the "adaptability". I have a set of 24" wheels I want to use for a bamboo frame bike.
Guess I will not need to worry about oil leaks with these
H'mmmm ... but now I need to find a longer 1" head tube. The one I was planning to use is just under 4" long. I am going to need more like 6 to 61/2 inches long.
---
It does belong on a hook on the wall. That is where most of them are, for 2 decades.
While some old forks were good and still worth riding today because all spare parts and upgrades are available, those never been good and no upgrade kits were ever produced. If you want to ride a vintage fork, look for the brands and models that had some success, and that most are still riding. The old Marzzocchi Shiver and Monster series for an example, or some early Rockshox racing forks, were so reliable that freeriders are still riding them and jobbers continue to produce spare parts and upgrades.
---
You may be correct MadRhino as I am totally ignorant regards suspension forks. I was looking for a 24" wheel fork with a 1" threaded steerer, standard axle as well as the ability to mount disk brakes at some point. I was actually looking at a rigid triple tree that would allow some height adjustment when I ran across this. Fortunately I am not looking for much in the way of performance as this is strictly for pavement riding (minus jumping and curb hopping). The worst case scenario is an unseen pothole. I figured that it had to be an improvement over no suspension at all.
Last edited by
LewTwo
on Jan 03, 2018 6:34 am, edited 2 times in total.
---
That bike layout won't place much weight on the front wheel to get the suspension moving. Consider an air sprung fork so that you can set an appropriate spring rate.
Here's one in 24 inch.
This is to express my gratitude to Justin of Grin Technologies for his extraordinary measures to save this forum for the benefit of all.
---
100 GW

Posts: 25053
Joined: Aug 17, 2009 6:43 am
Location: Phoenix, AZ, USA, Earth, Sol, Local Bubble, Orion Arm, Milky Way, Local Group
Contact:
The only stuff I've had by Kalin has been in the low-end generic bike category, though the stuff I recall is stems, bar-ends, seatposts, etc.
I don't remember the brand name, but I did once have a very heavy fork that looked something like the one in the pic, that had clamp-on crowns, which I think was just springs, but I never got to try it out; I think it was stolen during the post-fire cleanup (along with quite a few other things).
I do wish I still had the clamping crowns and steerer, though.
---
Well I did manage to pull up some stamp markings on the steerer tube ... barely.

With only 35 to 40mm of travel it is more aesthetics than functional suspension.
The "27.0" was what I was looking for. Unfortunately having measured 26.41 to 26.61 I was really looking for "26.4"
---