All orders must be confirmed and paid for by noon on Friday!!
Update: please note that $1/watt-hour pricing is only available on cells 16Ah and larger!!
Here's the updated stock status from Dow Kokam as of this morning.
8Ah HP (SLPB75106100):
8-10 weeks
$49.82
13Ah HP (SLPB6205130h):
8-10 weeks
$67.33
16Ah HP (SLPB78205130H):
In Stock
$59.20
25Ah HE (SLPB60216216):
In Stock
$92.50
31Ah HP (SLPB78216216H)
In Stock
$114.70
100Ah HP (SLPB80460330):
In Stock
$370
200Ah HE (SLPB160460330H):
13-15 weeks
$740
Here's the status on the packs we plan to build:
22.2V 6S 8Ah High Power-Uncertain due to price change
22.2V 6S 13Ah High Power-Uncertain due to price change
22.2V 6S 16Ah High Power- Definitely building
22.2V 6S 25Ah High Energy- Definitely building
22.2V 6S 31Ah High Power- Definitely building
If you'd like us to build the packs for you, we're charging $100 per 6S pack for the build.
These packs can be connected in series to meet your desired voltage.
If you'd like us to build you a pack for you, you must order the cells that your pack will require. Each pack will require 6 cells.
These packs will be built just like the Turnigy 6S packs are, with JST-XH leads so they can be balanced manually, or with a BMS.
Please confirm your order via PM.
Thank you!
Tommy
______________________________________________________________________________________________________________________________
Hey Guys,
We're getting ready to place an order from Dow Kokam USA, we'll soon be stocking their cells. We'd like to gauge interest to see which cells everyone is most interested in, so we're putting a preliminary group buy together.
Dow Kokam makes some of the best cells in the industry, they're currently powering Motoczysz's motorcycles (2010 and 2011 Isle of Man TT Winner), and the White Zombie (Worlds fastest street-legal electric car), and future FFR trikes.
One of the standout features of the cells is their cycle life, 1200 cycles at 100% DOD, and 3000 cycles at 80% DOD on their 25Ah High energy cell. Energy density is 165 wh/kg on that cell. One of the biggest advantages with these over the Turnigy and Zippy packs is cycle life.
Also, they're available in a wide variety of sizes, ranging from 5Ah to 200Ah cells. That means that for folks setting up larger packs, it's often possible to build simple series packs, without the need to parallel multiple cells.
Here's the full range of cells we can order, many of them are currently in stock in the US warehouse, but not all. 6-8 week lead on cells that aren't in stock.
http://www.dowkokam.com/cell-specifications.php
If anyone needs full spec sheets, just PM me and I'll send them over, as not all full spec sheets are available from that list.
Energy cells: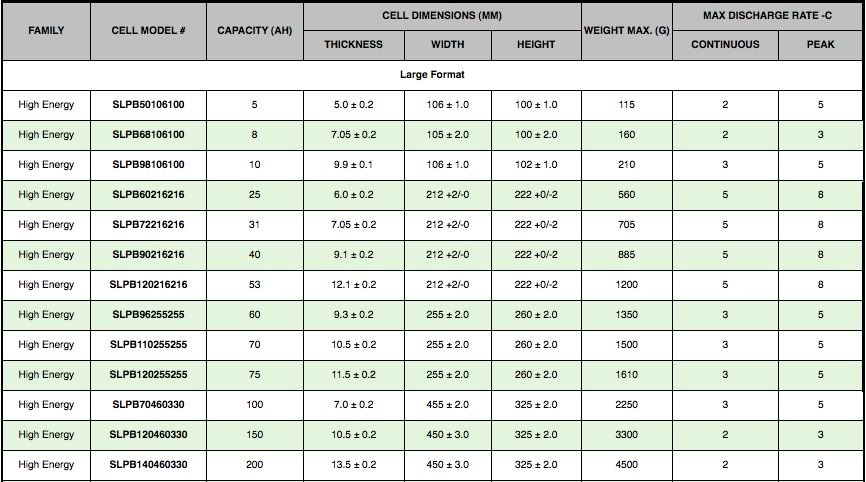 Power cells:

MSRP is typically $1300/kWh. We haven't settled on a price for the cells we'll stock yet, but it will likely be around $1200/kWh. We'll be doing this group buy at $1000/kWh.
A nice setup for many systems is a 12S 16Ah cell. Cells are 3.7V nominal, so 3.7*16= $59 per 16Ah cell.
Here's a spec sheet on the 31Ah High Power cell: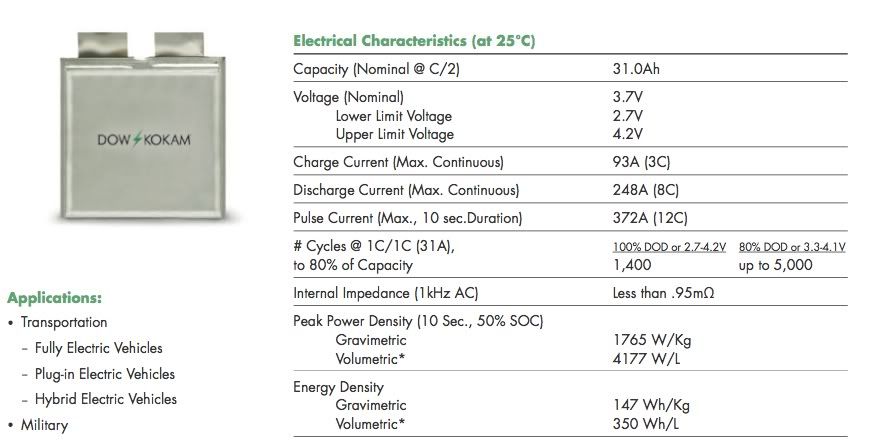 Here's a spec sheet on the 25Ah High Energy Cell: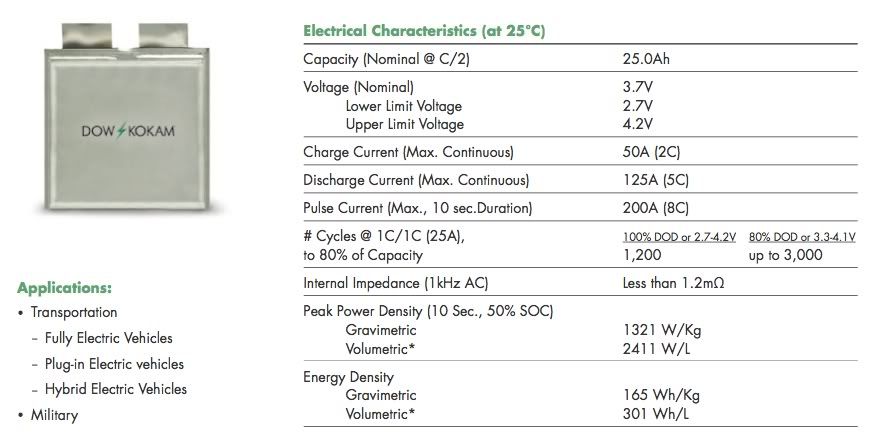 All of their cells can handle a 2C charge, some can handle 3C. That means you can dump some serious charge current into these for fast charging, if you have the appropriate supply.
We'll be building 22.2V 13Ah High Power, 22.2V 16Ah High Power, and possibly 22.2V 25Ah High Energy packs, depending on which cells folks are most interested in. Packs will be wired with JST-XH 6S balancing leads, so layout will be very similar to the Turnigy 6S 5000mah packs folks are used to.
We will be placing the order February 17th.
Tommy
(moderator edit: moved this from "ebike non hub motor drives"
forum to "battery technology" forum)