An important day comes to an end. The last thing I needed was to get some open-road speed tests for the car (basically, motor phase current or DC power draw vs. steady speed) to get parameters for the overall propulsion model. This afternoon, Chris and I loaded up a trailer that he borrowed and headed out of the District and into the wilderness of Maryland.
The trailer, unfortunately, had a front railing that kept us from raising the tail ramps all the way...
... so we hacksawed that off and things fit like a glove.
Perfect parking spot when we grabbed a bite to eat on the way out of town:
We reached the undisclosed location in about an hour. This car sure does look nice on a sunny day.
We spent the next hour or so taking data on a flat stretch of road with minimal traffic. It was a little monotonous but still fun to be out in the open. On the last run back to the trailer, we switched off the charging circuit (engine still running) and Chris floored it to see what kind of speed he could get on caps-only power. Listen and you'll hear the tires squeal.
I now have the data that I needed. With all the work/study done up until now, I have enough to start putting together a technical paper that I'll try to get published in either IJAT or as an SAE technical paper. That's new ground for me, but I think that this work would be appreciated. If all goes well, I'll post a draft link here before any copyrights get signed over.
So, that's the end of the line for me and the EV1. I'll be headed to greener pastures over the summer (south Alabama) to start a new job there in June. If I had this whole project to do over again, I'd definitely do a few things differently. That's a good thing to be able to say, since in the end I firmly believe that I learned a great, great deal overall. I appreciate everyone following this project on ES; it was definitely easier to do this work knowing that others gave a damn. There were a lot of late, lonely nights drilling holes and wiring things up in a cold, dusty, dark, leaky, stagnant-aired, rusted-out, crumbling building that's overdue for a wrecking ball - but I do want to express my deepest thanks to Chris Harriman, Eric Cardwell, Jeff Baxter, Charlie Wermine, and Santa Claus (name withheld!) for the key parts that they played along the way. I'm proud of what we accomplished - a completely mothballed and disabled vehicle was brought back from the dead. Couldn't have done it without you guys.
Most of all, I must say thank you to the main source of financial support, General Motors. The GM engineers with whom I've discussed this project understand just what a magnificent vehicle the EV1 was - let's hope that forward-thinking engineers might hold more sway within the company in the future.
The vehicle will remain an asset of the University - as a teaching and research tool. The next researcher and research team will undoubtedly learn as much as I did when they next open the hood (or trunk!) and get to work. Until then...
"She rests in silence, dreaming of the day she'll run free"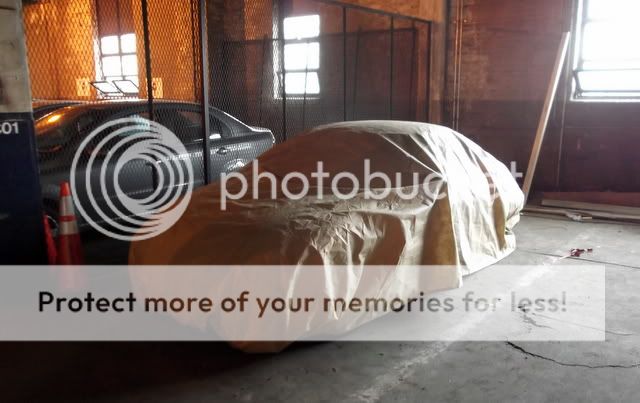 (Sorry for the cheese. But I think I'm entitled.)