Someone donated a bladez 450se to me, well actually she gave me two, told me if I fixed one I could keep the other. So the first was fixed with a fresh set of batteries, the second will be my project.
Looks like the control unit on the second is blown. I know I could just replace it and get going again, but I have other ideas! Phase one will be 12s1p of headway lithium. That will give me 38.4v10AH worth of power. The 12 cells just fit into the battery compartment width wise, I have a feeling I could get the 12AH headway cells in as they're only 2cm longer, but I have the 10AH on me so that'll be what it is. Then initially I'll keep the original 450w motor, and replace the controller with a 36v 1000w unit I found here:
http://www.monsterscooterparts.com/36vocove1.html
I wanted a plain controller with no features I found on TNC scooters, they were also the cheapest, but sadly they won't ship to South Africa so I'll just have to pay a little more and ignore the things I don't want or need.
Phase two will be more exciting. I'll order one of the big turnigy outrunners from hobbycity (
http://www.hobbyking.com/hobbyking/stor ... oduct=5142
), hopefully this one will arrive in working order, as the last one had a broken winding and I'm still trying to sort out the return. Hobbycity has picked it up according to the post office, but is making all sorts of excuses about how it must be at their other office. Then I'll get some hall sensors connected and link it to a 9 fet lyen 48v50A controller I bought for a different project earlier. Then some lipo, also from hobbycity to fill the inside with these (
http://www.hobbyking.com/hobbyking/stor ... duct=10480
). My measurements show me that I can fit six of them inside comfortably, for a total of 44.4v15AH, or 666wh, pretty evil isn't it! I may consider a bigger controller, as this controller would "only" be able to give me 2200w while the engine and batteries would be capable of 7kW! Nah I think 2.2kW should be enough.
Anyway, now for the request for your assistance. I'd like to gear down for more torque, does anyone know what type of sprockets and chain that my scooter uses? I think the chain is a #25, but I have no idea what type of sprocket to buy. I don't have a freewheel, so the 90 tooth freewheel sprocket won't work, do you guys know what I should look for there?
Here's a pic of my scoot: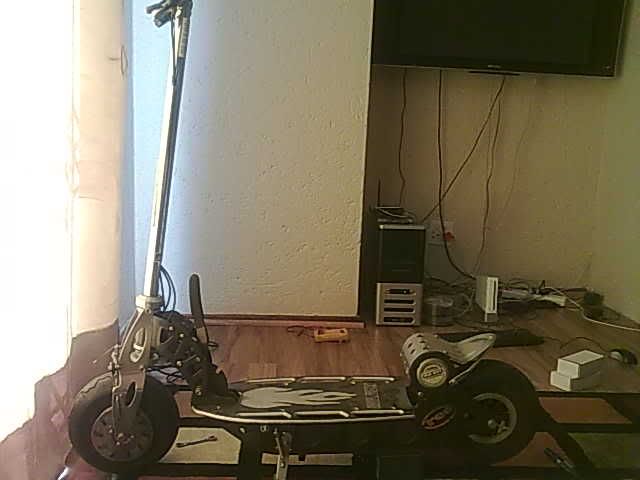 Patrick