Hi guys,
I'm very impressed with this forum - it's full of great info and friendly people doing interesting projects.
My dad recently had a clear out in his loft and found a scooter I'd converted to electric 10 years ago: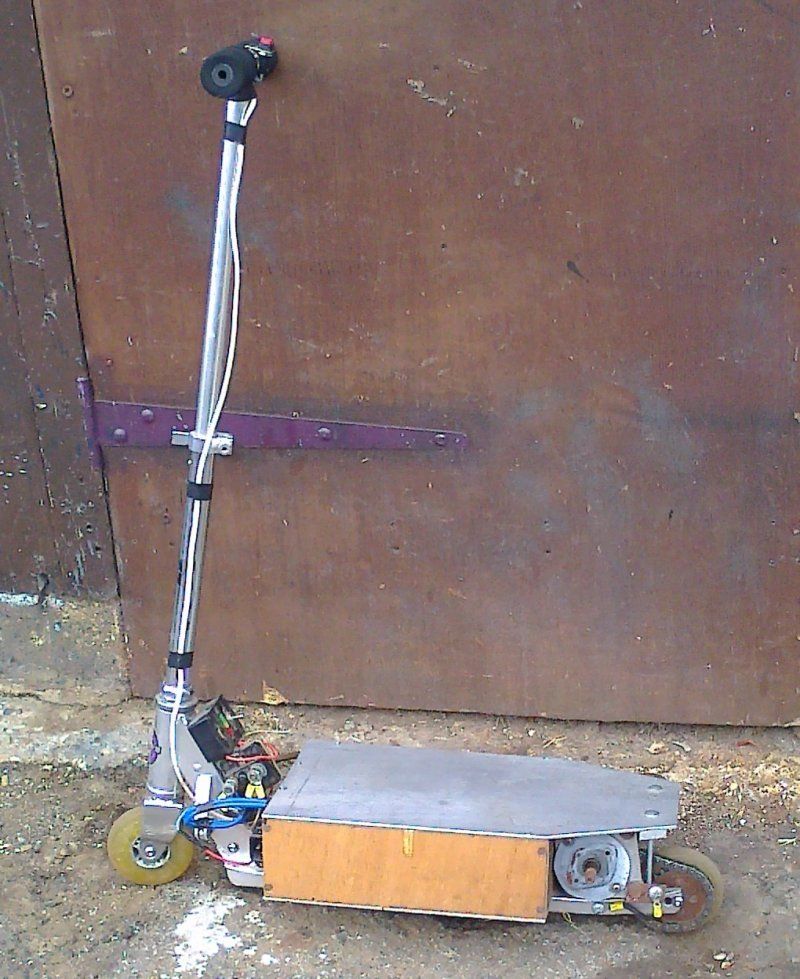 I remember the scooter cost £20 and the motor is a 12V permanent magnet starter motor bought from a scrapyard. I cut the front part of the alloy housing off and screwed on an end plate from another motor (I'm not sure why). A sprocket is welded to the shaft and the chain exits through a hole cut in the remaining part of the alloy front section.
There was no speed control, just a car starter solenoid to switch the power.
Batteries were two 12V 15ah Hawker SBS (bought secondhand) wired in series to give 24V.
There was no suspension and the tyres were solid. Everything had to be thread locked or double-nutted else things literally fell off after travelling a few hundred yards.
You had to get it rolling before hitting the go button, and you had to lean forward over the handlebars to stop it pulling a wheelie. Top speed was 25mph (measured against a car) IIRC.
It was completely impractical but was amusing. You'd get maybe a mile before the motor overheated. Unfortunately, the batteries soon lost their edge.
Interestingly, after pulling it from the loft, both batteries were recoverable. I measured one at 1Ah into a 5A load, and the other at 5Ah. That one replaced a dead 17ah gel cell in a cheap car booster pack, and peforms much better than the original. Not better for a battery stamped with a production date of 1995!
Ant