Review.
Bought from Amazon on 5/2/2011; query
Manufacturer: Pacific Dualies
Color: Chrome.
Size: Standard automotive; Schrader.
Cost: $13.14 USD per pair, with free Super-Saver shipping (combined with other orders)
Shipping: Received quick enough (meaning I didn't note it; probably on 5/9/2011).
Related ES Thread: None; I don't recall discussing the issue before, although it is related remotely to the Epic Battery Bag Story since this is the assembly that created the need.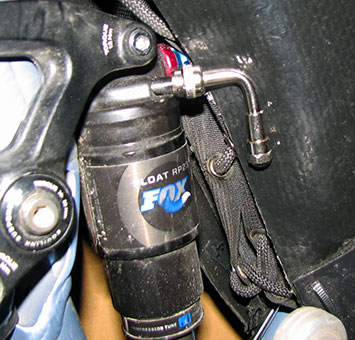 Begin:
After I built my epic battery bag there developed a new and tiresome issue with trying to pump up the rear shock which over time requires periodic recharge. Due to the angle of attack with the air fixture relative to the shock and with the placement of the rear of the battery bag, it made from a frustrating experience when trying to mount the shock pump.
I researched the option to use a 90° elbow; possibly someone has written about it already though I don't precisely recall. Anyway, I finally got around to fetching this unit. It comes as a pair, appears to be well-made, and has a nice chromed cap.
Installation was fairly easy: Unscrew the existing cap off of the shock, and then screw the matching end onto to the nipple. All the air in the shock exhausted in the process, and when the mating was completed the joint appears wobbly. I quickly noted that the unit did fix well within the close confines and was pleased that it did not rub against the battery bag in a manner of extreme deflection. Additionally I could easily reposition & rotate the stem out of the way for normal stowage.
Re-inflation with the little shock pump took some time; perhaps I might have been better off with a normal tire pump. Regardless, I was able to recharge the piston to the desired pressure and all appears good and well. The mounting went without much ado and was very convenient. The chrome cap was affixed to the end, and there appears to be no leakage.
Conclusions:
Time will tell if this device keeps its' seal. I'll post usage feedback when it is available.
9 Stars

out of 10.
~
KF