I am reconfiguring
P0
to accommodate faster speed, hence the aeroshell treatment. Here is a current picture of the bike: Mainly black frame with red logos.
My panniers are Ortlieb Yellow/Black.
Apparel:
I typically wear the bright yellow "Seattle Jacket" for visibility during the dark winters, but in the daylight, especially if it is warm - anything goes.
Black

is certainly stealthy, but not good for winter and hottest to touch in the summer.
I was thinking white for a small front faring; bright, easy to see me coming from a distance.
Sides could be blue, green, red, or yellow:


Arrest-Me Red is visually striking
Forest Green has that cammo-statement
Sky Blue is aspiring
Canary Yellow is dazzling...
while Cloud White might be best for urban assault
Fog-Gray and Natural would hide me best when raining.
Bah! I can't decide.
Maybe I should have two or three to suit my mood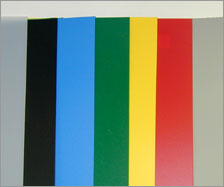 Example colors of HDPE opaque sheets.
What would you pick?
Enjoy,
KF