Well my ebike isnt really quite finished (but then again who ever "finishes" an ebike?) But i thought i would put up some info.
Its my first ebike, and i spent time looking around here for a while before i decieded what i wanted.
Seeing Aussiejester's logs on OCAU was my first intro into ebikes though, so this is all thanks to him i suppose haha.
The bike was salvaged from a backward where it was (starting) to rust away. After loads of bashing and wd40, i got the chain movable, tightened up the brakes and it was good to ride.
The triangle is a bit small, so i cant really fit much batteries in there, so i am lookin at other bikes/idea to mount the batteries.
I had never ridden an aluminium bike before this, so the reduced weight felt great.
I looked around for a kit, ebay, aliexpress, cellman, and eventually settled on
http://www.aliexpress.com/product-gs/483540875-disc-brake-48v-1000w-electric-bike-conversion-kits-with-rear-wheel-48v-1000w-e-bike-conversion-wholesalers.html
Not only was it one of the cheapest i found, but it also included a disk brake.
Seems very similar to lots of the other cheap kits out there, like the yescomusa one.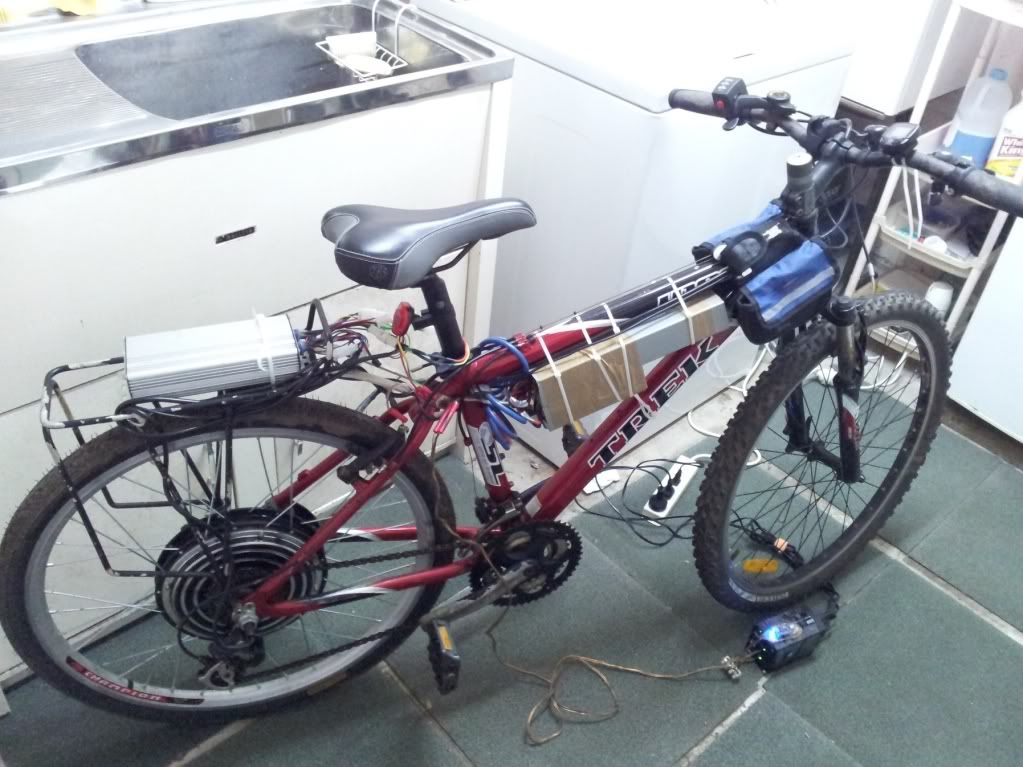 Bought 7 4s hardcase lipo's from hobbyking (one spare), and some connectors.
Setup as 12s 10ah. Burnt out a few connectors already cause i wasnt concentrating enough. These lipo's sure pack a punch!
Got my no spark resistor setup earlier this week and that works well.
Hooked it all up, and it worked first go!
The kit turned out great, although it was missing a washer or two.
Any questions please ask.
Today i finished a battery charger i made for the 12s lipo pack.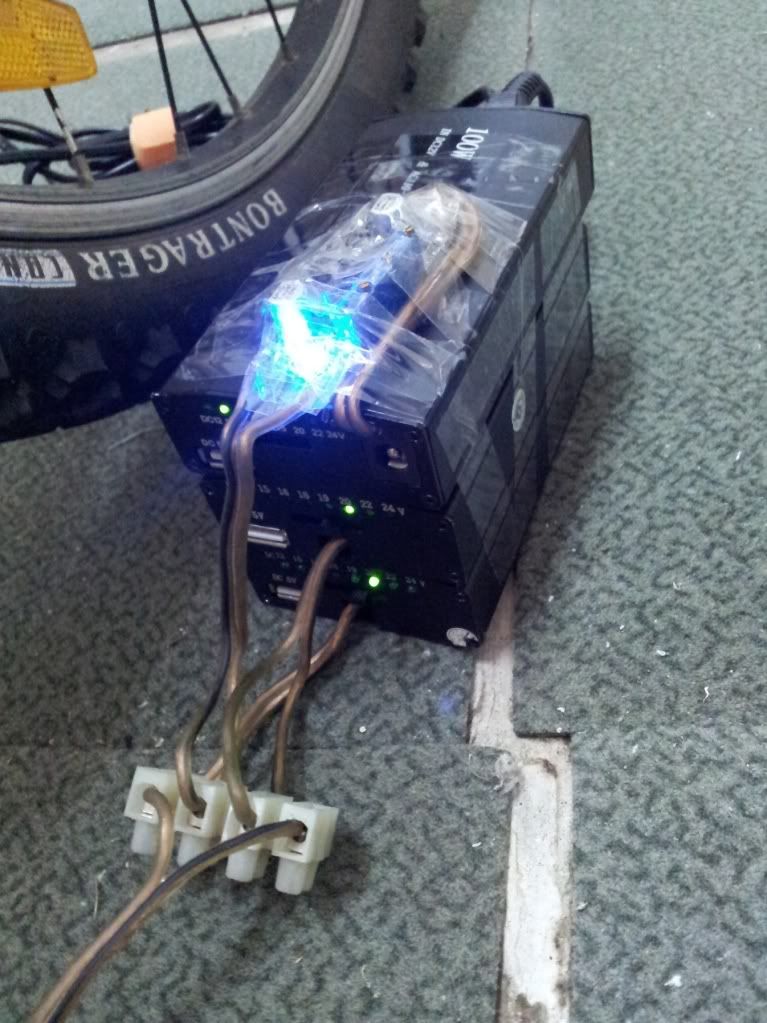 Its made from 3 of 100W Universal Laptop AC/Car DC Power Charger Adaptor
http://www.ebay.com.au/itm/350488189370?ssPageName=STRK:MEWNX:IT&_trksid=p3984.m1497.l2649
and one 5-35V to 1.25-30V DC Buck Converter Constant Current Voltage LED Driver Charger
http://www.ebay.com.au/itm/130663917643?ssPageName=STRK:MEWNX:IT&_trksid=p3984.m1497.l2649
I have used those type of universal power supplies before and they seem much more reliable then some others i have used.
At the moment i set 2 of them to 20v, and the third set to 15v. The third one connects through the constant current regulator, set to about 9.5v, and 2A.
So this makes it a 49.5v charger at 2A. Its not very fast, but i think it will suffice.
It should work all the way up to about 70v, then i would need to add another power supply to get it higher volted.
Its probably not ideal, but it works so far.
I am not too sure how exactly to adjust the "full charge regulator" on the constant current regulator, so if anyone has used these before, some tips would be nice.
The gearing still needs work, as the shifter in the bike is setup for 7 gears, but the freewheel that came with the kit is only 6 speed. Anyone know where i can get a 7 speed freewheel? (with a 11t or 12t low gear would be good)