I have 70 makita pack for sale right now
All packs are guaranty to have LESS than 100cycles ( the average is around 45cycles)
(they have been individually tested on the computerized makita tester tool.)
All packs below 12.5V are rejected, i sale only the pack with voltage above that.some have 12.5 and up to 20.5Vdc but this is only their state of charge.
THEY DONT NEED ANY BALANCING for the use.. you only need to erqualize all cells before assembling the pack by paralleling them or using an RC balancer
Each cells should give you around 5Wh
Each cells are 18mm, dia per 65mm long ( known popular model (18650)
They all have at least 8 good cells. so that's minimum of 40Wh per packs
These cells are 10C rating so you get up to 45-50 watts of power per cells !
At 15$ per pack, it's 0.37cent per Wh wich is cheaper than many lipo and lifepo4.
Makita Konion from DB technical informations here:
http://www.endless-sphere.com/forums/viewtopic.php?f=14&t=27707&hilit=konion
15$ each, 6 pack minimum + shipping.
Most of the time the request i get come from: USA, Canada, UK, South Affrica, Australia, Sweeden, Russia, Switzerland, Hawaii, Brazil and France.
No worrie,
I can ship Worldwide
I take Paypal no prob.
If you have any questions or technical questions about these popular packs, please search for the multiple threads about these and the previous sales i made!
You can also search in all the history of Makita sale thread.
PM me
including the following info:
-the qty you want ( min 6 packs)
-Your complete adress (for shipping calculation)
Doc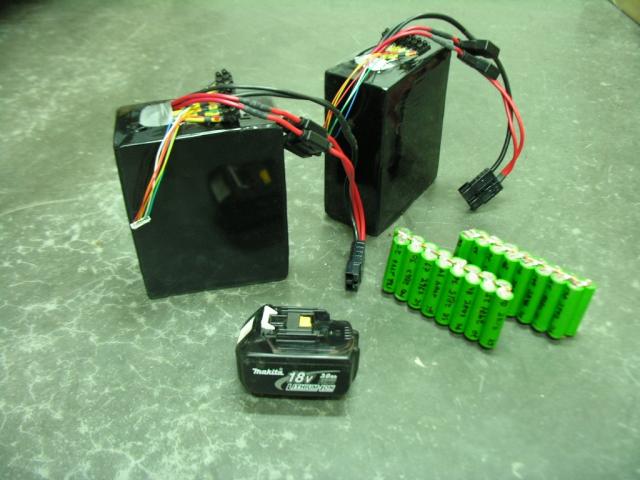 How to build your powerfull ebike battery based on makita cells:
http://www.endless-sphere.com/forums/viewtopic.php?f=14&t=28285&hilit=makita+building