Well, I've had my ebike for six months and I've ridden over 650 miles saving $112 in gas. I've come to know the strengths and weaknesses of my setup.
I raced a moped today. Completely raped it.
I'm very happy with the performance of my bike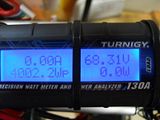 However, the rear hubmotor setups sucks big time.
The rear is so dang heavy and the suspension sucks. Gravel roads are a nightmare and the rear wheel bounces when I take corners fast. My spokes aren't loving me either.
I have enough extra money lying around - I want to start a new build with a new bike. I'll re-use the batteries, probably the speed controller, and a few other parts. I want to get an outrunner and set that up.
The problem is that I don't know the best/easiest/most reliable way. I've been creepin in the non-hub forum for a few weeks, and I'll continue to do so.
Please if you have any threads/builds you want me to see let me know.
And how much does a Recumpence or Mud drive cost?