I. Frame and Motor/Drive unit
1st, my goal, Keep it a proficient peddler that safely uses bicycle components, yet fast enough to have fun! Safe means the power/speed doesn't stress the bicycle brakes, forks, wheels, ect. .to near 'failure' Fast IMO means getting to run in the final
An extra challenge is lite/fast enough to fend off getting lapped.
Boy, the Swhalabee(s) fairly glow, even brighter on the street in the dark
The frame; 1) extra wheelbase, 2) <69degree fork rake, 3) roomy chainstay
Kept coming back to this Schwinn GS; 42.6WB, 67rake, & 18.25" chainstay. Worried about it being Walmart quality, but the select 9 series is substantially beefier/higher quality.
The motor/drive. Almost went with a BMC600S but thanks goodness I perused the non-hub section of ES. If not for Matt's developments (and others supporting his drive), never would of considered RC. The Astro3210 was just the step up from BMC hubby. An analysis of Spooky Tooth racing verifies the 3210 has just enough umphh for some fun and a little racing (this is theoretical on paper, actual performance data later).
Oogle these: 1)Matts' throttle interface, 2) HV160 preprogramed w/ extra input caps, 3) Maguro throttle, 4) 130BCD sprocket adapter, 5) pair 1.5" motor mounts, 6) slipper clutch within large pulley! 2748 grams/6lb 1oz includes motor mounts; Thanks Matt.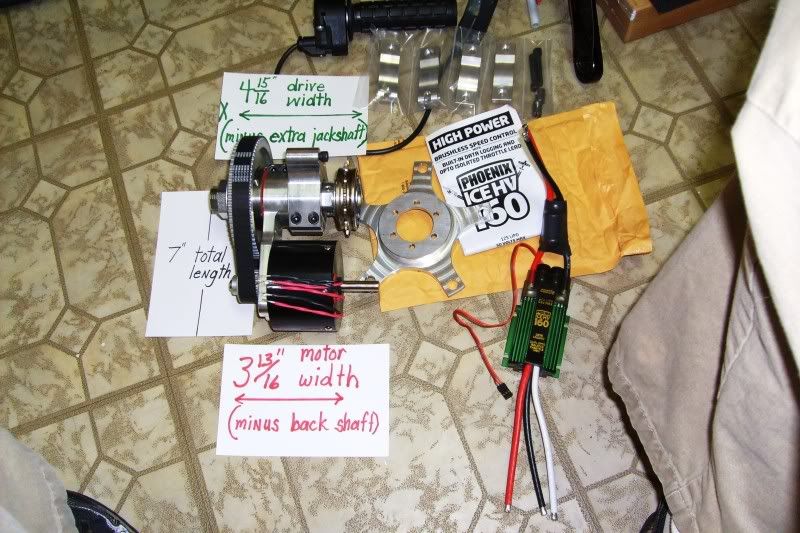 If you're thinking of an RC build read this 1st
http://www.recumbents.com/wisil/e-bent/rc_drive/tutorial.htm