The Beginning:
Starting in December 2009, I began my ebike adventures with a triangle battery & bag and a rear-rack mounted battery, both LiFePO4 from ebikes.ca; good enough for the first two months.
By Feb 2010 I had switched to Zippy Flightmax 5S1P LiPos, and stuffed six into the Triangle Bag to make 10S3P for commuting. Before the end-of-month I added a Trunk Bag with another 10S6P which gave me enough (10S9P total) to do the Chilly Hilly and attempt my first electric Century (see 101 Club).



About a month later I stuffed another 10S1P into the Trunk Bag for a total of 10S7P in the rear (10S10P total).
In June of 2010 I reworked the entire configuration and voltage for cross-country and put 18 Zippys in each Ortleib pannier for a complete system of 15S12P (see On the road…)
After July, I removed about ½ of those batteries, although this still left me with substantial multi-day commuting capacity. However – as is obvious in the picture below, commuting has not been kind to this setup. In addition, there was too much weight on the rear which in the rain causes the FWD to slip. Regardless, I wish to return to the wonderful world of balanced biking with batteries collocated in the triangle.
I drew up considerable permutations trying to stuff as many Zippys up forward as I could; at one time I thought that 27 could fit. Clearly my tea was too strong. Also the flips and spins of many assorted orientations on CAD simply did not transfer well into reality with several constructions abandoned.
I looked at sheetmetal, I looked at aluminum, at fiberglass, at carbon fiber, and thermoplastic, expanded foam, acrylic, leather, camera, computer, cycling, motorcycle, horseback, downhill, pre-fab, contracted, customized, off-the-shelf, under-the-shelf, and shamelessly begging local tradesmen for help. I wrote letters to manufacturers; dead air, no-reply. I canvased store after store, searching, hiking, hunting, digging, for clearances, for thrift shops, for a dirty bone to gnaw on. REI, Patagonia, North Face, Kawasaki, Yamaha. Harley-Davison, Honda; they'd seen my face often enough to know be by first name.
Finally I resolved to sew one up myself after one bid came in for $450 for one bag from an upholsterer. Angst-driven to source a material supplier, I found a fantastic shop in Seattle:
http://www.seattlefabrics.com
Then the hunt began for the sewing machine. Most reviews lead to the
Artisan 1797 AB Walking Foot Machine
; not cheap at $1195.00. It can be found cheaper elsewhere if you dig hard enough, and I did. But then the guy from New Jersey says "Whaddayagonnauseitfer?" and I says for making a battery bag. He says "Saveyerselfs'money; buya
Tacsew
", so I did; saved about $500. Two weeks later the boxes arrive. They were monstrously heavy.
Took me weeks to put it together try to decipher the pigeon-English and understanding the ass-backward diagrams reversed from Chinese from a reversed-English manual; something gets entirely lost in translation and it's more than just the instructions. I ended up having to go to Seattle Fabrics and taking pictures of how their floor model worked to complete my assembly. It depressed me. Summer came and went; I didn't notice as I was hunched over trying to make heads or tails out of the diagrams redrawn obviously by someone given a napkin-illustration of the assembly. It made no sense.
Finally after many long hours on the Xbox, in the jittery 3 AM fog of after-game adrenal shutdown the assembly made sense:
Use a hammer
. Like the Soviets, the Chinese don't know jack-shit about quality control; everything on this machine was a copy of a copy, and after a few iterations the parts didn't quite resemble the drawings - from which world war, who really knows. Problem solved.
I fired up the beast and began demo stiches: It has all the finesse of a brahma bull in a china shop. Great for making canvas sails! Not so great for sewing in detailed features – like a zipper, or a hem! I was depressed. More Xbox. I got better at guitar. Played Star Craft 2 in less than a week,
twice
.
A second round of pre-made bag hunting ensued. "Oh you again! How's the hunt for the battery bag going?" I didn't recall meeting this guy before yet he knew all the details.
Personal note:
Cut back on the Starbucks. Cut back on the Cliff Bars too. No joy; back to the cave.
I draw up a new set of plans; Version 0, simple, clean, foolproof. Pattern too large for printer; FedEx does it for me in a pinch for $5;
kuewl
(hehe-hehe).
Cut it out and tape it together. Doesn't assemble right. Try pattern again, this time model it in 3D and transpose. Rinse & Repeat at FedEx; awesome the pattern works. Spent two days cutting materials, then another two days fretting, measuring, double-checking. OK, let's stich this puppy up. One half done; messy. Bring the two halves together and it dawns on me: It's a great idea, but I have neither the skill, nor the machine to do the detailed precise stitching to achieve the proper assembly. Too numb to be depressed, more Xbox. My friends comment on how well I play guitar. More Xbox.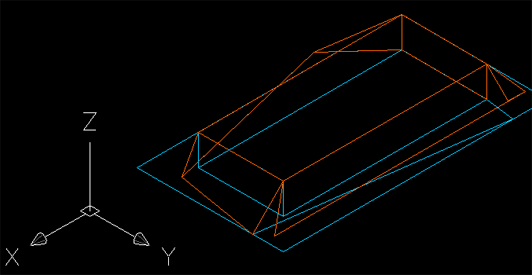 One more time: Talk to the machinist, show him the pattern; he puts it to me
nicely
and doesn't think I could afford him. Talk to the custom Body Shop guy that did such a spectacular repair effort on my vehicle after a hit-n-run smash-job while I was inside the bank making a deposit. He priced the fiberglass work out as requiring
300 hours
: Dude – you need to be
wearing a respirator when working with epoxy!
Back to REI; I've gotta find something that will work dammit! Up the stairs, down the stairs, this department and that. Any bag is worth looking at; an inspiration, a revelation, an epiphany, a whack on the head – something has to give, has to be the right size, has to be workable, and…
I found it ~ the idea at least…
D'oh!
KF
Part 2 next...