I have always been a fan of thru the gears drives. I have both hub motor and thru the gears bikes. I do a lot riding on crowded bike/walk paths (I live on the sea shore). A geared drive allows me to select the appropriate gear for conditions (slow/fast) and not burn battery energy heating up the hub because of inefficiency. With the motor spinning at an efficient rpm, acceleration is brisk and instant. To have more mounting options, I wanted to have a narrow drive that would fit between the arc of the pedals.
Shown in the first two pictures is my mid-drive with and without cover. The motor, a Neumotor 1907 (Kv 675 rpm/volt, Rm 0.03 ohm, Io 0.7 amp) is 1.5 inches long. The motor is run at 12.8 volt (due to high rpm/volt) at up to 40 amps continuous (500 watt). I use a standard Castle Creations 80 amp rc controller with a motor phase current sensor added to one phase wire (next picture). The peak motor phase current is limited to 60 amps. The gearbox, a Neugart PLE 40 two stage precision planetary, is 25-1 for a 20 inch wheel, and 32-1 for a 26 inch wheel. This motor can strip the gearbox if
motor
current is uncontrolled. Cooling is by conduction to the cover.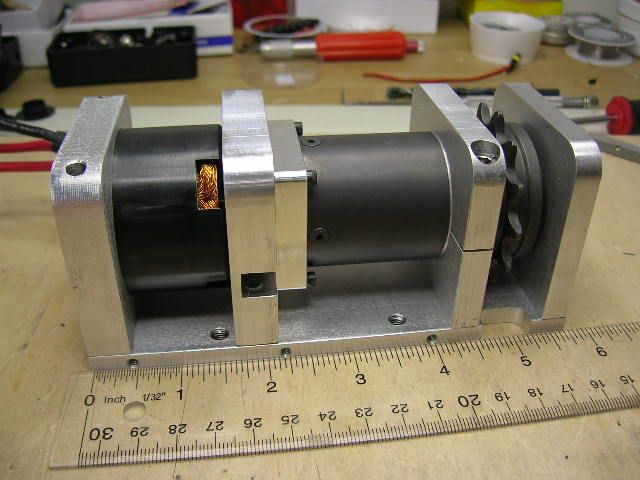 Shown in the next picture is a folding bike using this drive. I replaced the SA 8 speed (unsuitable for ebike) with a Nexus 3-speed internaly geared hub. The 3 speed mates perfectly to the drive. First gear is for hills, second gear is for cruising, third gear is for speed. Top speed is 19MPH. A comfortable cruising speed is 15-16 MPH.
A technical note: The Neugart PLE 40 precision planetary gearbox is too small for general ebike use. A better choice is the Neugart PLE 60, which I have used up to 1000 watts (later posts).