Hey folks,
We've been working hard to bring together hard to find parts, resources, and platforms for DIY builders working with high-performance RC-drive systems. We've finally brought all that together in our brand new site that we're launching today. We also have a full recumbent (downright) cycle shop.
The all-new site is
http://www.rideFFR.com
The discount code
rideFFR
will get you 10% off your ENTIRE ORDER! Today and tomorrow only. The 16th and 17th.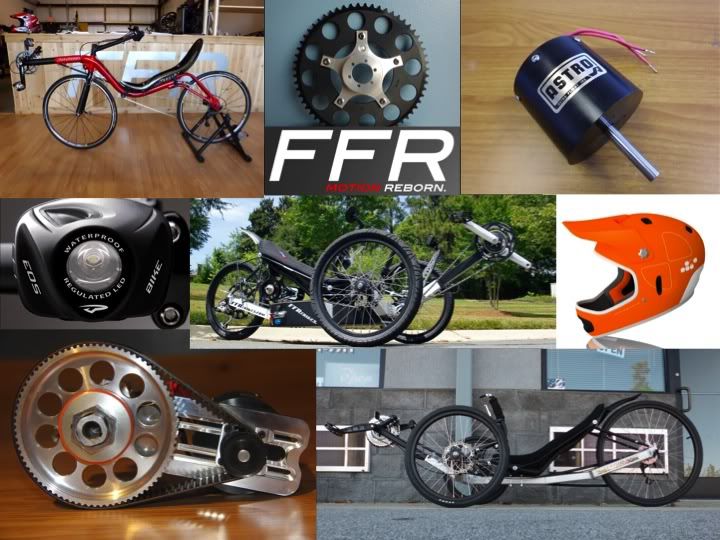 Here are some of the products we currently carry:
FFR High Performance Pedal Electric Vehicles
Recumpence (Matt Shumaker) Drive Systems
FFR/Recumpence CNC-machined parts (freewheel adapters, disc brake-chainring adapters, drive mounts, CA mounts, etc.)
Cruzbike, Optima, and Performer downright trikes
KMX, ICE, and Performer downright trikes
FFR Laser-cut battery enclosures
Astro Motors
Ebikes.ca (Grin Technologies) products including Cycle Analysts for sensorless RC applications
White Industries Freewheels and Componentry
Full face helmets from POC and Lazer
ACS Freewheels
Avid Brakes
Look, Shimano, Time Pedals
Industry Nine Precision Wheels (including custom high-strength straight pull FFR Trikes wheels)
Velocity Rims (reflective powdercoat available)
High Vis Gear from Bellwether and Defeet
LED lighting from Princeton Tec, PDW, and Planet bike
Park tools
Leyzene Pumps
Soon we'll also be adding Dow Kokam Premium Lithium Polymer Batteries, as well as Arizona Whips, and a couple other big products that we're really excited for...
That's all for now, email
tom@ffrtrikes.com
for the fastest response on inquiries. These next few days are sure to be hectic around here.
Thanks!
Tommy @ FFR