Hello everybody, is there or moderator which can tell me if I am authorized to talk about the BMS system I develop ? I primary develop it for my personal use but because my job is electronic hardware/software developer all the design is done in a professional way, and I think I will try to sell my BMS in a close future when everything will be finished. I present it briefly for now.
Thus my project is a distributed BMS to supervise and protect lithium chemistry pack of EV. The BMS is based on a slave board on each cell, to measure voltage and temperature of the cell, and a "master board", which receive the voltage and temperature of all cells and can take decision (stop charge, stop discharge, datalogging, display, and so on).
The slave boards are finished and are already fully industrialized, I can launch a production at any time.
Sometime image are better than words, here are the slave boards for voltage and temperature measurement (size of the board is 24x20mm) :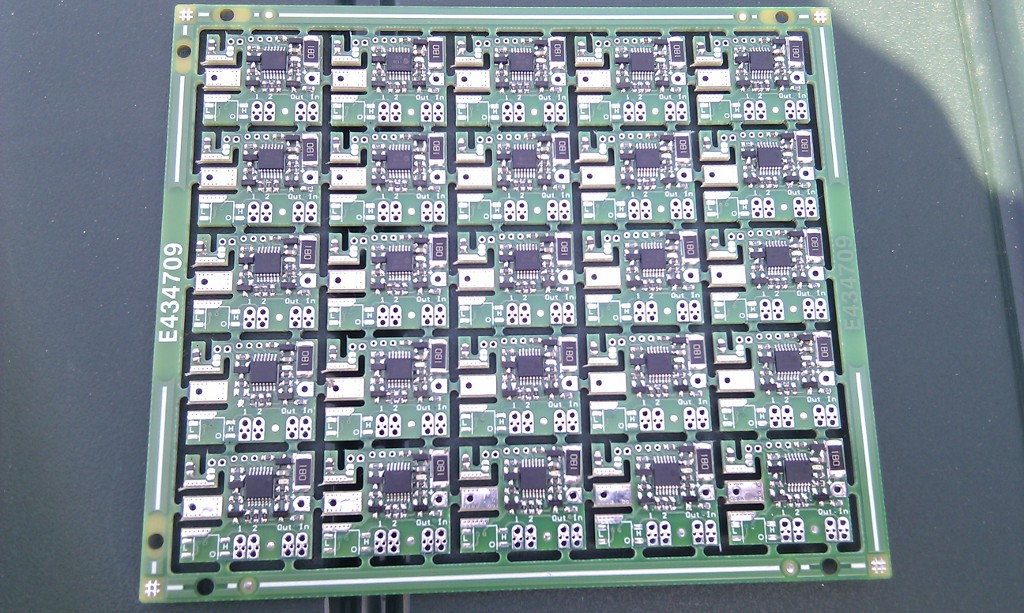 Mounting on a small pack for development test, without wire for now :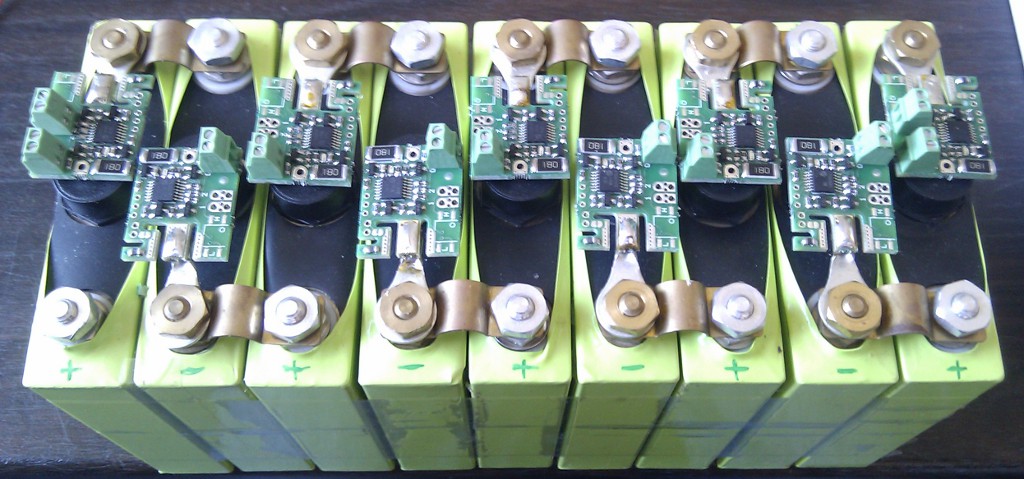 After wiring (1 wire between cells and 2 wire for the first and last cell connected to the master, here my computer through a very simple interface), it give this :
[youtube]http://www.youtube.com/watch?v=k3qjPXCfs6M[/youtube]
http://www.youtube.com/watch?v=k3qjPXCfs6M
Note : the music comes from a toy of my children, not from the BMS
My goals are to propose a very powerful and precise system at the lowest price as possible, and open the protocol I developed to let the possibility to diy guys to use these slaves boards in their own project if needed. Thus it become possible to read voltage and temperature of all pack's cell (up to 255 cells) with just a free UART (RS232) ! Because this slave boards are just slave, they have absolutely no configuration for threshold, they just send the cell voltage and temperature to the "master", and it's the master's job to decide what to do depending on the chemistry (li-ion, li-po or lifepo4), for example stop charging, stop discharging, activate the balancing on any cell, and so on.
As I said slave board design is finished, now I work on a master/display board. It will be a sort of powerful cycle-analyst, with same "basic" dash board monitor functions, but improved with the cells supervision/management, SoC, integrated datalogging, status outputs to stop charge/discharge, color TFT touchscreen, etc...
Regards