THESE PARTS ARE NO LONGER AVAILABLE. THANKS!
It's time to part with this. She's been collecting dust since I had some battery issues a while back. I never got around to fixing it and wound up robbing some parts off of it. I'm selling this 1994 Trek 830 with the battery enclosure and Drive system already installed. Everything that this bike comes with includes:
Complete bike
Front - 8" Avid BB7 Disc Brake
Rear - Avid single Digit V brake
Like new Specialized Hemisphere Armadillo tires
Cycle Analyst
Custom Aluminum Battery Box - can hold up to 25AH
Astroflight Servo Tester
Dimension Engineering BEC
Magura Twist Throttle
Recumpence Drive system
8t 3215 w/ custom heat sink
FFR Micro FW adapter
Odyssey Micro FW
54t rear Chainring
Custom Chainring adapter
Shimano Saint rear hub w/ Sun Rhino Lite rim
Charge Plug
All you need to have a fully operational E-bike (with awesome power!) is:
Castle Creations Controller (Preferably HV160)
Line Contactor
Shunt
Batteries
Also, she is geared for right around 30 mph as she sits right now, assuming one will be using a 44.4v system with this.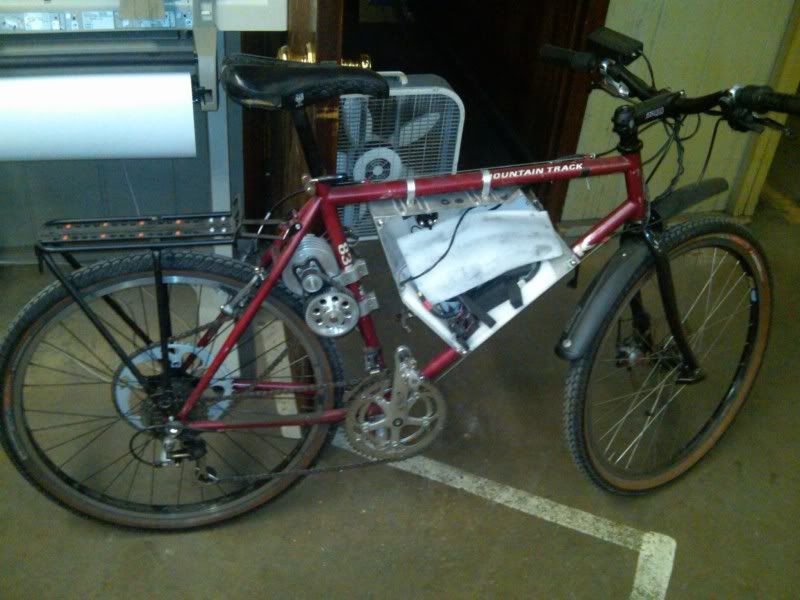 Okay, okay, I'll get to the price. I'm asking $1550 OBO. This a great deal, all engineering work has already been done; she just needs a few of her vital organs replaced and she'll be ready to rock! I'm willing to ship anywhere in the lower 48 states. Shipping will be $95.
Thanks,
Daniel