After hanging up the truck (literally) and riding for more than a year, my diet had changed significantly. I think I weigh about the same, it's just that the tire around the waist has been transformed into muscle around the thighs. The brain might be smaller; I feel the draft… no accounting on that
One of my discoveries in nutrition is young
Green Coconut
:
http://en.wikipedia.org/wiki/Coconut
I had been working my way up to about 50 miles per long ride (not commuting) and found myself quite fatigued for several days afterwards. A produce guy working at a high-end grocer suggested I try green coconut. Normal coconut has a hard brown shell (
endocarp
); when you break it open it has clear sweet liquid inside and the meat (
endosperm
) is very firm if not hard.
Young green coconut though still has the husk (
exocarp/mesocarp
) attached; it may be green on the outside, or shaved to reduce weight – but you won't see the endocarp as it's buried. This separates after maturation. When green, the liquid may be clear to milky, and the meat will be fleshy to pudding-like. This is the best form for the body to uptake.
I buy mine from Safeway; they are a little more mature than I would like but the price is right. Take a good sharp serrated carving knife or saw if you prefer and whittle back the top-third of the mesocarp, exposing the endocarp. Place the seed on the floor and with a sharp pointy punch, drive three holes into the top. Invert into the blender to drain. Then I like to use a sharp 1-inch wide wood chisel and with about five good whacks around the perimeter, the top can be removed.
I use a spoon to scoop out the pudding-like flesh, being careful not to have any endocarp attached; small residue doesn't hurt. Put it all in the blender. Add your favorite fruit, eggs, yoghurt, whey, whatever and give it a blend. A full dose takes me about two days to consume as a supplement.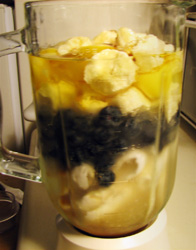 Typical recipe:
1 Green Coconut
1 very ripe banana
1 small package (6 – 8 ounces) of fresh berries: Blueberries, Blackberries, Raspberries…
4 – 6 fresh eggs
Honey to sweeten (use a little at first)
Blend on slow speed until adequately mixed. Pour yourself a pint and enjoy! Put remainder in the fridge; it should keep for a couple of days. Re-blend as needed.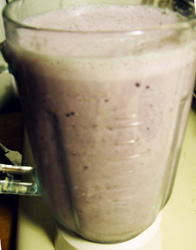 This recipe had anti-oxidant power of blueberries...
Extras:
Yoghurt (I prefer unflavored)
Whole or raw milk
Whey Protein
Molasses (for minerals)
Salt.
I feel tremendous vigor after consuming this: a pint before and after a strenuous ride.
So - wot's in yours?