Backfill #3
Monday August 1st Burney, CA to Greenville via Lassen NP
Left Burney with full charge about 9 AM however the Rear Hub is still acting flakey so I pulled off at the Shell Station and disconnected the Cruise Control thinking that it was inhibiting the controller with a spurious signal – however this had no effect. The bike also has been developing an occasional nasty chatter though I can't find it.
At 9:15 AM
we
head on out, however flawed. At 20 miles out – the rear hub cuts out completely leaving me to pedal and the front is barely strong enough to pull me up the hill. Pull off to analyze and reset the Molex connector where the signals split; It works! Motor-on. Rubbing noise is still apparent.
Got to Old Station but the General Store is shuttered; gas-only through automation. Kept on going up the hill for a long arse time as Hwys 89 and 44 merged. During this segment some ahole towing his little-dick fishing boat passes me with 6 inches of clearance. Issues like this make me want to install real-time video recording. A few miles later the two highways diverge and I take the path less traveled (Yea!). It's a climb up to the park entrance; at the station the Ranger tells me we're presently at 5600 feet, it's 22 miles to the summit (gulp)
which is 8600 feet high (gulp)
and I have a headwind (gulp)
. I pay the man $5 to pass through the park and on I go up up up for a mile before the road drops like 1500 feet down (gulp)
.
I decide to test a theory and downshift the bike into
Grandma
and lower the throttle down to 20-24 mph cos after 38 miles the battery pack is down to 59V! (Pedal pedal pedal) I decided to call this "Poverty-Pedaling" cos I am power-poor. About 9 miles into the climb I reach the
Devastated Area
and pull off for a rest, water, food, etc. This event however turns into an hour long marathon of electric bike theory, my saga, and discussions on regen as tourists flock around my ebike trying to guess it's function.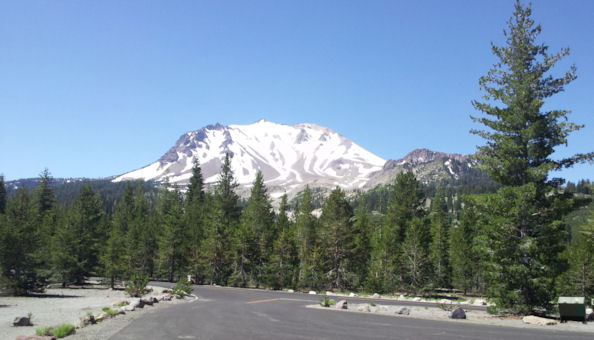 EDIT: Mount Lassen from the Devastated Area. This was not a fun place to stand the century before.
Funny story:
Just before the highways split, I had pulled off to take a shot at Mt. Lassen and Chaos Craig's. A tourist stopped at the same spot only to note when I returned that I was driving "a heck of a contraption". Then he enquired about my rear-facing bling (the one that looks like a prop) pointing at it and I tell him with pride "Well, that there is my
Diametric Coriolis Inductive Regenerator
!"
The guy stares hard into my eyes and after a breath, he says "
Sooo, it's functional!?!
" Suppressing my laughter, I says "Actually it's for
a laugh
" but he cuts me off – "Well you know they make those things and you can buy them at x-y-z…" I couldn't stop chuckling for the next 5 miles.
So here I yam at this rest stop and the rear-facing bling becomes a great talking point with much laughter. Tourists gone I try to leave but the rubbing sound is really annoying but I can't find the source. Eventually I make it to the summit after a long albeit jaw-dropping beautiful drive about 1:30 PM, and 59.5 miles at 57.9 volts.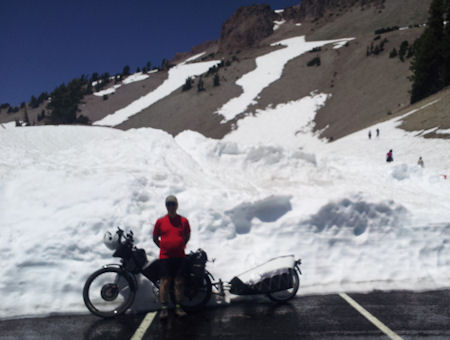 EDIT: KF at the Summit. Behind me is the trailhead leading to the top of Mt. Lassen; this is snowed in - a very rare condition this time of year!
EDIT: A view of the parkling lot from a tiny way up the trail. So much snow - and it's sooo cool
EDIT: One of the vistas above the Sulphur Works. Added on 9/1/2011
I am pretty sure this is the halfway point to Greenville so I am really pleased.
This is likely the highest pass of the trip at 8600 feet. Again the bike becomes the spectacle and I'm there for 90 minutes talking it up. About 3 PM I descend the mountain with lots of regen braking but it hardly affects the fat of the pack. Pulled off near the Sulphur Works cos the chatter is so bad. I break out the tools but the nuts and bolts seem tight. Repack and head on down the hill; it's now 3:30 PM. Finally reach the junction of Hwys 89 and 36 about 4:30 PM, and the descent was one of the very best, and rivaling Medicine Lake.
The rubbing/chattering is really bad now. In the 25 miles I stopped at least three times trying to source it. About the third time I rearranged the rear fender to join over the suspension pivot rather than under – but the chatter continued. I give up and just power on cos it is getting late. Somewhere in this part where Hwy 89 and 36 fork I noticed that the CA for the Rear hub goes T.U. and stops recording mph and mileage. Can't stop to futz with it; I've got to go WOT balls to the walls with 23 miles to go. Heading on down passed the Dam, the canyon is light on traffic and I blast as fast as I can go. AS I reached Greenville and make the left turn onto the Valley Road there is a tremendously loud clatter – and the rear fender falls off! Stop, picked it up, packed it away and continued on; the f#$king chatter though was still there.
After a few more miles I reach my Unc's Farm: EOD.
Stats:
End V = 56.8
Total Day miles = 118.7
Elevation Climbed = 7200 feet (est)
Regen = 2.7%
Vmin = 55.3
MaxS = 42.0 mph
AveS = 27.4
Trip Time = 4:19:44; total time for the day = 8:45
Total Odometer = 829
I took a one day break here and enjoyed many sacrificial barleys with my cousins.
More backfill coming a bit later, I promise!
KF