---
i have a bmc that is sitting in my lap at the moment that im trying to get running. at the moment, im trying to get my hall placement correct to run on this hua tong controller i got from ebay. at the moment i suspect that this controller wont accomodate this motor since the hall spacing is 120 or 60 degrees. it spins up for me but it seems to draw too much current past 1/2 throttle and surges like it wants to go full throttle.
this is what i have as of now.
the motor:
close up of my hall placement(im pretty sure itheyre in the wrong place, so feel free to give me a stern talking to for that one and correct me.
):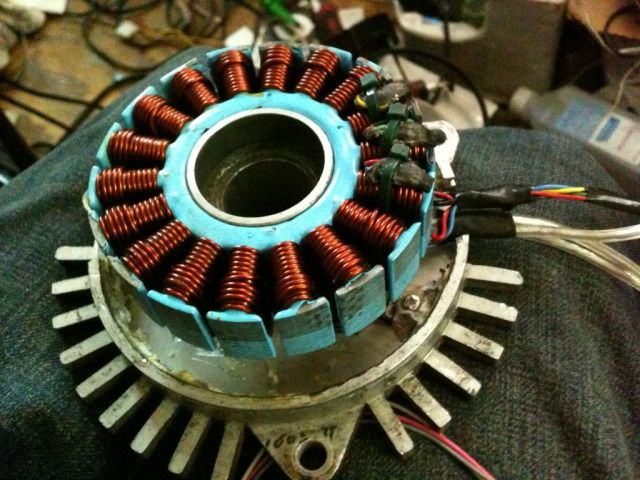 and this is the controller im running: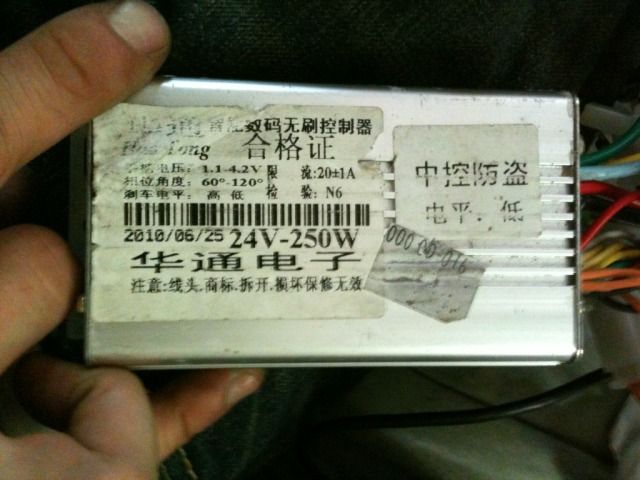 its a hua tong 250w 24v brushless controller.
can anyone give me any tips or pointers how to get this running correctly? mrbill? fechter? knoxie? anyone? i looked at mrbill's thread and his website and i tried to place my halls in the same place he has, and my motor wont even turn on my controller. ive been fiddling with hall placement to get it to spin up and ive been getting mixed results.
---
well, First off, I wouldn't bother trying to get it to work with that controller as it's rated far lower than what these motors will put out. But I understand the need to keep things cheap. have you looked at this thread?
http://endless-sphere.com/forums/viewto ... 28&t=20910
I will be curious to see you figure it out though. keep at it.
---
i realized that i had a hall flipped upside down.
but the spacing that mrbill is using us working for me now, well its still on and off, im trying to position my halls to where it will run smooth. i got it to the point where ive been able to run it at full throttle, but it pulls about 3 amps and i think thats normal. if i recall, others have got similar no load amps on their bmc;'s but ive been reading the data for both 300w and 600w options.
right now, i really want this to work since i fried the 250w 24v currie motor on my current ebike. i just hope i can do it soon.
---
I'm selling my 600w w/controller (lynn controller). I bypassed it. should work on your setup.
---
i have a feeling it could be pricey for a lyen controller and bypassed 600w bmc. ill see what i can do with my 300w bmc and controller at the moment. right now, i just blew 2 phases on my controller due to my error of a hall sensor getting knocked out of place and being at full throttle. i have replacement FET's on the way which should be here in the next week. but i think i almost have it in running order.
but if all else fails, ill look for a completely new motor setup.
another question, do the hall sensors have a specific position besides being in the middle of a stator tooth and spaced 3 teeth apart on either side? like, should it be near the start or the finish of a phase, or something like that?
---