I have recently returned from the land of fish and plant.
First off, everything I knew about China
was wrong
and replaced within the first two days of residency.
The people here are very nice, most are shy, they are bright, and the ones I encountered on a daily basis want to advance their English. They all appreciate the attempt to speak their language as a first choice like a flower draws to sunshine.
In the city of Suzhou, not far from Shanghai where I stayed there were very few policemen observed because they are not required. The streets are clean, free of litter & graffiti, and I was never troubled other than crossing the intersections which was in itself a challenge for survival. On that note, I've been told Italy is worse though I can scarcely imagine.
Yes, there is air pollution of an extreme beyond my childhood memories of Los Angeles in the 60s and 70s. There is industrial and commercial expansion ongoing at a world-breaking pace, and I could not begin enumerate the count of cranes within my short visibility: They are rapidly building a modern interconnected infrastructure like there is no tomorrow.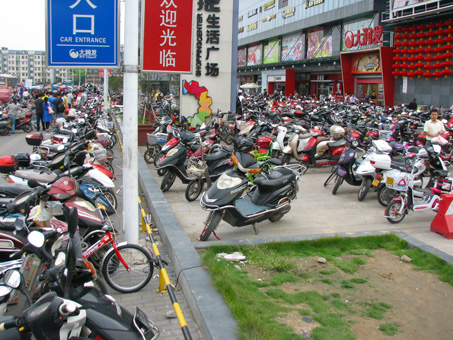 This parking lot is about two city blocks long and filled with electric mopeds.
I saw one bicycle for every 100 electric mopeds.
I saw one ICE moped for every 100 electrics.
I saw one motorcycle on the road in the whole month there possibly because they are heavily taxed and disallowed on expressways.
The public news channel - CCTV recently announced that the Leadership is moving to shutter 65% of all coal-fired production of electricity and heavy industry in the next 5 years, replacing it with nuclear generation.
There is an active program to plant trees at break-neck speed.
Appears to be a public charging station...
For the most part, I could walk for miles through the city center and not encounter another Anglo/European, although many citizens know basic English well enough to be kindred, and I did my best to learn their language as rapidly as possible.
I'd like to share with you a few photos and stories as time allows before I'm away again. Work keeps me busy, and when you're a world away… well, there just isn't much down time – not that I'm complaining.
Shopping at "Tesco", a local urban superstore. This quad is selling electric mobility ranging from 1899 to 3300 RMB (about $300-550 USD).
I'll add more in a bit.
干杯
KF