Hi everyone!
This will be my first real project on this forum. I'm already posting this project on another forum, but since I'm asking for advice/help on another thread, I thought that it would only be appropriate to contribute to this forum also.
Last year I did a Razor Dirt Quad build, where I rebuilt the rear swing arm to hold a 54lb 9.5hp industrial motor and 4 12v 18ah batteries:
This is the motor next to a Unite 1000w 36v motor: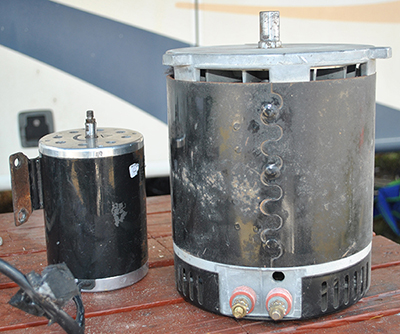 The build was a lot of fun and I ended up calling the project "The Beast" because of the size of the motor. In reality, however, I should have called it "The Wild Pig". It had a high center of gravity that made it handle like a pig on straight roads! I never got to open up the throttle on it, so I was disappointed with it in the end. I was thinking about lowering it by rebuilding the front suspension, but ultimately, I decided that it would be to much work.
I decided to find a go kart frame to drop the motor on to and I went out last weekend to a 39 mile long yard sale down here in central Florida to look for a frame when I saw this:
It had a 5hp gas motor on it that I told the owner I didn't want. After bargaining with the gentleman, I got the frame for $40.00! Since I'm putting most of the hardware from the The Beast on it, I decided to call it "The Spawn of the Beast".
My original plan was to set it up like this: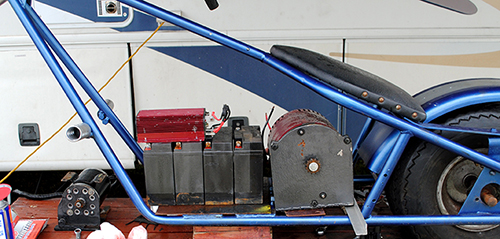 (The red box on top of the batteries is a Kelly KDZ48200 controller.)
I was going to go for a "retro" look with analog gauges, however.....
I scored on eBay yesterday morning! On of the 12v 18ah SLA's that I was planning to use on this project somehow or other shorted out on my trip from Montreal to Florida, (I live full time in a 36' motorhome these days, I'm originally from California and
-30 SUCKS!!!
). So I went on eBay to peruse for new SLA's. I was looking at $120.00 with shipping for 4 new batteries and I thought that I would check and compare the price of lithium's when I found this:
https://www.ebay.com/itm/122752553886
I couldn't afford it this month, (I just spent $1000.00 on gas!), but I really couldn't not afford it! A BMS isn't that hard to repair/replace and the entire pack only weighs 8 lbs! Each 12v 18ah SLA comes in at 12.5 lbs, so I'm losing 40 lbs of batteries!
Which means I have to change my design plans. As I said, I was going to go for a "retro" look, but now I'm thinking something sleeker and futuristic. I really have to wait for the battery to arrive next Monday and see what I'm dealing with. One thought that I'm having is to disassemble the pack and build a faux gas tank to hold the batteries, (although, since the batteries are my "fuel", is it really a faux tank?). I'm actually thinking strong angles like the F-117 fighter had.
For the speedometer/tachometer I'm going to build this:
http://www.instructables.com/id/Arduino ... aphics-LC/
With a matching volt/ammeter for my "fuel gauge".
Right now I'm just waiting for the new batteries to come in so that I can see what I have to work with. I'm also thinking of building a rear swing arm, I have to think it through to see how much work/rebuilding of the frame I would have to do. Another thought that I had is to find a used mountain bike front suspension and modify it onto my front forks.
Because of the size of the forks and frame, cable brakes wont do the job. So I will be adding hydraulic front and rear brakes from a motorcycle. I want to keep the front bike tire to try to keep the weight down, so I will have to get a new front hub to mount the front brake disc on.