Aha. It's actually an "EZ-Go" 25864G09 golf cart controller, which is a Curtis 1206-4301 (which is not written anywhere on it, you just have to know that).
And for future people who may come across this thread:
http://products.jacobsen.com/img/manuals/28646.pdf
<-- Manual for the golf cart, which has some controllery bits in it on page E-17, but not enough for me to figure the pinout.
...
Revisiting a couple rejected options I didn't discuss before...
I also have a controller from the forklift yard's junk bin that was marked: "Needs repair, low output". It's a Curtis PMC model: 1-187-067. 24-36v, 275 amps.
Again nothing comes up on google, and I couldn't get into it, it's potted shut. Drilling out the potting to find 6 screws underneath and some hammering later, it says on the board it's a "1204x-42". Hard finding that exact model, but at least it's a model that exists and I can find pinouts for.
So that's promising. You know, most of the time, in any place, when stuff is marked as damaged there's nothing wrong with anything but the technician, so, let me just see why the output might have been may be marked "low"...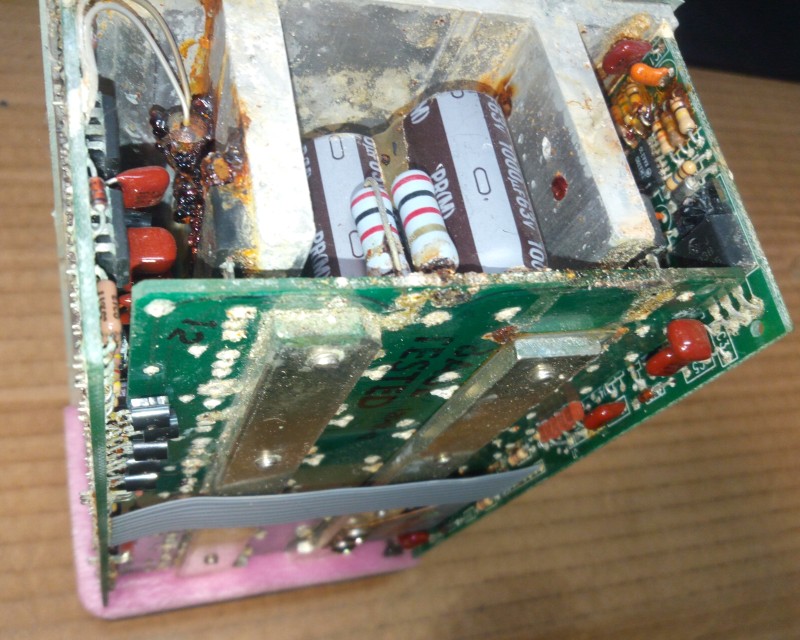 Err... oh. Not the technician.
Looks like everything that's steel (mounting hardware) is rusted, everything lead (all the solder joints) are crumbly white powder.
I can't get inside the thing because the side boards are all soldered together. It's at least dozens of solder joints just to examine it further. FETS are I+R9207, (+- symbol?), can't find a datasheet on them.
I do like a challenge, and I do like repurposing junk, but:
1 - I don't know if it's in working condition.
2 - I have to make dozens of desoldering connections just to access the FETs and clean them.
3 - It's hundreds of soldering joints that are corroded, any one wrong and it probably won't work.
4 - Is the circuit board corroded internally?
Sounds to me like the 1204 is a shelf-it project, maybe turn it into a charger later.
I also pulled a GE Clark EV-T5 controller out of the junk bin last year which is 3x the size of the Curtis 1204 (as big as a double-slice toaster), but, it's only 24v and 75 amp (250amp at 50% duty cycle). The current is probably okay, but the 24v is just hot wet garbage (and I don't know if it's working).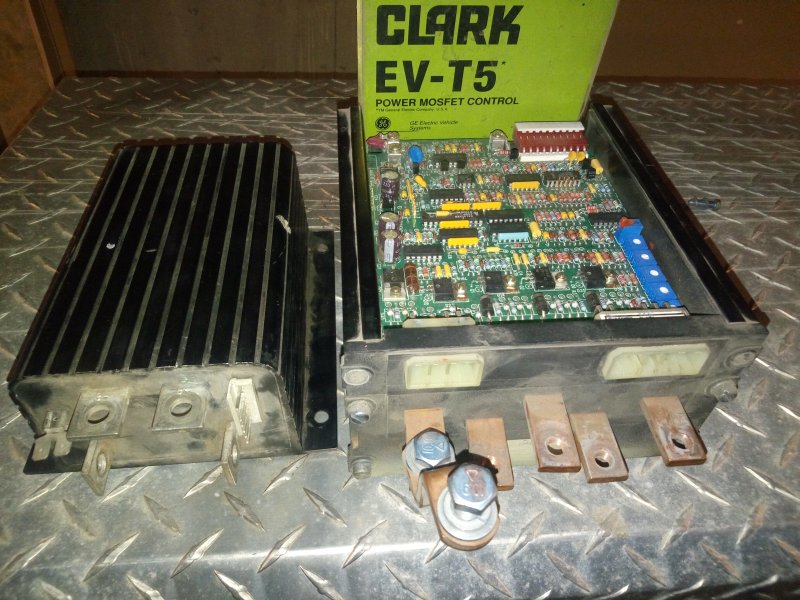 So, I guess a bit more sleuthing on the 1206 as that's my best bet at something that might hit highway speed.
Normally I'd be happy with trial and error. Pain in the ass is, once I arrange the 18650s into their plastic holders, (head or tail in the correct directions)the entire pack has to be disassembled to get them apart again, let alone all the soldering. And soldering the batteries damages them a little bit each time I'm sure. A lot of my projects get abandoned when I hit a point where I have to backtrack because of how discouraging that is, so, trying to prevent that this time.
So, I'm kinda stalling out at this stage to see if I can get a higher voltage controller that I'm more sure will work before I double-down.