Hi all
I recently purchased Mike's Fazer 600 conversion (see here
https://endless-sphere.com/forums/viewtopic.php?t=87495
)
The overall specs are:
Enertrac 602 Liquid Cooled Hub Motor
Kelly KLS8080 400 Amp Controller
Kelly HWZ 325w DCDC
Kelly Charger
13 Leaf modules, Bulk Charging to 107.9v
I was having great fun on it, for 2 days or so, until the controller released the magic smoke.
I am fairly good with electrics etc, but nothing like jumping in at the deep end!!
The failure scenario was as follows:
Power up the bike by powering the actuating a large safety switch in series with the battery pack and the controller. This allows the power to come into the controller via the precharge resistor across the contactor. I wait until I see pack voltage on the ammeter (powered at the controller terminals). I then pull out of a car park onto a 60mph road, so give it full acceleration. I reach approximately 40mph and see roughly 290amps on the meter, before I get an abrupt cutout of voltage and and very jerky stop.
I immediately hit the safey kill switch and asses the situation. I go to power the controller up again, which results in jerky movements of the powered wheel and lots of smoke from the controller.
Get the bike home and find that the controller is dead with no signs of life (even when fed by its 12v control circuitry only). If I feed it pack voltage, I just get motor jerks and smoke again!
I pull the controller and open it up to find this: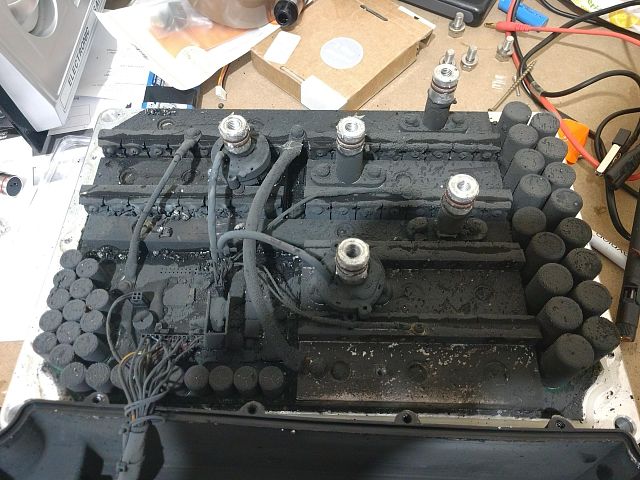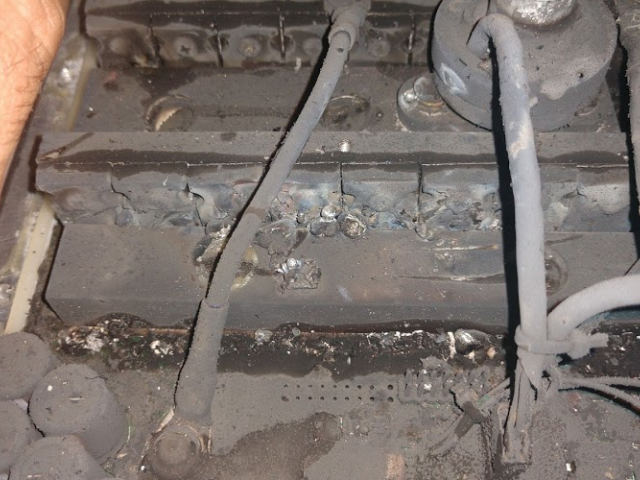 That got rather hot. I was hoping to attempt to repair it, but I don't think that will happen.....
At this point Kelly Controllers cannot really tell me why it failed. It would be nice to know the thoughts of other people so I can prevent it from happening in the future...
Thanks all!