G'day,
Heres some pics and info on my latest project (and first EV) the not so humble razor E300. I built it after work over a week or so using some fairly back yard engineering solutions, but im limited to only a small drill press and angle grinder at the moment. In the near future i'd love to buy a lathe and mill.
The motor is a turnigy 63-74-200kv, the speed control a turnigy k-force 120HV with cooling fan mounted, and the batteries 2 x turnigy 6s5000mah. Also in there is a turnigy servo tester and turnigy watt meter. The system is currently wired for 22v 10ah, but I'll change it up to 44v once i get the speed control back. Which fried BTW. In the mean time I have a k-force 150a 6s speed control due anyday now
Someone may be able to enlighten me, i thought the 130amp rated watt meter would of packed it in way before the speed control? Which i was sort of planning as protection...
Currently its geared 5.5:1 (10/55) and calculated speed is 36km/h. Range im only guessing at 6 -7 km. At the moment it doesn't like stationary starts, a kick is required to ensure smooth take offs. Once its doing walking speed however the throttle tracks very well and its easy to pull wheelies using power alone. Its fun!!
Future plans include a respray and some grip tape/decals, 80-100 motor, throttleizer and 4 lipo's for 44v 10ah. And a helmet!
Any comments/advice appreciated
Dan.
You can see the twist grip motorbike throttle and window for watt meter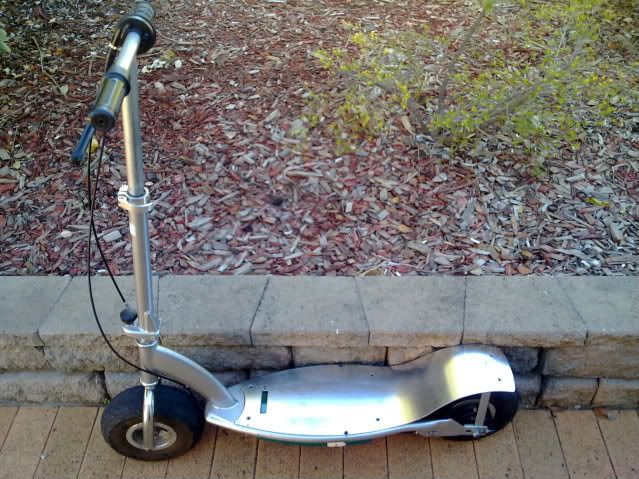 minus batteries and toasted esc, had to remove stand and grind mount to fit motor in this way..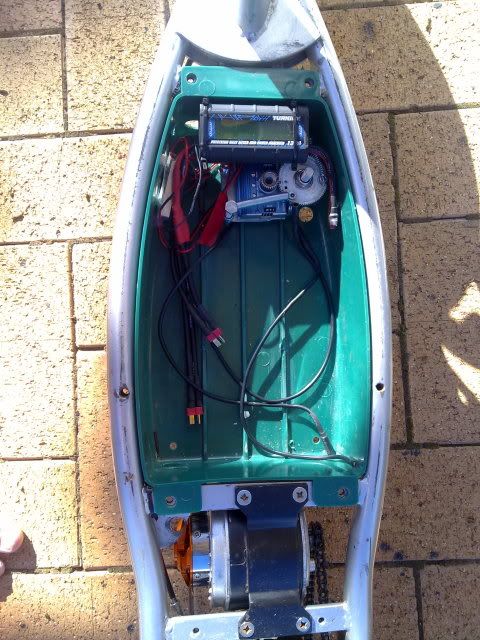 servo tester mounted on steel plate, gears are 48 pitch r/c stuff, no throttle stop used i just set the geometry so it stops itself.
drilled/flap disced/filed back cover of old motor, the photo is abit crooked, theres actually atleast 5mm all round it.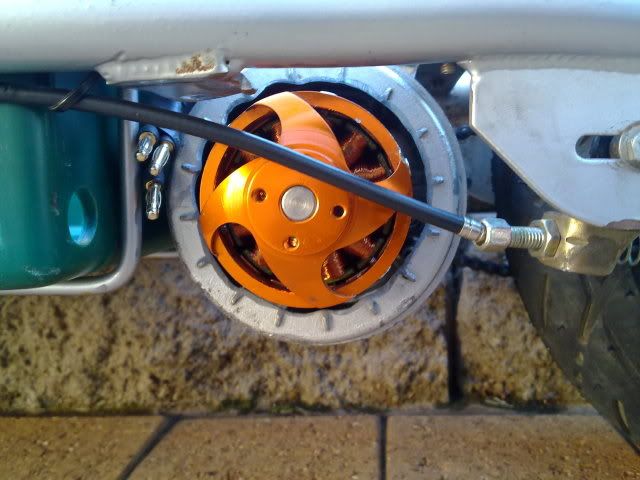 Used the star shaped motor mount included with outrunner, hence the socket head screws and recessed middle holes. I added the cooling hole as well as a vent on the back at the top after the initial runs when the motor was getting way too hot, but the first run afterwards the speed control died so havent been able to see if these are effective yet.