Inspired by this thread:
https://endless-sphere.com/forums/viewt ... 12&t=46513
I want to build an E-Cruiser / Harley.
My design objectives:
It must be a cruiser - Rigid or softail
Registered / Engineered
Freeway speed capable 110km/h
Range of 110km as follows 75km @ 100km/h, 15km @ 80km/h, 20km @ 60km/h
powerful enough so I don't get laughed at.
Voltage compatible with my home solar-hybrid inverter (48V with suitable CANBus BMS)
Immediately some things that stand out are:
freeway speeds @ 48V (this could be a problem), likewise a 110km range without 100% DOD. depending on the size of the pack
Currently this is the bike that is a potential doner, the Yamaha XVS 1300A or perhaps it's baby brother the XVS650.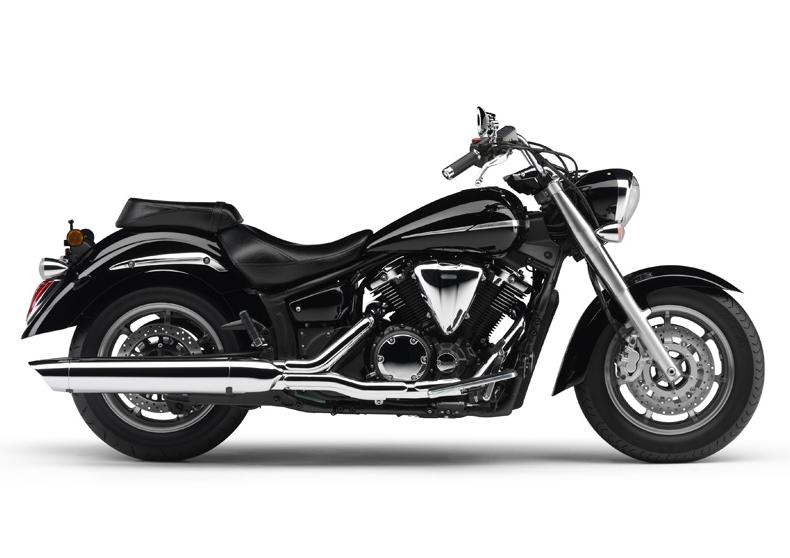 The XVS1300A has a belt final drive, 30:70 final reduction, and rear wheel of 170/70R16 with a rolling circumference of 2044mm
To achieve my desired road speed of 110km/h I get a rear wheel RPM of 110km/h * 1000 / 60 / 2.024 = 905 rear wheel RPM
There are only two motor options - Mid Drive / Hub Motor
If I go mid drive (probably not though, refer to my comments further down) the FInal drive ratio will determine the motor KV. with a standard final drive of 2.33, motor RPM = 2108RPM of a KV of 43
If I go Hub Motor the KV is simple 905 / 48 = 19 (ish)
Carrie from QS emailed me a list of compatible Hub Motors of which, two show potential:
LINK TO V3 QS 8000W MOTOR
80x2T - KV 19.10
12x8T (in parallel) - KV 20.14
**** WHAT DO PEOPLE THINK OF THESE TWO WINDING OPTIONS *****
From the Goldenmotor website, the mid-drive options are as follows:
http://www.goldenmotor.com/eMotorcycle/frame-emotor.htm
10KW ($665 USD)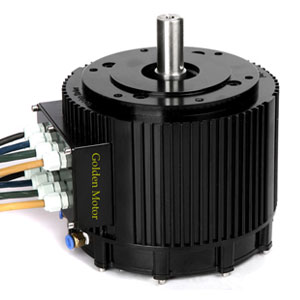 or 20kw ($1600USD)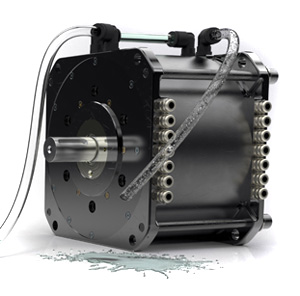 The issue with either of these mid-drives is that they take up valuable space
Originally I had considered a rigid custom chopper chassis like this:
but when I spoke to the custom motorcycle shop, they said the engineering costs would be in the order of $5000. I get get a lot of batteries for $5000. So I decided to go with a factory bike, and motor conversion which is "apparently" a different set of rules, and under $1000 for engineering costs. The benefit of this frame design is a space for the motor, leaving a large space up front for batteries. With the XVS1300 frame, the rear suspension takes up much of this space.
Back to the requirements...
powerful enough so I don't get laughed at
.
For this I had set in my mind 40kW but perhaps this isn't as important if the torque is there to make "worthy" acceleration. That is, if I pull up next to another harley, I will either beat it to the next lights or at least not lose by much... Stock 100 cubic inch motors are around 100Nm torque our electrics should do this pretty easily. The direct drive QS hubby above states 86Nm, but the table in the link shows about 280Nm from around 170A. Probably sufficient??? *** IS THIS ENOUGH?? ***
To Run this thing, I'd be looking at eiher a QSKLS controller from QS motors (Kellys with QS Badge) or an APT. The advantage of the APT is that it apparently does field weakening, and 600 phase Amps
LINK TO APT Controller HERE
I'll skip over Contactors, pre-charge, cable and other accessories like DC/DC converter, and just budget like $500 for all that crap
BATTERIES!!! The most expensive component of the build. Requirements:
Voltage compatible with my home solar-hybrid inverter (48V with suitable CANBus BMS)
16S LiFePO4 or 14S LiNCM or 18650 LiPo is where we're at for the terminal voltage compatible with the Solar Hybrid System
Link to Sungrow SH5K article
.
I have found a few BMS commercially for between $500 and $1000 that support CANBus and are supposed to be compatible Both the SH5K inverter and the SMA SunnyIsland are compatible with the LG Chem RESI 6.4kWh battery, and the BMS I found it compatible with the SMA so I assume it would work with the SH5K as well.. getting these specs from the manufacturers is "difficult". Anyway, there are a few CANBus BMS modules from Bestech
HERE
that might do the job, when they get back from holidays I will ask the question and see if I can get a summary of the protocols they use.
Requirement:
Range of 110km as follows 75km @ 100km/h, 15km @ 80km/h, 20km @ 60km/h
I estimate 100Wh/km @ 100km/h based on reviews i have read for the Zero, and other electric bikes... I estimate 65wh/km @ 80km/h and maybe 40Wh/km @ 60km/h add all that up.. 100 * 75 + 65 * 15 + 40 * 20 = 9275Wh or a 10kWh pack... @ 48V nominal this is 200Ah. (ish)
Ok so, I considered Sanyo 18650GA 3400mAh per cell. That's 200 / 3.4 * 16 = 941 cells !!!! that's a lot of tab welding... Price is $3.49USD per cell in quantity that's $4700 AUD plus whatever import fees, plus shipping.. $5500 all up probably. Plus nickle strips, plus tab welder, plus holders / joiners plus time plus time plus time plus time.. etc... you get the idea.
I also found these things...
100Ah Cylindrical LifePO4 Cells, 78mm D x 380mm long Threaded terminals
. rated at 100A nominal discharge, 300A max and 1000A pulse.. The threaded terminals will make connection simple, laser cut some end plates and "Robert's your mother's brother" as my father used to say...
I haven't confirmed availability yet, but these will fit well within the frame ONLY IF I RUN A HUB MOTOR..... If I have a Mid-Drive, 10k, using a 20Ah variation of the cells above, the best I can fit is 180Ah, using 144 cells.. a lot more interconnects. I imported an image from the workshop manual into solid works, scaled it using a photo of the bike, the known wheelbase and some reference points on the frame, and inserted a pattern fill of the different cell sizes (there are also 50Ah 55mm cells but they don't give a usable multiple of 16S LifePo4 cells.) I like the 100Ah cells because there are 200Ah at 16S (32 cells total) - Interconnects are easy, plenty of available space for controllers above or behind the pack, and LiFePO4 has good discharge, and cell lifecycle. Can I get them?? who knows... I only found one youtube video of somene in russia with one in hand... not a lot of web info about them.
So that's about where I am up to so far.. Estimated costs (in AUD) are as follows:
Doner Bike (if I can find one): $3000
Motor: $1100 delivered
Controllers $1333 delivered (allowance for 2 just in case the motor can run split phases.)
Batteries: $5333 + delivery (based on $1USD / Ah roughly)
BMS: $500
Cycle Analyst + switchgear: $750
Charger: $500
Engineering and Rego: $2000
Total $14,516 plus a 10% contingency and round up to $16,000. (maybe)
Comments, thoughts and advice welcomed... please
Regards,
Andy