Before I tinkering off the deep end I would like a bit of help please:
Last year I bought a
High Power Li-Ion Battery Charger, Model: HP8204L3
.
It's been a nice little unit and seems pretty solid. I recently switched from LiFePO4 36V battery system to a
10S 37V LiPo
system and this charger still performs admirably. However I must note that I find it caps off the charge a little on the high side at 43.6V, and I would like to trim that down a tiny bit to a safe 42.5-43V range.
Here is a picture of the inside; as you can see there are
3 trim POTs
on the left. The small white 2-Pin Molex connector immediately right of the POTs is for the fan, and the larger 2-Pin Molex to the far right below the aluminum heat sink plate is DC Out +/-
I need just a bit of hand-holding here: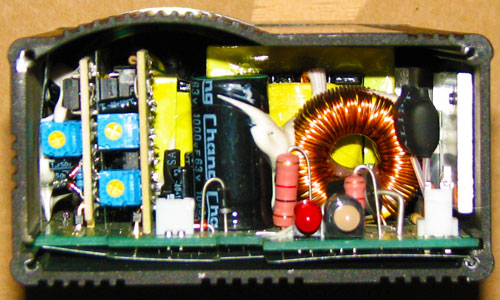 Could one of you fine folks explain which POT adjusts what aspect, identify the test points, and how best I can twiddle this critter down please?
Sidebar
; I actually have another request as well:
Sadly I recently bought three
Meanwell SP-320-48 PSUs
but it's looking like these are more trouble than they're worth to modify.
I am open to alternatives
. Would it be possible to take the
48V/16S 3A LiFePO4 Smart Charger
version and ramp it up to
63V
for a
15S LiPo
configuration?
Thanks very kindly,
KF