My APPs are both a blessing and a hateful experience.
By far this is my most frequent issue: Disconnects and shorting. ARRRG!
I end up having to clean the contacts about every couple of weeks. It doesn't help that I have ump-teen connections in-between the battery and the controller.
The situation:
I have two battery packs, a two-way splice to bring them together, a splice for the 12V supply for the dodgy headlamps, and one for the controller. They all lie above my Top Bar and occasionally get disturbed by my legs thrashing about as I pedal like Mad-Max down the road.
The APP crimpers made a huge difference in the quality of the connections, but nothing can stop the vibration and my interference in their function. I was at my wits end with connections intermittently getting worse with each ride, and especially on the long rides where I had felt comfortable and trusting of my equipment.
Then it dawned on me that I needed to provide some support structure or shield, but what to use? My first thought was to clamp the cable to a big tongue depressor: flat, lightweight, firm; I didn't have one of those. What else could I use…
<rub chin, tap foot>
Ahh! Epiphany
I took a sample of some very thin (0.032 inch) black ABS that I had considered using for making my own aeroshell, cut off about a 2-3 inch piece, put it in a vise and applied the heat gun to it, bending it over, shaping it so. Here's what developed: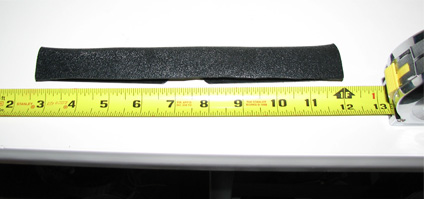 Roughly 9 inches long x 2 or 3 inches wide and folded over.
On the underside cut out a notch; This is needed for the feral 12V supply tap to pass through.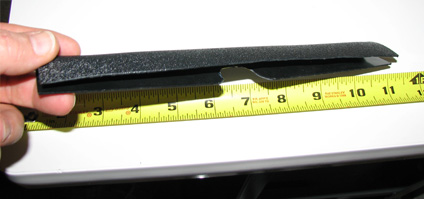 The bend is about ½ inch high and tapers towards one side.
Edge view. Not perfect; closer to anthropomorphic, certainly good enough.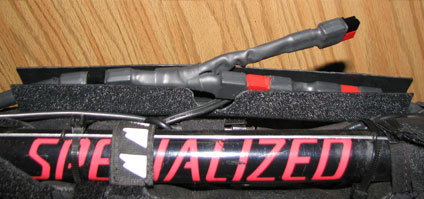 Mounted, curved-side faces the leg, open-side towards the center.
Sharp edges have been shaved, deburred, or otherwise flamed.
Add a couple of cheapy Velcro wraps to loosely hold it down and there you have it.
The first ride I took that was used for testing was the first 101 Club entry; end of my problems!
Enjoy!
KF