Original article: https://www.thunderheartreviews.com/201 ... st_24.html
Queen Battery
, a Chinese supplier of genuine batteries, who specializes mainly on EV and eBike market. Queen Battery has a branch in Europe which works with european customers like me:)
The Boston-Power Swing 5300 is a 3.65V Li-ion cell with a wide working temperature range (-40 to +70°C).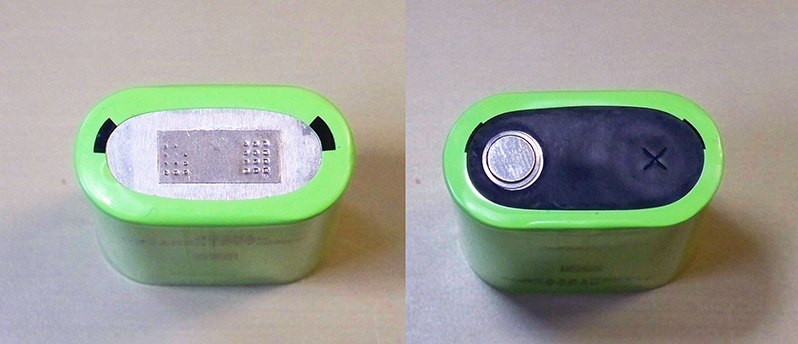 Specs taken out of it's
datasheet
:
Nominal capacity:
5300mAh
(at 0.2C discharge)
Nominal energy:
19.3Wh
(at 0.2C discharge)
Nominal cell impedance:
16 mΩ
Life cycle at 100% DOD:
>1000 cycles
(at 1C discharge)
Discharge cut-off voltage:
2.75V
Max continuous discharge rate:
13A
Standard charging current:
3.7A
, cut-off at 0.05A
Max continuous charge rate:
10.6A
Weight:
93g
Charging temperature:
-20 to +60°C
Discharging temperature:
-40 to +70°C
Dimensions:
37.2 x 64.8 x 19.1mm
I've tested with
ZKETECH EBC-A20
and a self-made battery holder. It's a PC-connected battery tester supporting 4-wire measuring and discharging at up to 20A.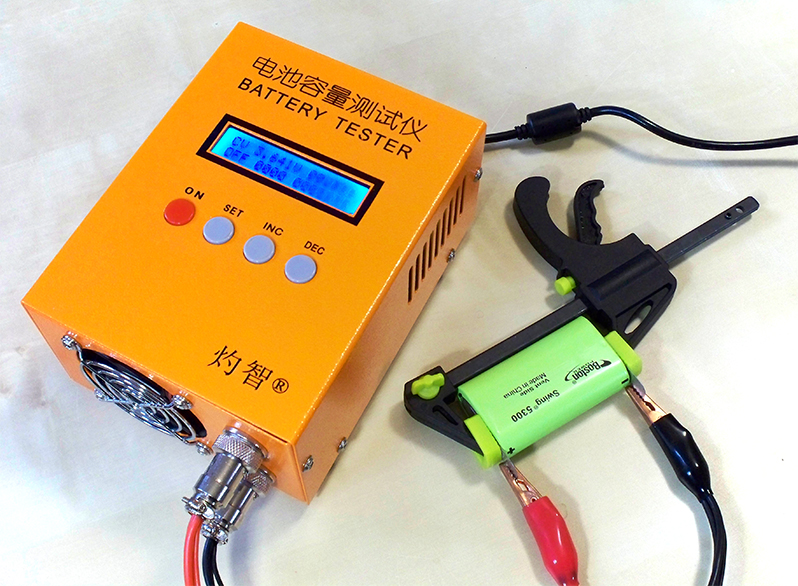 I've tried to follow all the prescriptions of the IEC61960-2003 standard concerning battery's capacity measurement. Before each discharging cycle the battery was charged at 3.7A to 4.2V (cut-off at 0.1A, which is higher than 0.05A allowed by the manufacturer, but it's the lowest supported by EBC-A20). Before each discharging or charging i've held a 1-1.5hrs pause. The environment temperature was 21-23°C.
Discharge cut-off voltage was 2.75V in all cases. I've done a 0.2C (1.06A) discharging to check the nominal capacity, then I've discharged at 5.0 and 10.0A and finished with the max allowed continuous discharge current - 13A.
The results i've grouped together, so it must be easier to compare them.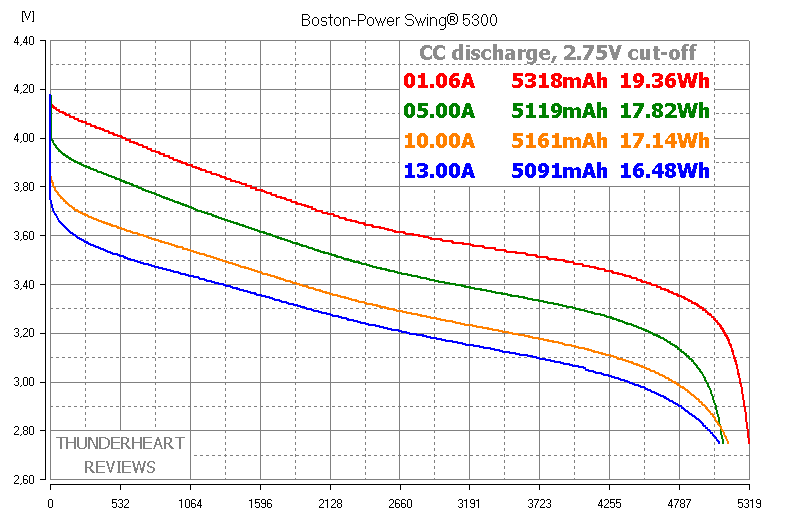 As turned out, the battery is not overrated and at 0.2C it gives out 5318mAh - a lil bit more than the nominal capacity. The amount of energy is also slightly higher than the nominal - 19.36 vs 19.3Wh.
At 5.0A the capacity is lower than at 10.0A, but the amount of energy is higher. This is a normal thing, and the important one is the amount of energy.
At 13.0A the measured capacity was 5091mAh and the energy - 16.48Wh.
The results are good and not surprising for me. This is a high quality cell which can give out almost 5100mAh/16.5Wh at 13.0A. In some cases the prismatic form is preferable than cylindrical and i think it will help to build battery packs with higher energy density than in case of using 26650 cells with ~5000mAh capacity.
Check out
my YouTube channel
for batteries, chargers and other stuff reviews.
In
my blog
where you can find all my reviews in one place. Every new test/review is first published on YouTube and in the blog.