Hello Everybody!
I am building myself a solar trailer for my e-bike for touring Europe next summer. I want something like the one in the picture below: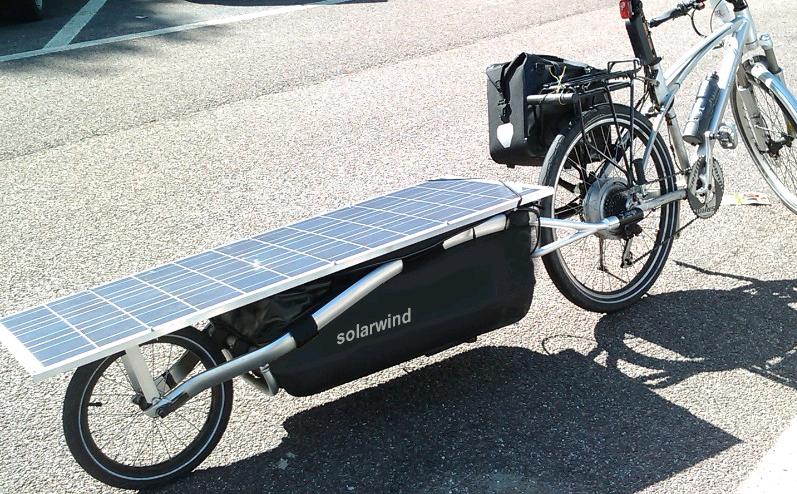 It doesn't need to be a perfect setup. I don't want to break any records, nor spend all my money on it. I just like the freedom of touring without being bound to grid electricity all the time. I'm not the most technical dude, so I prefer to keep it simple.
I bought a bike trailer, solar panel (100 watts , but I will buy another one) and a boost charge controller (genasun GV-8 / 42v)
My bike has a bafang mid drive (250w) and at this moment I have a cheap aliexpress 36v (17.5 Ah) battery pack.
I have read how other people done this, and it seems I got two basic options :
1. Two batteries
Probably the most simple setup. Just buy another cheap aliexpress battery pack, and charge 1 battery pack while I ride (or camp) on the trailer , while the other is connected to the motor and used for riding. I have come up with this list of advantages / disadvantages:
Advantages
double my range (if I am able to charge both packs on a campsite)
reserve battery (in case my cheap aliexpress pack blows up)
It's simple. Not much wiring and soldering
disadvantages
heavy. I have to drag along an extra battery
less efficient ? Power probably get's lost while charging (instead of the motor using it directly)
A bit more expensive, have to buy two batteries (but my batteries also last two times longer)
I have to manually switch the batteries / monitor my charging
2. Charge while riding (only 1 battery)
I think most people do it this way, but it requires more work and technical expertise.
Advantages
Probably more efficient (power the motor directly from solar panels?)
No switching of batteries
Disadvantages
harder to build, more technical knowledge needed. Have to run wires all over my bike and open up my battery pack to make a connection(input port) for charging
I've heard it could mess up the BMS of my battery pack (resetting it all the time). Maybe my cheap aliexpress pack can't handle it very well? Then I probably have to buy an expensive battery.
That's what I could come up with for now. What do you people think about the list? What would your advise be?
I appreciate any input.
Thanks
Thomas.