I got a super deal on a box of 48v 500w 8fun geared hub motors that look identical to the BMC/MAC even uses the same spokes for the wheel build. However when I bought all 5 of them for 50.00 each I didnt pay close enough attention to the controller wiring to see that there was no HALL sensor wires so that is dis-appointment #1 but not a show stopper, I just never have dealt with a non-hall motor or a controller with wiring like this.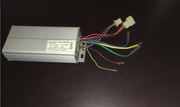 I took the rear wheel off a Fat Bike and un-spoked it and then re-spoked the motor back into the Fat Tire rim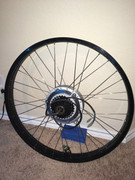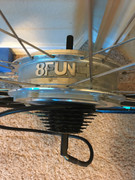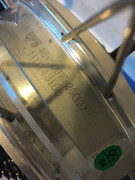 The motors look brand new and I have already built some li-on battery packs for them but I am having problems understanding the wiring and I did not want to blow anything up before I consult the masters.
So on the controller I have starting from the top of the photo down
Connector #1 - Throttle??
Black
Gray
Pink/red
Connector #2
Thin Gauge Red - Possible power on for the controller ???
Heavy Gauge Red - I am assuming power + (positive) from the battery
Heavy Gauge Black - I am assuming power - (negative) from the battery
Connector #3 #4 #5
Blue, Yellow, Green Phase Wires - Those are easy so I know where those go
Connector #6
Thin Gauge Purple wire - ebrake ??
Connector #7
Thin Gauge Yellow with Green stripe - ??
so my biggest question is on the 1st connector. Can that be attached to a standard wuxing throttle and if so any ideas on what color to what. I was going to try the following to my thumb throttle
Black --> Ground (black)
Gray --> Signal (green)
Red -- > +5V (red)
And then on the power connector
Thin Gauge Red -> on/off switch -> 48v Battery
Heavy Gauge Red -> + (positive) battery
Heavy Gauge Black -> - (negative) battery
Then do I need to do anything with the other two Purple wire and Yellow/Green Wire ?