Hi Guys, i got the idea to build an electric bike a few weeks ago and found this forum while researching for the kit to use. I decided on a Cyclone 900w kit with a cycle analyst and Ping 36v 20a lifepo4 battery. All the parts where ordered and the build began, it was decided that i didnt want to use the supplied mounting hardware for the motor so a new bracket was designed and made, having a lathe and ac/dc tig is a big advantage with projects like this. The bike was my Giant Terrago that i have owned for a few years but i didnt want to alter it in any way so the whole instalation has been done without any alterations to the bike, the whole lot could be removed without leaving a trace! The motor is mounted between 2 plates that bolt into bosses inside a box section, these bosses can slide by tightening a screw to adjust the tension of the motor chain.
This threw up the first problem, the chainwheels ran very eccentric making constant chain tension impossible, a new hub was made to mount all the chainwheels on the freewheel (i have asked for a quote on making a batch of these as watching You Tube vids with Cyclone motors shows that other people are running these with wildy out of true sprockets) the new hub does away with dozens of nuts washers and spacers!! I have run the throttle off the CA so it can limit the consumption, it is set for a max 30A (1.5c) and 30 MPH which it does with ease. I dont think i have done a bad job for a first attempt, it took 1 week in total to build it and all of the materials came out the scrap bin, the plastic motor covers and lips around the rack are made from plastic guttering with the shunt and wiring hidden in the trunking behind the controller. The motor mounting is extremely stong being made from 2" alloy box and there is no motor movement under load. The battery balances perfectly on each charge with the std Ping charger, i had the low current one so it can be charged over night. I am quite pleased with this build and impressed with its performance and range but my father in law is having this one as i have a Stealth Bomber on order which should be here soon!
Here are some pics, what do you think?
nearly finished.
the original chain wheel fixings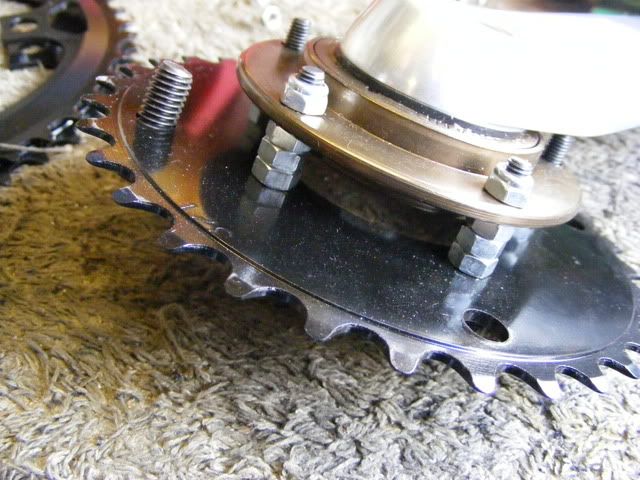 the parts i didnt need with the new chainwheel hub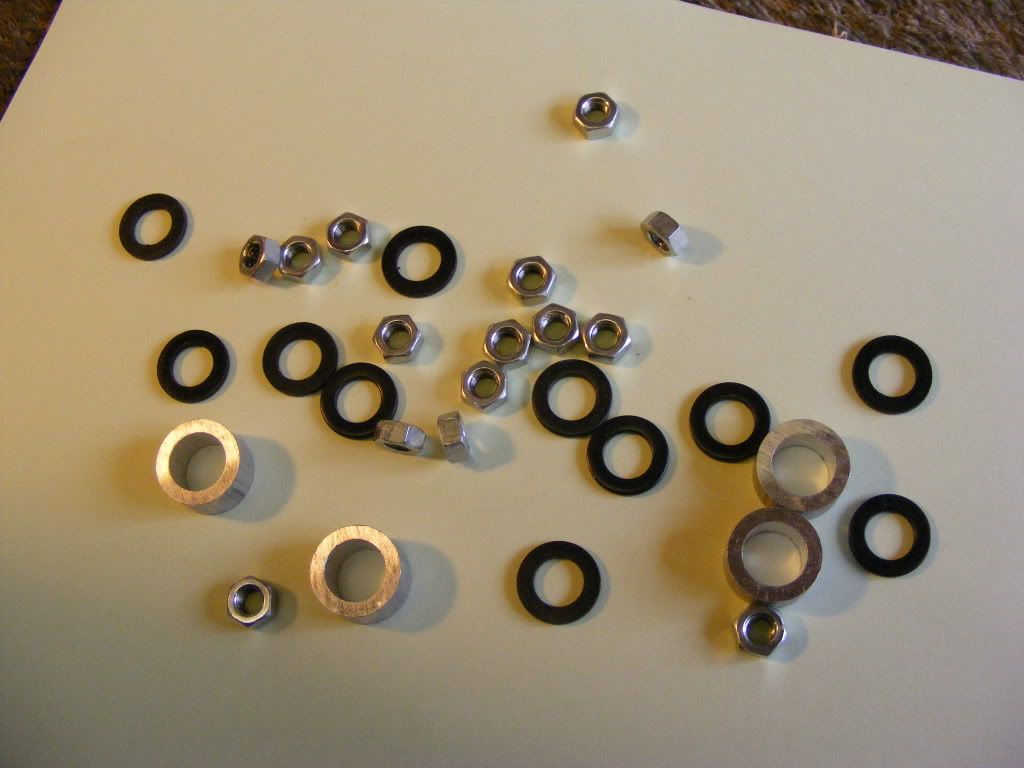 The new hub
Motor mounting