I would like to present my Enduro-build. I like vertriding and flowtrails, with this bike I want to do long trips in the alps with 2000-3000m altitude difference and I won't to do technical uphills.
I got into E-Bikes over my daily commuting, im doing 36km a day and have no problems doing another 30km the night.
I am commuting on E-bikes for 2 years now, since then I am dreaming of an full suspension midmotor-Bike.
I did allready four Hubmotor builds, with the BBS02 it is time to do an full-suspension midmotor Bike.
All parts are here, so lets get started with the frame, Votec is a german hi quality brand. I got the frame very cheap it is a 2011 model, good 4link setup like a specialized, 165mm rear travel(6.5inch) and a lot of space for batteries.
I plan to put the batteries in my backpack, but just in case I want them in the frame:
The ISCG filed down to make room for the motor: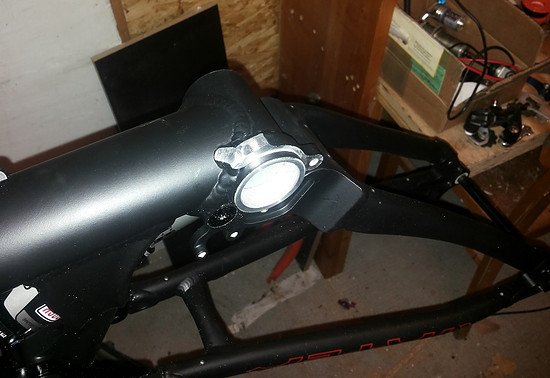 Fitting the Motor and optimize the cable routing. The stock cable routing (along the upper tube and over the rocker) kind of sucks. I installed threaded M4 rivets for that reason on the downtube and the chainstays.
Works Components 1.5° angle-headset for tapered Forks, hard to get but worth the money. the frame will have 65.5° headangle with that Headset thats wat i want
Thats it for now.