I implemented the PAS cadence calculation code. Since is possible to detect the rotation direction, when we rotate pedals backwards, the cadence and torque are reset to zero.
Also implemented filtering of torque sensor signal since it fluctuates during 1 pedal rotation - this piece of code was done for KT motor controllers and is already tested. The idea is to use the original signal and after first full pedal rotation, use instead the max value measured on previous rotation.
Please note:
it will also possible to use as PAS mode (original firmware don't has this feature), were at first pedals rotation the torque signal is used and after only the PAS signal is used (or a mix of both, were the max signal of both torque sensor OR PAS is used). I did that and it was much easier for my kid to ride his bicycle, as he don't has much force to keep press the torque sensor.
And the final calculation was the human power (cadence * filtered torque signal), and that one will be the input for the motor current/torque controller!
The human power signal is not smooth but after being applied to motor current, it will get smooth as that variations are to fast and small for the motor, the motor acts itself as a low pass filter.
I was rotating with my hand, hence the low torque value and cadence.
Red line: original/raw torque signal
Purple: filtered/processed torque signal
Green: cadence in RPM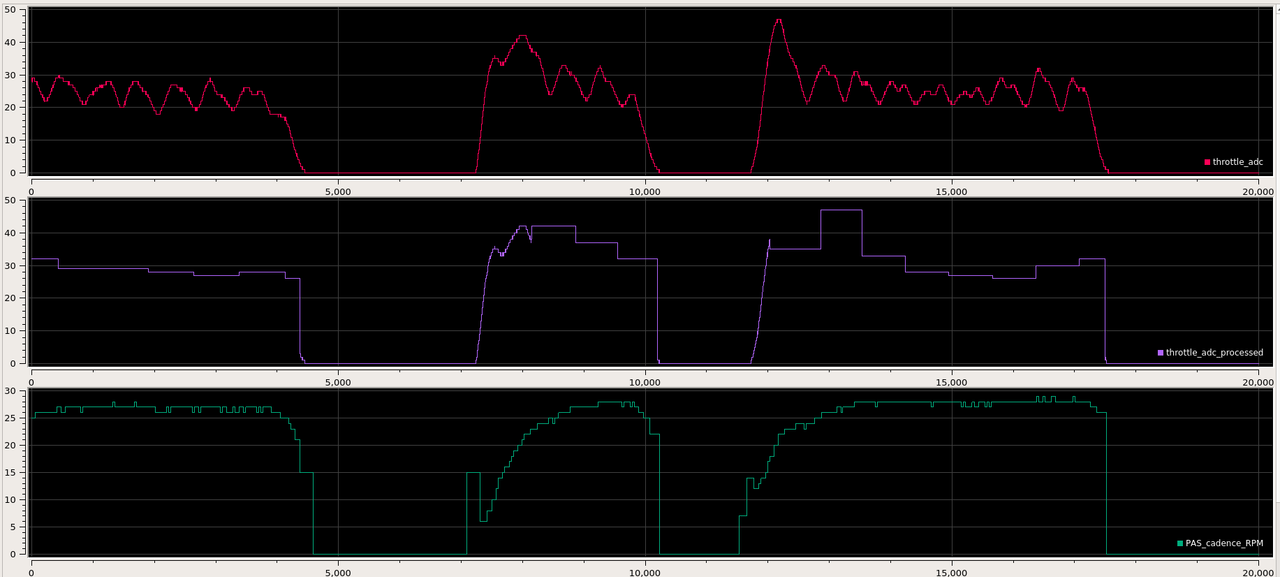 Purple: filtered/processed torque signal
Green: cadence in RPM
Orange: human power (cadence * filtered torque signal)