So i currently have a Cannondale Bent aka 'easy rider'. I thought i had the coolest thing on two wheels, as far as a recumbents go. I feel confident in the bike to travel high speeds, thanks to how it handles all the rough stuff in my area.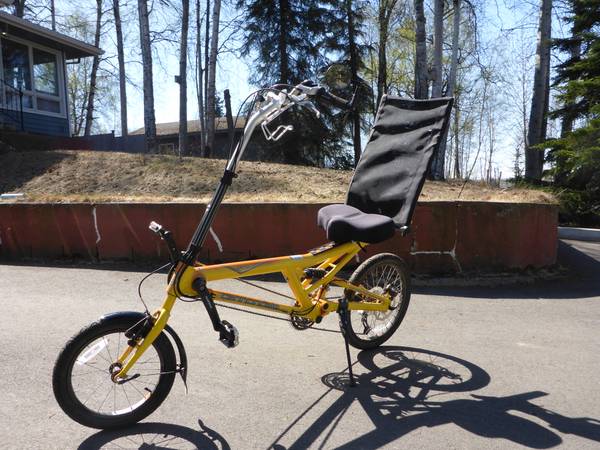 However, there are a couple issues with the bike. The front suspension is too soft for hitting nasty bumps at high speeds, AFAIK that can't be adjusted. The rear end makes mounting batteries hugely difficult. I also don't have the ability to raise the front end to promote a more leaned back ( more aerodynamic ) position. The mid drive also saps a bit of pedal power by introducing an additional chain > gear interface.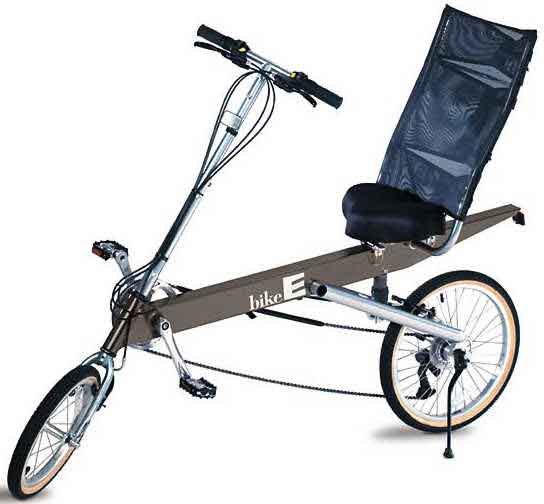 So in my searches, i found the ol' BikeE. The rear suspension only version seems to be the ticket. Constructing a battery platform for the rear would be easy, due to the bike's shape. An 18 or 20 inch fork/wheel could be fitted to the front to make for a more aerodynamic position + soak up some front bounce.
I also have an interesting mid drive concept i'd like to put together with hand tools and the BikeE would possibly be the easiest frame to do it with.
So i have a few Q's for anyone who has owned one of these..
1) Can the rear take big tires, IE 20 x 2.5?
2) Is the rear swingarm/shock sturdy enough to deal with say, 3000w of power running through it?
3) Any other snags, like funky handling at high speeds?