Yup it got to me ... as much as I tried holding back on this I HAD to order me a trike kit from utah trikes.
Took the hint from andrew.box and ordered a frame kit with double wall rims (20") on the front. I think it is better this way but I'll end up buying the brakes I want and components I want.
Bought a crystalite HS3540 from method's like 3 weeks ago on a 20" rim.
My plan is to run this thing @ 20S lipo or maybe 18S lipo still trying to figure out which one.
I bought the controller a while ago and it is being modified by amberwolf to handle more current and bigger phase and battery wires. Fets are going to be replaced too.
I'm working on a 24S a123 monster battery for this thing but in the meantime I would like to start with 3 6S bricks from hobbyking for easy hookup and testing.
My question is this;
do you think 3 of these in series might work well pulling 60-70 amps max from the battery
http://www.hobbyking.com/hobbyking/stor ... duct=21431
I'm not looking to break 50mph with this motor or anything but to have a constant 30mph with bursts of a bit more when needed. If I crave more speed I'll probably add another 6S brick for 88.8V but for now I think 3 will do.
Another thing I want is to be able to fast charge this thing.
Are these nanotech's really good for charging at 2-3C?
Any suggestions in terms of brake and other components I might need. I was thinking AVID BB7's on the front (200mm) with a dual pull lever. Hookworms in the back but have not settled on what tire to use for the fronts.
UPDATE Oct 6,2012
Well some updates and pictures as promised...
Prepping the HS3540 and front 20" rims
Front disc brakes and spindles attached plus tubes and tires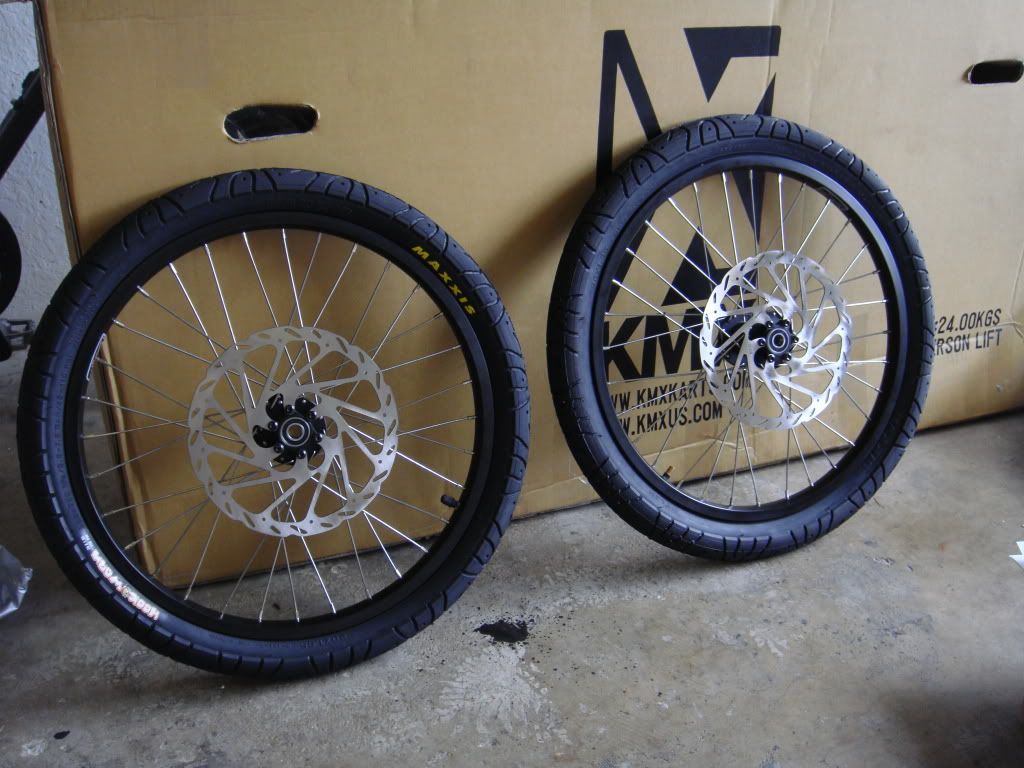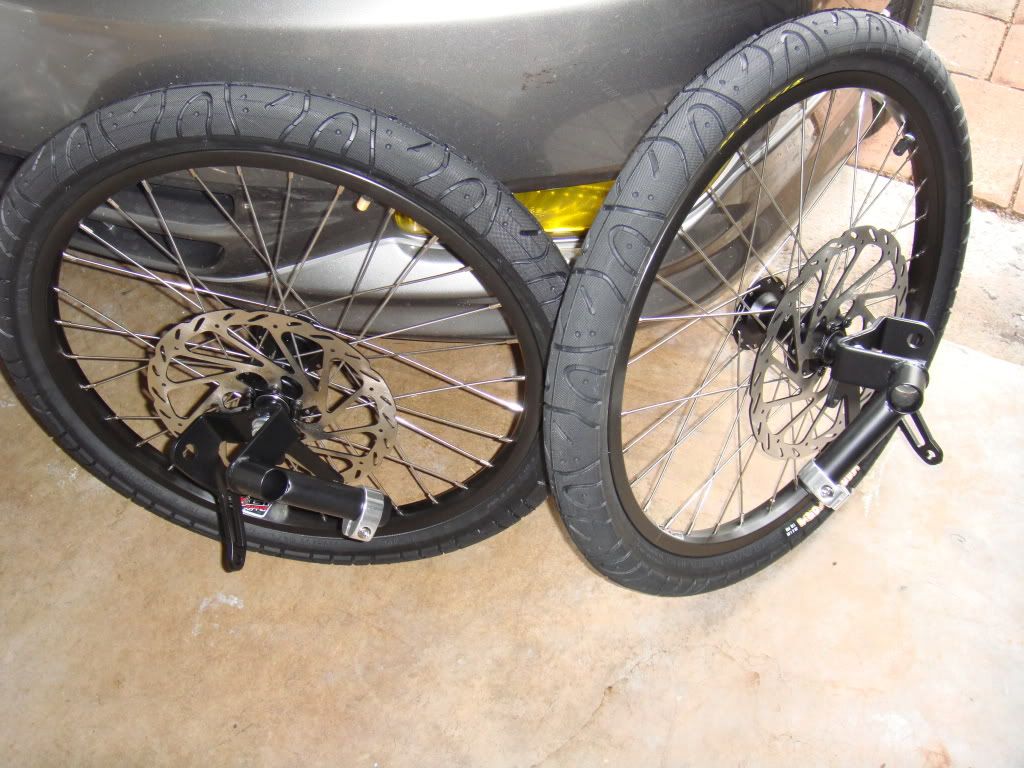 Frame is out of the box to be prepped for the torque arm installation using the DP420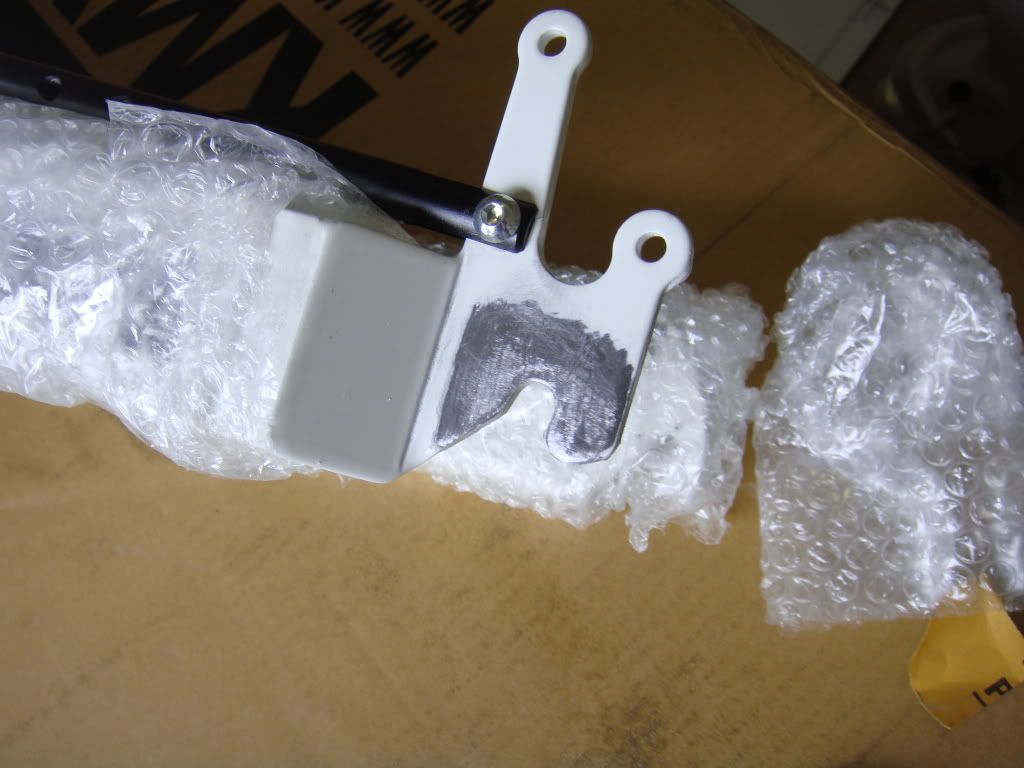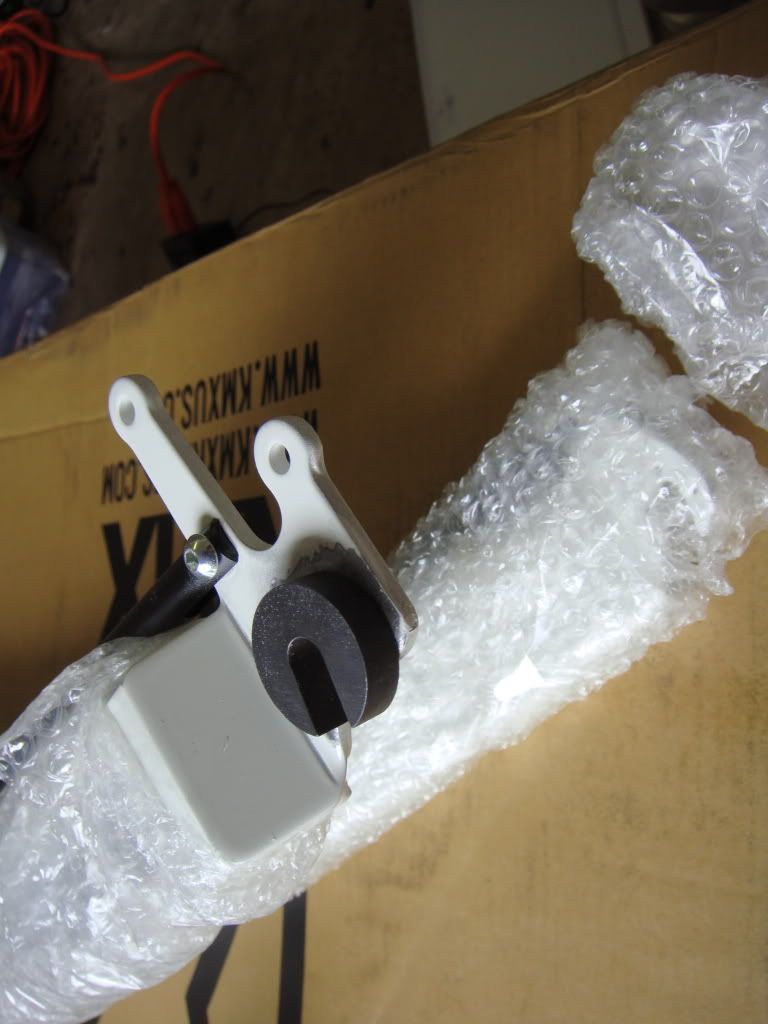 Front left wheel installed
Both front wheels installed
Seat installed too
Added the freewheel to the HS3540, had to make a spacer out of a washer I had
Some bonus pics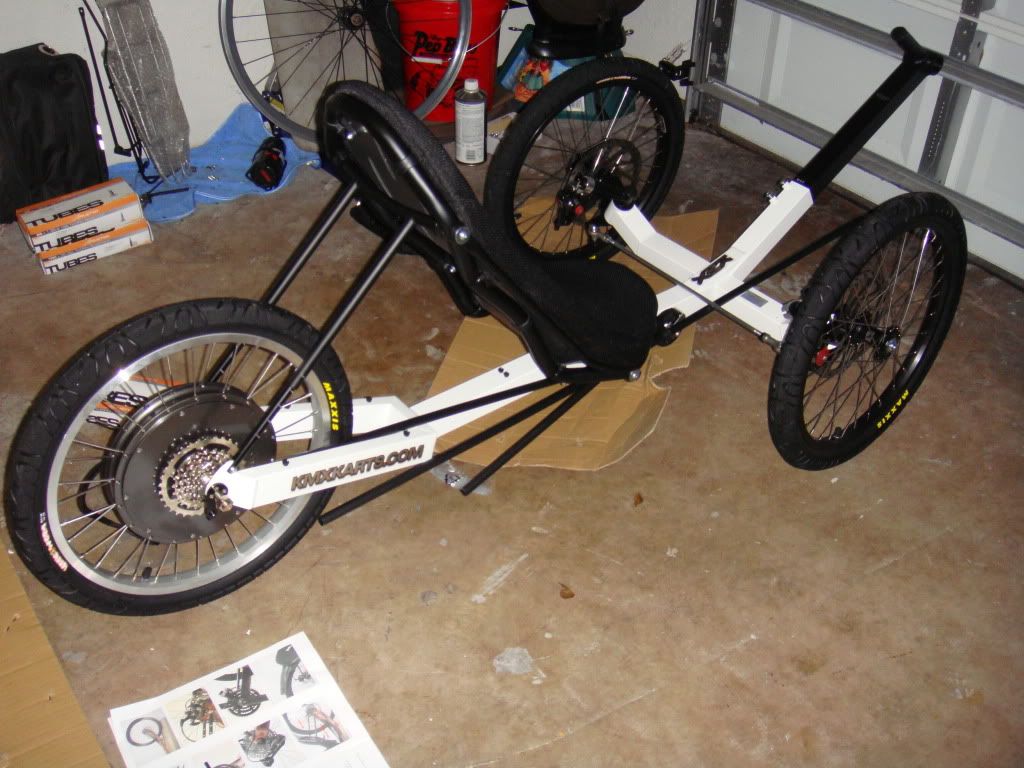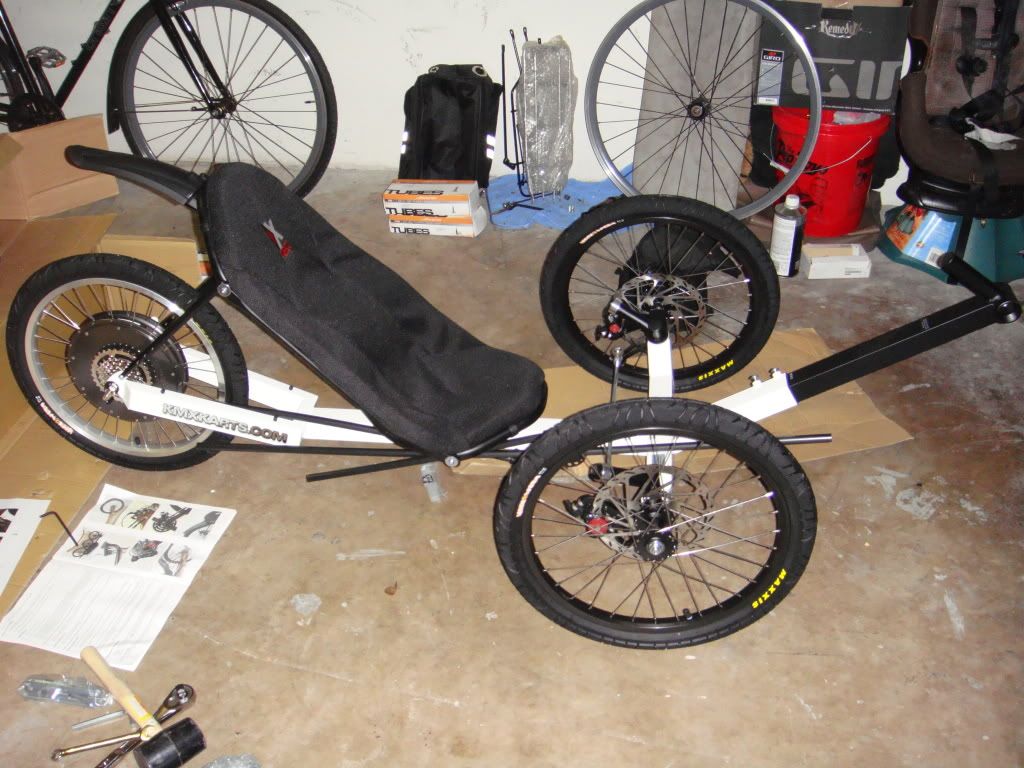 The torque arm I left curing with a heat gun and a carton box @150F for about an hour. Thing is solid now
Still to do;
Install the front brake cables and adjust accordingly
Install crank and pedals
Install chain and rear derailleur with shifter
Lots and lots more....
UPDATE Oct 13,2012
It is running now .... not electric at the moment but everything else runs fine. I'm gonna tweak the brakes and add the shifter cable.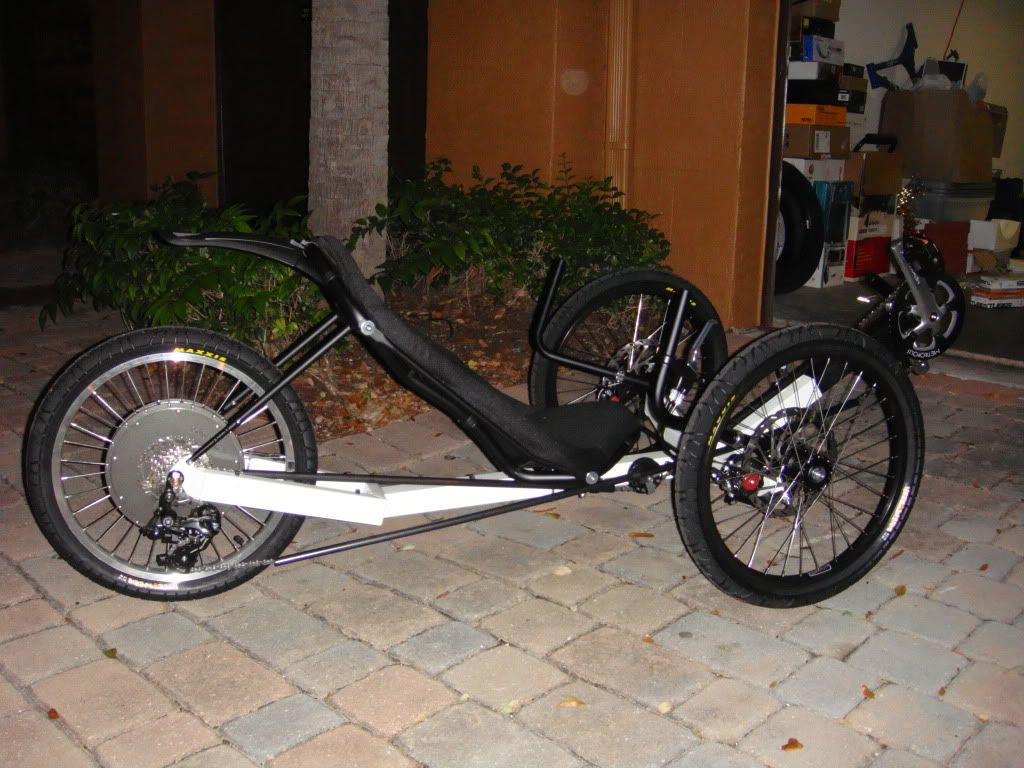 UPDATE Oct 17,2012
Installed the shifter for the rear derailleur. Bought an SRAM grip shifter and cut a wuxing handlebar grip. 7 speeds it is. Now I need to tension the rear chain a bit since it is a bit loose. It still shifts good but i'D like to tension it a bit.
Shifter and Brake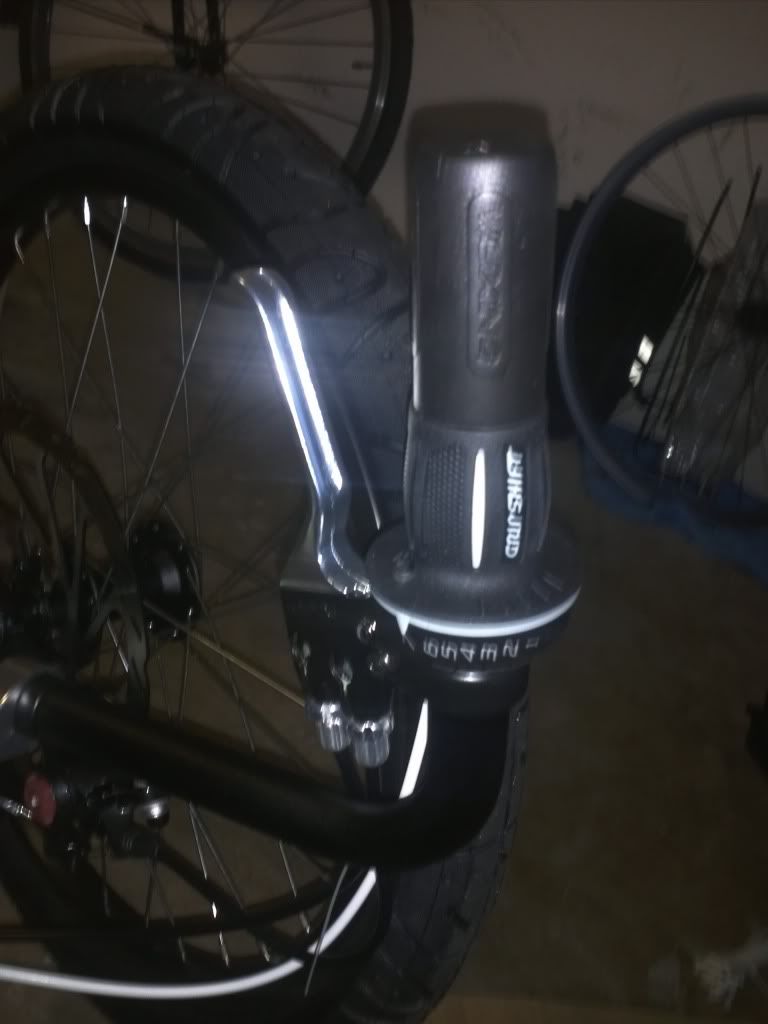 Installed a CA up front and used all the cable routing stops for the front derailleur that I won't have.
CA with a bit of clearance on the right
Left clearance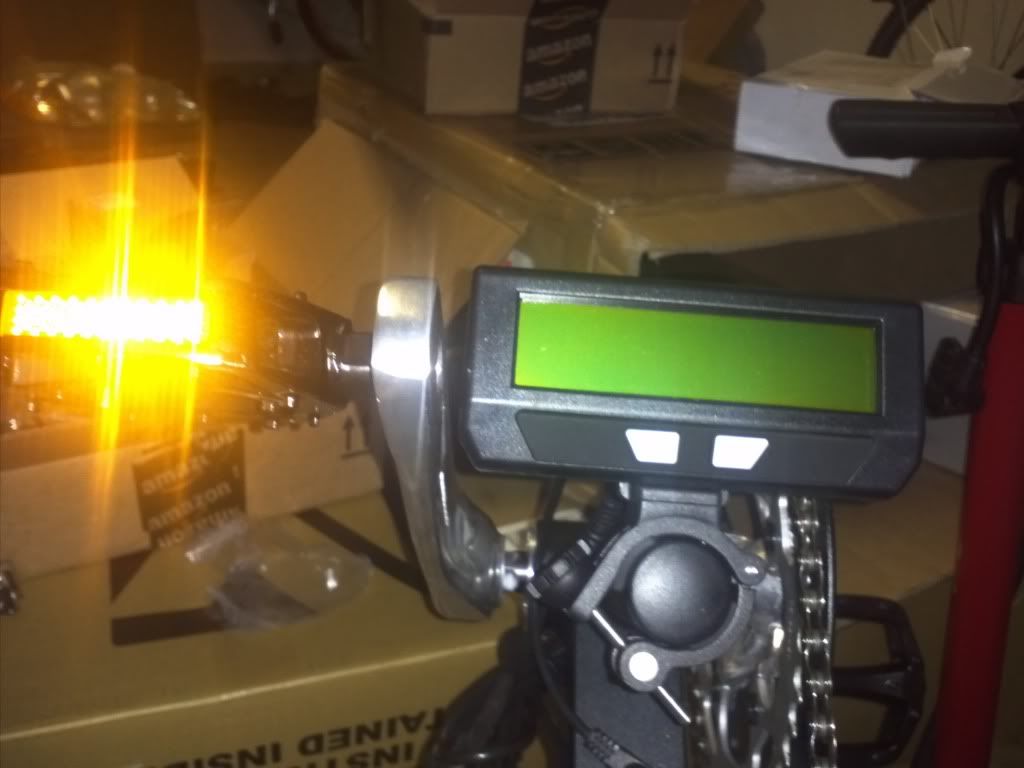 Now onto the throttle ... I bought a throttle from an user here on ES a while ago. Now I got it installed YPEDAL's style. Definitely the best way to install a throttle on these KMX trikes.
UPDATE Nov 17,2012
Well as promised here is all the updated pics of what I think is my new commuter in combination with my idrive. Enjoy!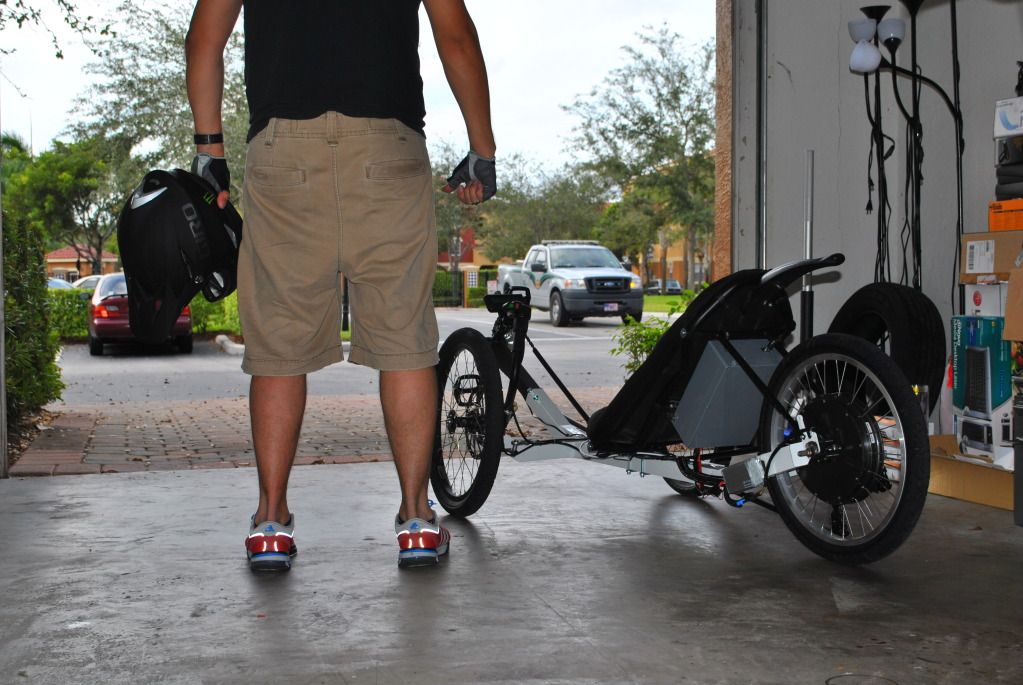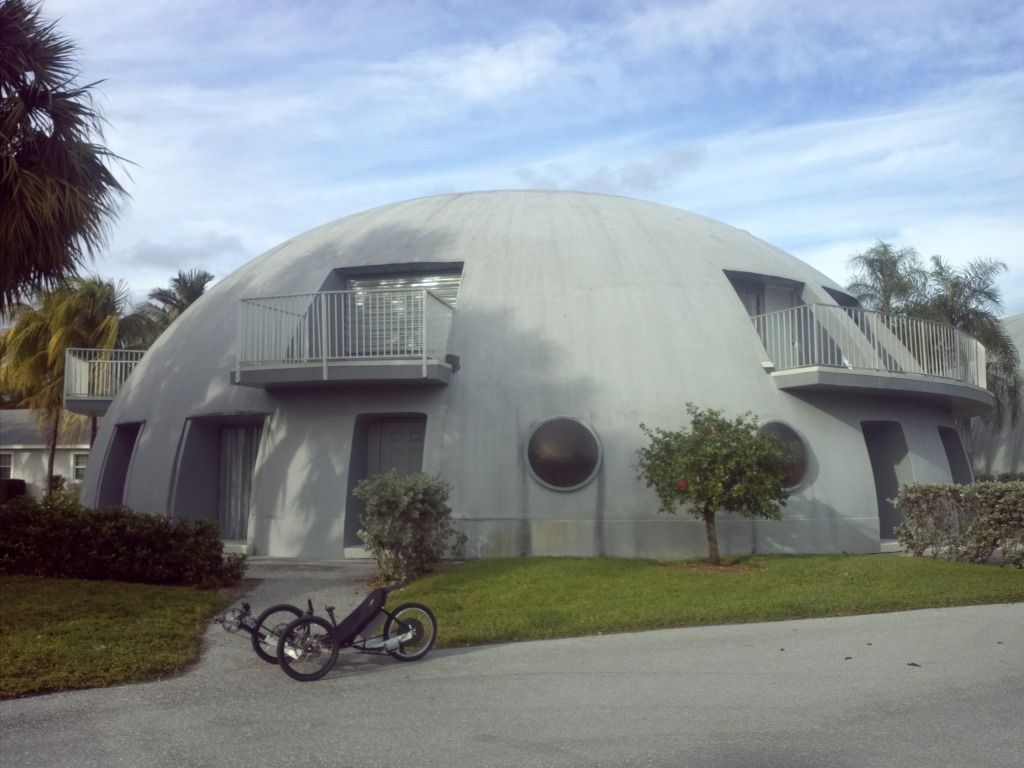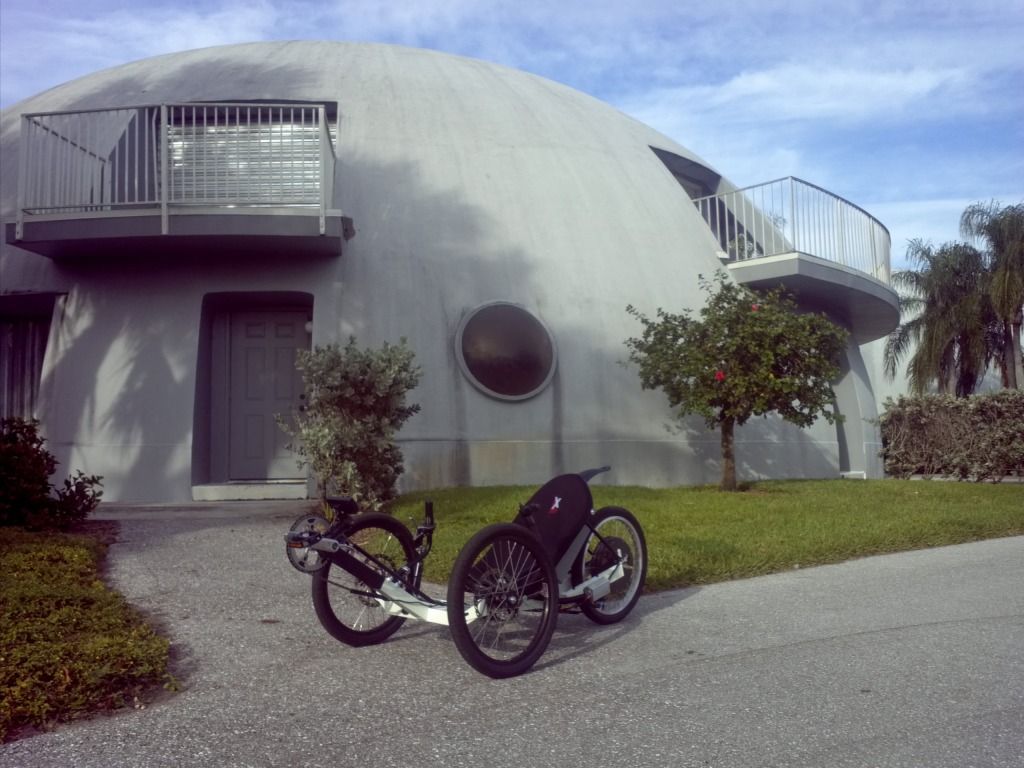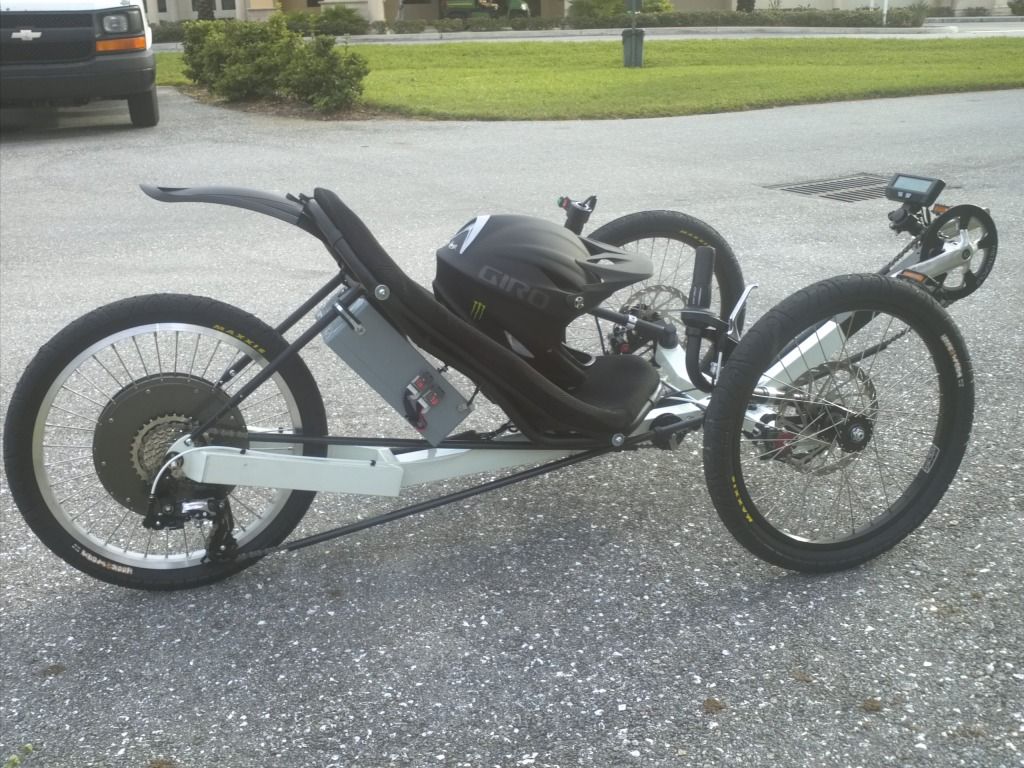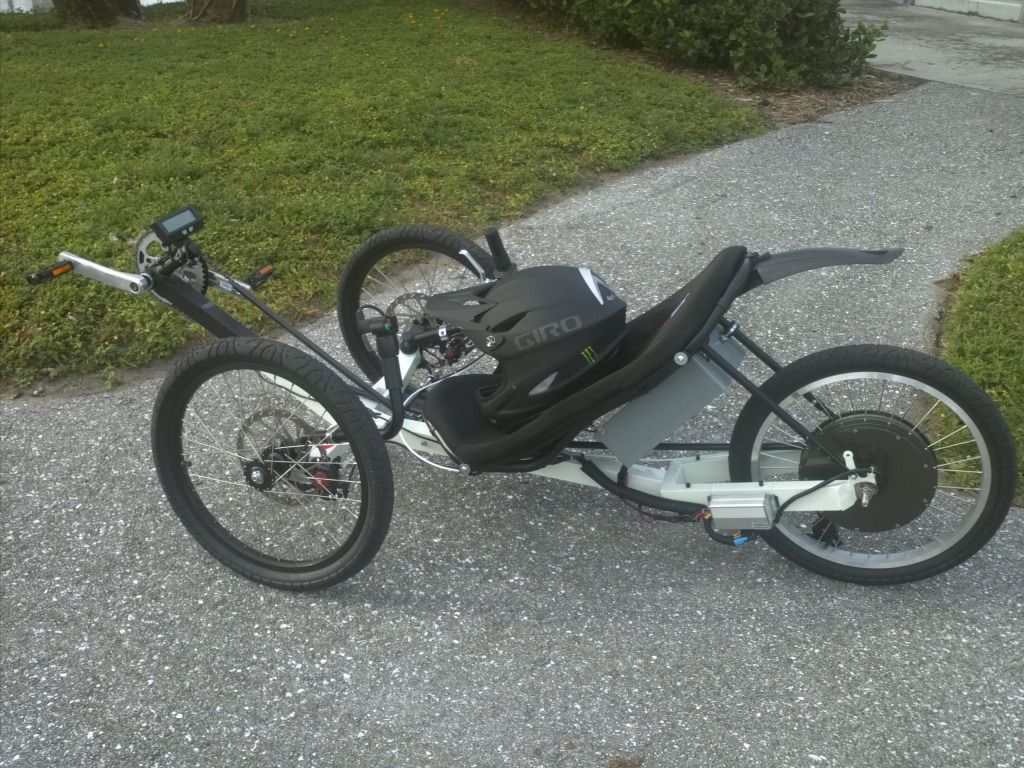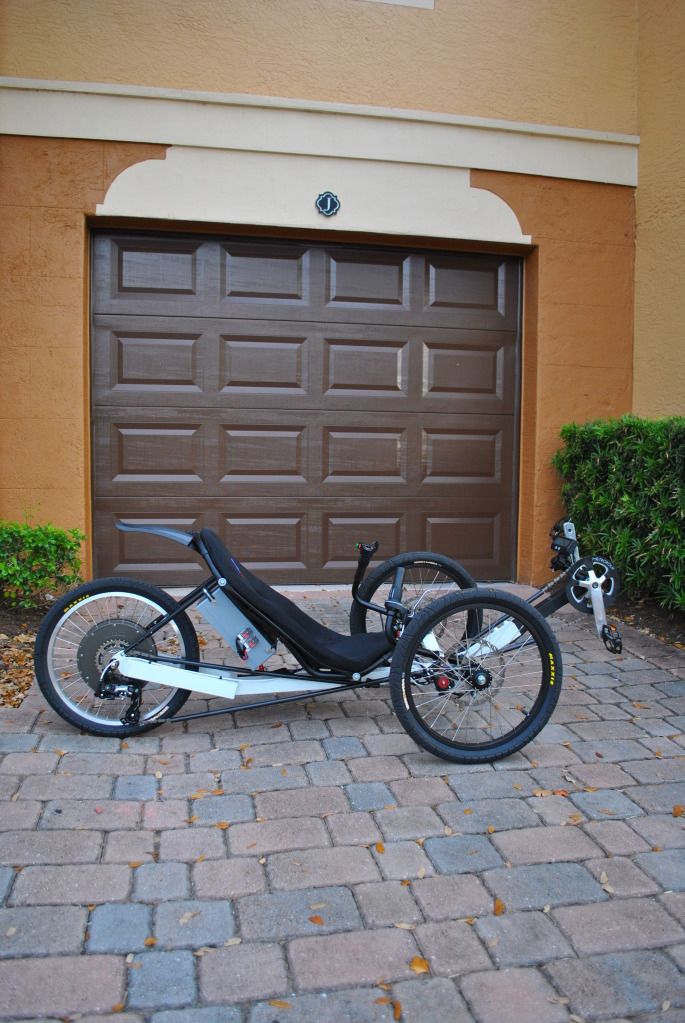 And RIDE STATS
NO REGEN
LOTS OF START AND GO PULLS
NO PEDALLING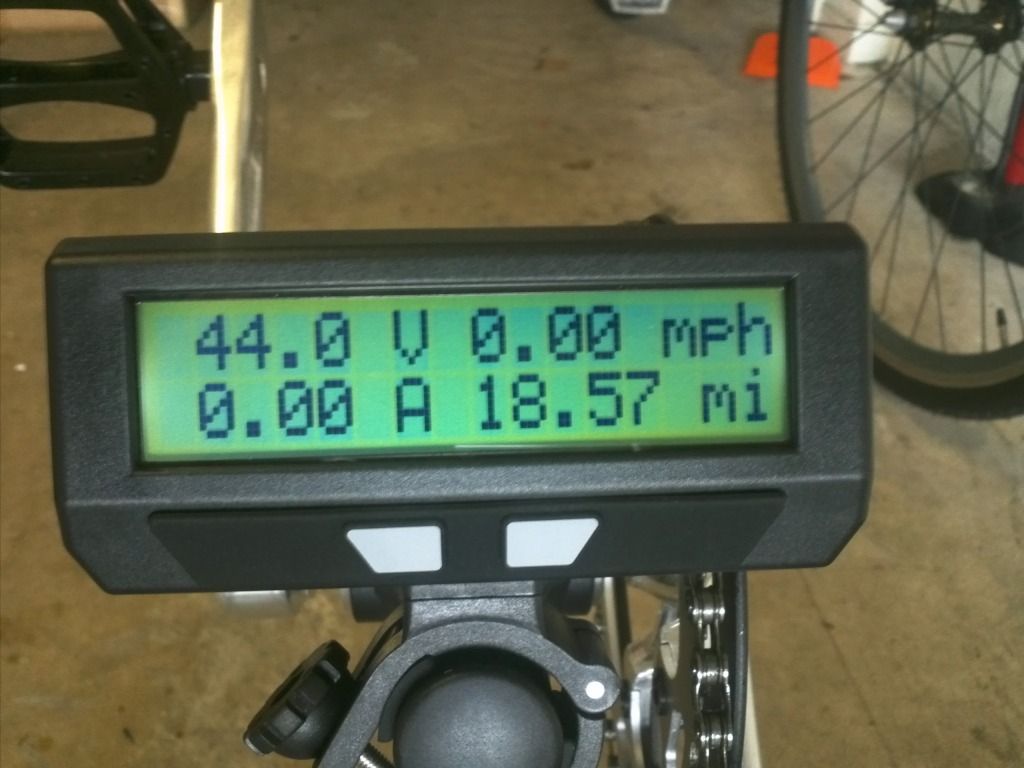 UPDATE Dec 5,2012
Update now with videos
No editing at all , no music. 808 v2 #16 camera mounted on giro remedy cam
The next one will have a cool intro and music.