Hi all, I've been lurking here for quite a while, finally got my first ebike build finished a few days ago and I am wondering if I made a mistake with my setup. I ordered my battery and BBS02 from Eric at LunaCycle, who has been very pleasant to deal with. The battery is a "48v Samsung 18650 20ah ebike battery". I've been riding road bikes for the last 4 years so I'm in decent shape and I tend to ride about as fast as I can. The bike is a 2014 charge plug 4: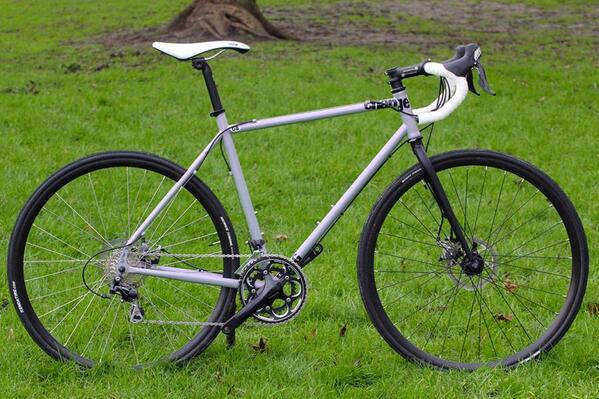 I like the bike quite a bit, and on my old 4 mile commute it was perfect as a regular no motor bike. We moved a ways out of the city, so here is my new commute:
Which I managed to do a few times without a motor but it left me really sore and drained, not ideal. So I bought the BBS02 and installed it last weekend. After a few test rides around the house I rode it to work the last few days. Every time I take off with a full charge, and after about 9-10 miles the BBS02 starts shutting down while accelerating. I believe the voltage is dropping under 44v while under load, causing the unit to power down. The first time it happened I measured the battery and it read 47.8v while disconnected from the bike. I have a little inline voltage meter that I haven't installed yet, so maybe that will give me some more info once I get it setup. Anyways, it looks like I am managing to drain the battery after about 10 miles. I am able to finish the 14 mile commute, but only by reducing the PAS to a low level and keeping my cadence really high. As the battery gets low if I forget to down shift and try to take off in too high a gear it tends to switch off. The first day I rode the bike with the BBS02 I was riding in my old style, only down shifting for hills and starting in a relatively low gear. I enjoy pedaling hard at a low cadence, which is apparently not ideal for mid drive motors. Since then I read that I should keep my cadence high, and I have been doing my best to shift a lot and keep the crank spinning fast. This seems to keep the BBS02 much cooler, but has not solved the shut down after 10 miles issue.
I'm still pretty new to all this, but it seems to me that I could probably switch to a higher power battery and probably get it work on a charge without having to limp along the last 3-4 miles. However, after riding this a few days, I would like to go a bit faster. Most of my ride is quiet and secluded and I would like to crank up the speed a bit, getting to and from work a bit faster than I am able to with the BBS02. I went with the BBS02 as I have a fairly hilly ride (see above map), and I read that mid drive is best for hills. However, I have to slow down to <15mph on the hills, and I would like to go up them much faster. Now I am thinking I may be happier with a more powerful setup. I like to ride hard and fast, and I tend to only downshift for hills. On my regular bike I usually just leave it on the big crank and one of the hardest gears, as I enjoy pedaling hard at a low cadence.
Finally to my questions:
1. Does my hypothesis about the BBS02 shutting off due to low voltage seem plausible? If so, would switching to a 52V battery allow me to ride hard for the full 14 miles?
2. Would I be happier with a high power hub kit? I ride hard and fast, and I enjoy pedaling at a lower cadence in a hard gear. I would like to go 30 mph on the flats and 20+ up hills. This is with me pedaling hard the entire time. I am 200 lbs and I ride with saddlebags with around 10lbs of crap in them. I've seen the 3000w setups on a moped rim, which looks cool but that would sacrifice a lot of stealth, and I would like to stay with 700c wheels if possible. I am thinking of maybe switching to a BMC or MAC geared hub. Would they be powerful enough to get me where I want to go in terms of flat speed and hill climbing power?
Cheers