I was struck the other day by this image: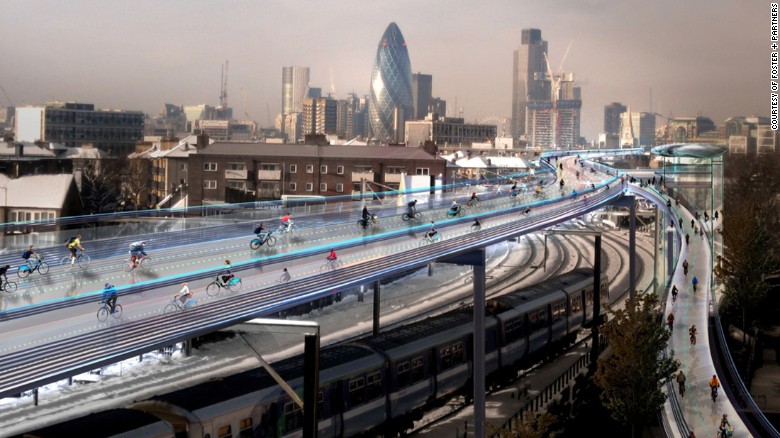 ... watt reminded me about a bit of history. Over 100 years ago, for a time folks in Cali got to ride on an elevated "cycleway":
Wiki entry about the Cali cycleway:
https://en.wikipedia.org/wiki/California_Cycleway
These daze, being an urban-type guy I find myself living beside a major "arterial" road into and out of downtown (rush "hour" slows only for a few hours in the early mornings).
Since posting this thought on FacePlant recently in two local subforums yesterday, dozens of "Thumb Ups" with the usual "Yes, but.." and "Ifs" pointing out other ideas proposed elsewhere like trains hung under elevated rails:
... and the Velo City "tube" where folks are pushed by air pressure "tail winds":
But... Being a sorta "keep it simple" kinda guy... I tend to think that Cali cycleway might be simplest as "low tech" and requiring zero energy other than an ebike/trike or old-style antique pedal-only Poop-Mobile style bike.
So... Several on/off ramps, with "uphill" on ramps maybe with an assist "Norwegian-style":
And by roofing over the road offset construction costs by savings in road maintenance like snow and ice clearing.
Instead of taking up road surfaces by "bike lanes", completely separate traffic by giving bike folks something almost completely safe.
And the "icing on the cake"? To add windscreens along the north edge of the cycleway as solar panels. Like sidewalks and roadways design does already, install this roof/cycleway sloped slightly to have snow and rain slide off.
Anyway. You like? Anything I may be missing?
Cheers
L