So this is how I made a custom heatsink for my phaserunner controller.
for phaserunner info look here:
http://www.ebikes.ca/shop/ebike-parts/c ... unner.html
#
It all started out as a simple thought:
so I went on ebay and ordered a block of aluminum...
I then went over to grins website and got the phaserunner PDF:
printed it out and taped it on the block:
I then marked the holes with a push punch. these are awesome. you just push down, and it "clicks" and makes a mark.
I then drilled the holes. perfect...
then countersink holes for the bolts. perfect.
then carefully secure everything and use a milling bit to make a flat bottom in the hole... perfect
then I went to do the next step and screwed up royally. I cut the V notch on the wrong side. UUUGGGH.
scrap the whole thing.
two months go by.
I start riding the bike to work with no heatsink. It gets hot and does thermal cutouts.
So now I really want that heatsink. Thankfully when I ordered the block of metal on ebay, it was a auction for two.
I have a newborn and a wife that works nights. I get exactly 1.5 hours to make my heatsink before she leaves for work.
Time on.
I redo the steps above to print/mark/drill the holes... I dont countersink anything. No time.
I then put the table saw at a 45* angle and do a best guess for the height: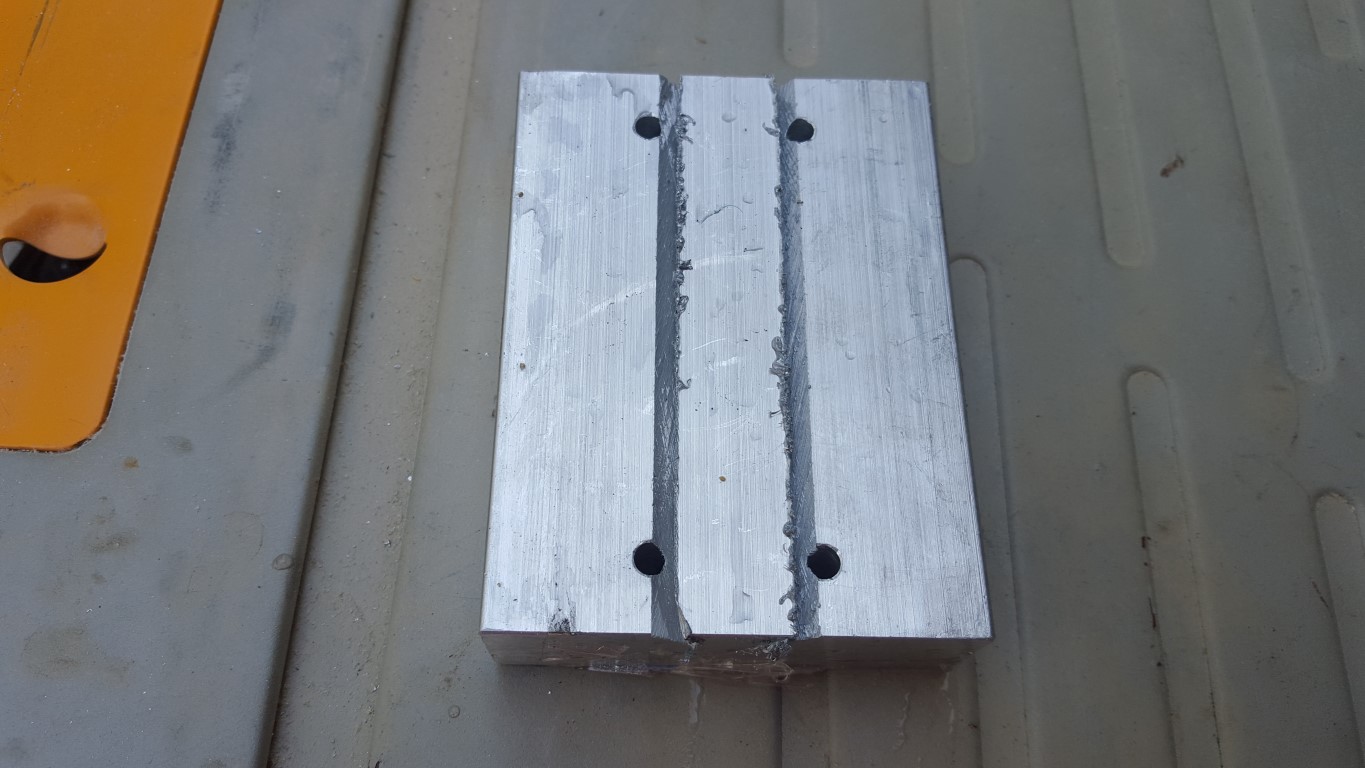 I then sneak it up higher and run it again. repeat until:
Ok now for the next step. I cant just cut the fins on the fence, they would be angled too much to catch air.
the bike is at a 40* angle, so I had a plan.. Make a board with a notch, and it can hold the block at the correct angle.
the plan:
fail.
my table saw only does up to 45*. it cant do 50*.
I try faking it but only succede in wasting wood and time.
New plan. 45*
that works.
I run the fins through.. I quickly figured out that too thin, and they break. so I go in 1/4" increments. with the kerf, that makes roughly 1/8" fins.
very cool.
I hold it up to the bike and mark where the U-bolt will clear the shock.
I very quickly (sorry no time left for pics) drill two holes for mounting. The bolts stand proud right now, so the Vnotch isnt on the frame, but it works to get me to work today. I call it success.