Well, it's been a while since I've been active on this site. After playing with a handful of mid-drive kits, I ended up just getting really into mountain biking.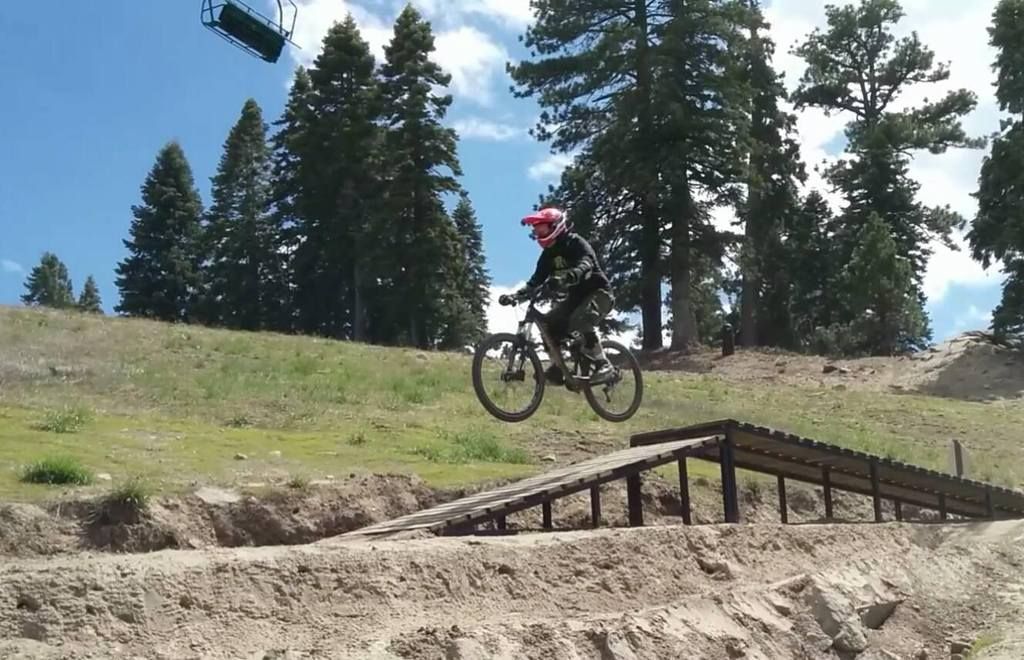 I had stepped away from e-bikes altogether for about two years. It was nice being able to hop onto a bike and pedal and not having any range worries. I suppose I fell in love with the simplicity of things.
Road bikes were never my thing, and my commuter remained a mountain bike.
What actually brought me full circle to e-bikes was actually wanting to get a dual sport motorcycle. Google brought me to interesting places. I was almost going to buy one of those Boom 2000w gromlins. The idea of ditching the lead acid batteries and the sheer weight of it was a turn off. The $1200 price tag was quite enticing, but I knew I'd have to drop another grand on batteries.
Then I thought... why not just get a turn key high power e-bike. Stealth and anything HPC seems out of touch price wise, so I started browsing good ol' eBay and stumbled upon this: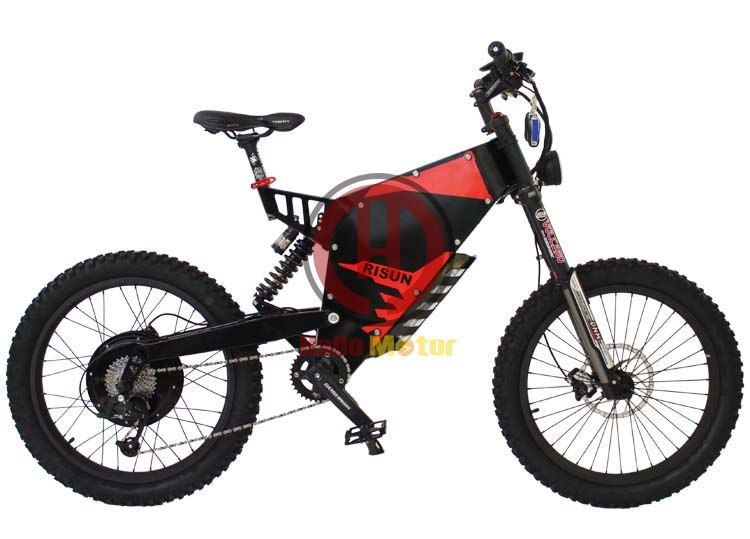 RisunMotor Exclusive Customized e-Motorcycle Style Super Mountain eBike/FC-1 Stealth Bomber Electric Bicycle(Black Frame)

Front and Rear Suspension, cool design for Climbing Mountain!
Very strong steel frame: t=2 mm
Double weld seams
High quality painting

Features of the Product
RisunMotor FC-1 Stealth Bomber Electric Bicycle Frame
Frame color: Black or White
Frame width: 75 mm
Frame Weight: 7.9 kg
Max capacity of the built-in battery pack (lithium ion):
Default: 72V 29Ah (Panasonic NCR18650PF cell 2900mAh)
Optional: 72V 35Ah (Sanyo NCR18650GA cell 3500mAh,costs an Extra $290)
Size of this battery pack: 360 x 140 x 140 mm

Specifications:
1. Frame: FC-1 FRAME
Material: Steel/2mm
Size: 18"
Color: Black Frame/ Yellow Decal Or White Frame/ Red Decal
2. Front Fork: DNM USD-8 Bike Fork
3. Rear Suspension: DNM BURNER-RCP3
4. RISUNMOTOR 34.9mm Aluminium Alloy Seattube Clipper
5. SELLE ROYAL 5130HR Ergonomic Seat with SR BLINKING LIGHT
6. RISUNMOTOR 78*140 Bearing Bottom Bracket
7. PROWHEEL Aluminium Alloy Chainwheel + Cranksets
8. RISUNMOTOR CNC Aluminum Alloy high density bearing pedal, super long life
9. RISUNMOTOR Aluminum Alloy Stand
10. Front wheel:
24x3.0"Front wheel (with 24x3.0" Off-Road Tire or City Tire)
RISUNMOTOR Strong Double-wall Aluminium Alloy Rim
12g Spokes, NOVATEC DH hub (support disc brake)
11. Braking System:
TEKTRO AURIGA E-TUNE (HD-E530) Hydraulic Disc Brake, cut off power
TEKTRO 203mm Front & Rear Disc Brake Rotors
12. Groupset:
MICROSHIFT TS38-8 Rear 8-speed
MICROSHIFT RD-M25 Rear Derailleur
TWKY 8-speed Freewheel
TWKY E8 Chain
13. HONSUN Handlebar, Stem and Seatpost:
Aluminum Alloy Riser Handlebar (Width: 760mm)
80mm Aluminium Alloy Stem
30.9mm Aluminium Alloy Seatpost
14. 72V 3000W 24x3.0" Rear Wheel:
RISUNMOTOR Strong Double-wall Aluminium Alloy Rims
High Quality 72V 3000W Brushless Gearless Hub Motor with 8-speed freewheel
High Quality 18 MOSFET 50A ±1 Sine Wave Controller (Support Regenerative Function, will charge battery during braking).
Can customize 24 MOSFET 70A±1 Controller.
72V LCD3 Display (with 5-level PAS, speed limit, speed display, Cruise, Regenerative Function)
Throttle Drive / PAS Drive (Torque sensor simulated)
Remote start + Alarm + Motor Lock
Full Speed: about 60-80km/hour
15. Battery:
72V 29AH Li-ion Battery (excellent Japan PANA. NCR18650PF 2900mAh 10A 3C high discharge rate cell)
Mileage: About 50 km with pure battery per full charge; about 70 km with PAS
72V 5A Charger (Input: 100-240V, Output: 84V, Charging Current: 5A,
Charging Time: 7.0 hours)
16. Product Size:
Ebike Length: 2000mm; Width: 400mm; Height: Seat to Ground 950-1060mm
Net Weight: (without battery): 30kgs
Net Weight: (with battery): 38kgs
17. Packing List:
Carton Size: 167x27x84cm
Gross Weight: 42kgs (with carton)
Wooden Box Size: 169x29x86cm
Gross Weight: 58kgs (with wooden box)
I'm not sure how accurate the specs actually are, but I've dealt with conhismotor in the past and Jason provides great customer service. I suppose their eBay store gets a lot more traffic worldwide than their direct website.
The mountain biker in me looks at the DNM suspension, Tektro brakes, probably a square taper bottom bracket and cringes a bit.
I don't even want to talk about the drive train, but I'm not looking for a mountain bike. Hopefully I don't have to swap all that stuff out. I don't plan on pedaling this bike much.
All the little features seem sort of gimmicky (alarm, auto start, motor lock), and I have a feeling I'm about to embark on an interesting journey.
The frame looks like a Qulbix 76 clone. I like this design a bit more than the HPC wolverine and EDGE (I forget who made the original design... was it Vector?). I also opted to get the 35Ah battery. Conhismotor has always been good about getting things to the west coast (US) pretty quick.
Like my other threads, I'll post updates, mods, photos, and video (if I can ever find someone to help film). Hopefully it will provide folks some more insight on this bike. It seems like most of the folks on this site are builders, but a lot of other folks find their way here looking for something a bit more turn-key.
Well, time to go fix all the broken picture links from my old threads. Facebook is not a good place to host photos.