I tested about a dozen different LED bulbs, 5 brands from 3 hardware stores, to see over what voltage range they would function. LED bulbs have a built in PWM step-down voltage to current converter that is set to different voltages for different bulbs. Many of these voltage converters are "universal input voltage" where the specified range is 85 - 265V. Many, but not all, also in practice function well outside their specified range. (This is true for a lot of electronics these days, particularly the ones run from a generic power supply in the chord or wall wart if that is a universal voltage PSU. If your eBike or e-project has a 48, 72V or higher voltage supply you can try and see if regular household electronics will run.)
One, Luminus GU 10 mini-spotlight had a particularly eBike friendly voltage range. With in-store specials and eco-rebates I was able to pick these up for $1 a piece (normal price $11/piece) I tested it on 48 - 155V.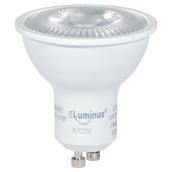 48V 3.5W 350 Lumen
75V 5W 500 Lumen
80 - 155V 6W 500 Lumen
Beam angle is 40degrees. Good for relatively slow cycling. It could be complemented with a $10 ebay light with a narrow angle to have both wide and long throw.
There are multiple GU 10 bulb. The one I was lucky with for low voltage has SKU 5921287939. Others might work. Buy and test one first to see which ones work. I bought mine at Rona. They are also listed at Costco and Amazon Canada. I did not check US, but Luminus is a large brand so likely worldwide.
The GU10 format is about the size of a regular bike light, but one has to make a mount. Two wide zip-ties work ok if tightened firm. Two hose clamps with some tape to protect the handlebar also works. Put one hose clamp through the other. Tighten one hose clamp around the light, the other around the handlebar. Wires can be soldered directly to the terminals, or use a GU10 socket. Insulate the terminal ends with shrinkwrap and/or electric tape.
For a brighter beam, two, maybe 4 lights would fit on the handlebar. To parallel many lights, one can mount them separately on a bar under the handlebar.
All other lights I tested would run bright from about 100V DC. Dimmable lights would come on at lower voltages, but at very low light intensities, so would not really be useful on a 48V or 72V system. Interestingly, while some dimmable LED would dim linearly over 10-100V, I found others that would dim only between 85 and 110V. That is only a small range of the dimmer voltage would be used, and it would be tricky to set the dimmer knob to the desired intensity.