I bought a used Giant Lafree Sport in October, 2004.
I only paid $250.00. Some rich kid lost interest and his mother sold it in a clasified ad in the local paper.
I couldn't restist taking the motor cover off to look at the mechanism. While I had it off, I painted it with OSHA yellow spray paint.
Last Sunday (one week ago) , I bought a disposable digital camera and took some pictures.
Here are the photos: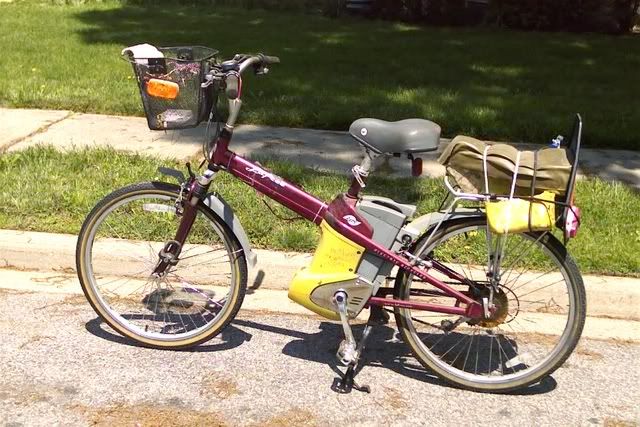 The first thing I bought was the rear rack, which cost $40.00 at the local bike shop (LBS). Then I bought a front basket, which is wire mesh. The holes are small on this basket, which keeps small objects from falling through. Then I made a set of small pannier boxes, just big enough to hold a 12 volt 12 amp/hour battery each. I figured I could double the range of the bike this way. Right now, I have a 12v 7ah in the right box, which provides power to the lights.
Then I topped it off with a fiberglass seat with two inches of foam padding and brown Naugahyde. Then a friend of mine gave me an eighteen inch "Farm Triangle", or slow-moving-vehicle sign.
Here's another photograph:
Rear view, showing the "Farm Triangle":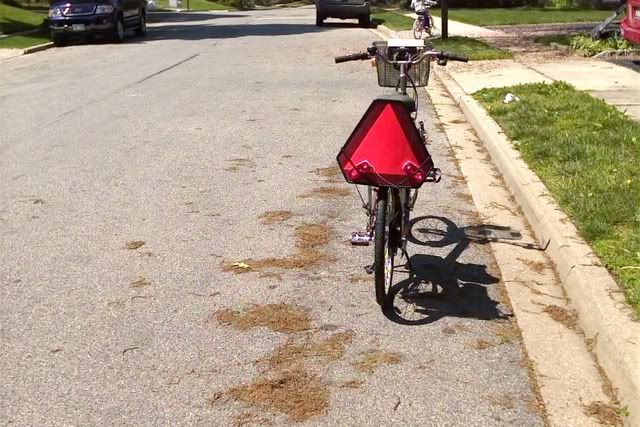 There is a 20 watt halogen bulb wired to the inside of the front basket, visible in this front view:
Just one more photograph:
Right now, the Lafree needs a new battery, it only goes about a mile and dies. I think I overcharged it.