Greetings –
This seems obtuse but I am actually kinda challenged to complete the designs of my custom parts; the bugaboo is fitting the cabling through the weird little M14x10 hole of the Torque Arm. The APP connectors break apart nicely for the 3-Phase and can pass right through the nut and washer without too much trouble. However that 5-pin connector has to be snipped off or rewired or…
Once upon a time I had planned on using the DIN-5 connector however it is also too large. The idea of using a Micro USB connector popped into my pointy little head when reviewing cell phones; they use the Micro USB to charge the device. I needed to know the voltage of the charger in case I wanted to tie it into my battery pack. I think the draw is no or than 90 mA @ +5V.
Anyways – there's two types of Micro USB connectors: A and B. Check out the drawing below…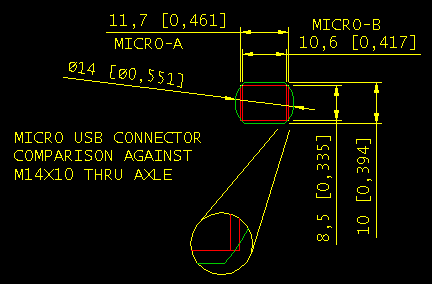 The corners of the Micro-A need to be slightly trimmed to fit, however the Micro-B slips through without modification –
theoretically
. USB 2.0 (April 2007) spec which supports the Micro connectors uses five 28-AWG wires; actually it is 4 wires and a shield. The current rating is substantial for such a tiny connector; easily 0.5A.
I think that this could make a suitable replacement for the White Molex or Black flat connectors. However I suspect that the mating ends will require a tie-down or better yet -
ShrinkWrap
to prevent separation. I'm just curious if anyone else has tried using this connector.
USB 2.0 Spec (zip 11.3 MB)
Plugged in,
KF