geofft

wrote:

↑

May 13 2018 12:18pm

Got a slightly different result to you with this, with all the angles at your defaults I found startup from rest was a little rough with the motor 'growling' a little until the switch to angle interpolation.

Eventually found a setting for MOTOR_ROTOR_ANGLE_STARTUP of '15' gave the best combination of clean startup/good torque for my motor.
I measured with oscilloscope and one of my Q85 motors, I got around 5 degrees for MOTOR_ROTOR_OFFSET_ANGLE. And yes, made difference when I measured the wheel torque with the hook scale.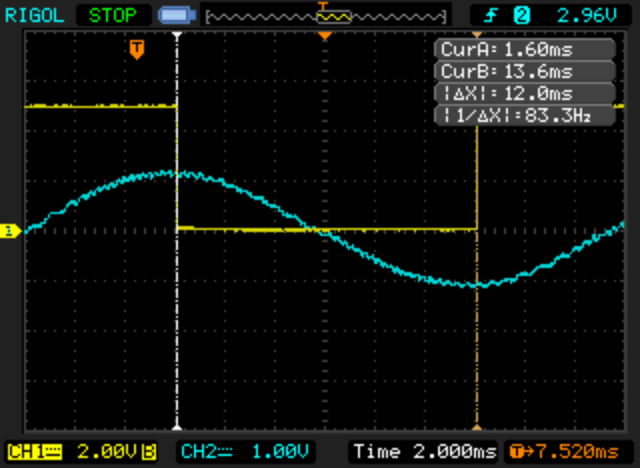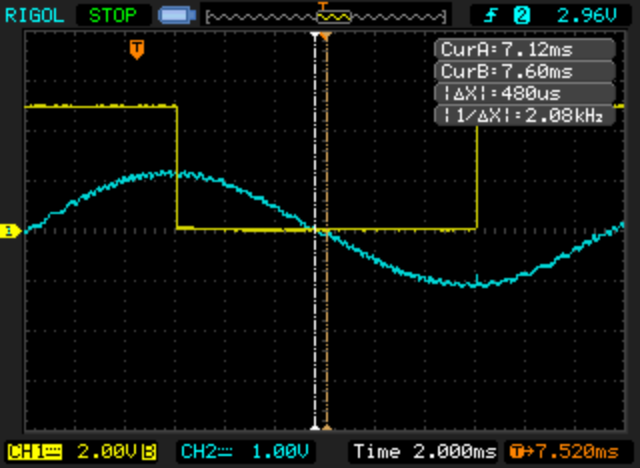 You see, that blue line is the BEMF and it is always at 90 degrees after rotor position, that is why on motor.c, hall sensors signal transition:
case 2:
ui8_motor_rotor_absolute_angle = (uint8_t) MOTOR_ROTOR_ANGLE_90;
In the case of my motor, it is at 90 + 5 degrees. So MOTOR_ROTOR_OFFSET_ANGLE = 5.
I think that maybe or motor is at 10 of 15 degrees and you should adjust instead MOTOR_ROTOR_OFFSET_ANGLE, because FOC will then be at 180 degrees, while adjusting MOTOR_ROTOR_ANGLE_STARTUP only, means your FOC will not be at 180 degrees...
I want to delete from the firmware the MOTOR_ROTOR_ANGLE_STARTUP, as I think that just like FOC, it is always at a fixed angle value. What may differ is the motor MOTOR_ROTOR_OFFSET_ANGLE, that when well adjusted will make the best startup and best torque and efficiency with motor running.
Can you please verify??