Update as of March 21st, 2015
Due to popular demand to use the IRFB4110. I have made a few extra model EC-184110 controllers. In fact, I have sold most of them before I even have got the chance to advertise. Part of the reason is that the 18 FET was originally a special request item from a member. But the word of mouths is making it becomes more popular so I had to make a few extra to keep up the ongoing requests.
* For the extremists, this controller is meant for easy modification without replacing the MOSFETs to IRFB4110 since it is already equipped. You may double and possibly triple the current output to make it a mighty wonder by adding braids wires and add solders to beef up the circuit board traces and shunt.
Updated:October 12nd, 2018
This is a special request edition from my previous buyers who wanted to have more options and do not mind a few extras. This controller is plug & play and ready to program.

See below (Please allow time for the images to finish loading since they are big files):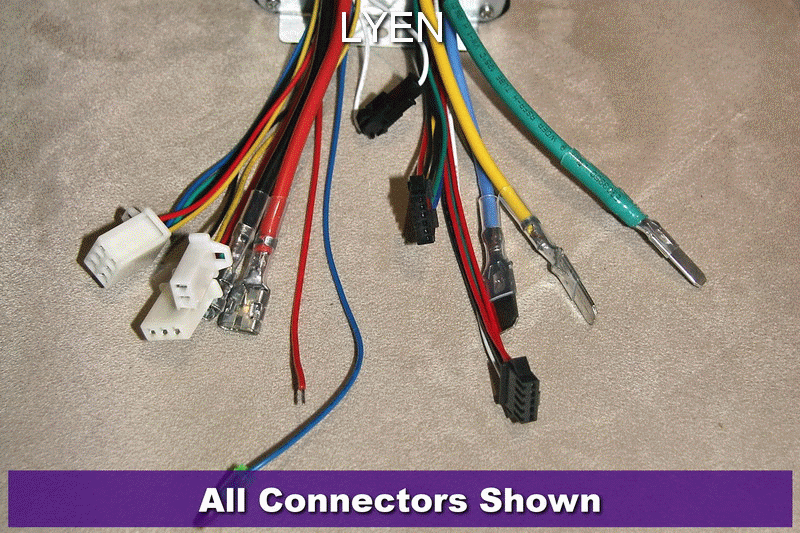 Original description from last month:
These are newly hand assembled Infineon 18 FET controllers I am selling, they are never used. It is originally optimized to be used for the commute in the San Francisco hilly area with stop and go traffic. The best motor to be used is the 9C and the Crystalyte 4 & 5 series.

The controller is like a wolf in sheep's skin because it is under-tuned in order to balance between power and range. There are lots of potential and features you can unveil and twist as you go. You can program functions such as enable power regeneration, regenerate braking, pulse width modulation, low voltage cut-off, interface with a Cycle Analyst, and others. You may also add a USB to TTL serial adapter and connect to the controller for tuning. (Electronics knowledge is required to unleash the potential, however)

If you are going to use a 9C (Nine Continent) motor, it is recommended to stay with the current setup due to the thinner gauge wires being used with the hub motor. There is a potential that any current & voltage combination higher than the current 72V @ 65A will melt the phase wires in the hub motor and cause potential damage.

One unique feature of this controller is that it has an additional speed sensor circuitry built-in with an extra blue wire for output. It is to be used with the scooter style electric bike and electric scooters that have a speedometer in the dashboard. As of April 5th, 2010 the speed sensor wire has been embedded and integrated with the green wire on the CA connector since they both can share the same function now. More practical and less confusion as suggested by previous buyers.
If you look carefully in the pictures, you will notice this version also uses lock washers to secure the FETs internally and the heat transfer bar outside to place tension against a nut after tightening. It is also to help prevent the nut from loosening. The FETs will get overheated and damaged when detached from the heat-sink which used to be the case from the previous designs.
Lastly, there is no compromise for safety. The controller is equipped with silicon and high-temperature wires for flexibility and heat resistance up to 200 degree Celsius or 392 degrees Fahrenheit. The phase wires to the motor are also high temperature equipped. I have also added the high power connectors so you do not have to.
Below is the specification:
Model: EC-184110-LYEN EDITION
Start immediate controller
Chipset: XCKJ8B116A
Circuit board version: EB218-A-3
18 x genuine IRFB 4110 MOSFET N-CH 100V (tested up to 110V before damage) for more information about the FET, click the link below:
http://search.digikey.com/scripts/DkSea ... 4110PBF-ND
)
72V battery optimized (for higher or lower voltage & current such as 36V-100V, you may need to change the resistor network to avoid damage to the voltage regulator)
65A is the current rate (for higher current, you may need to beef up the trace, shunt, and reprogram it via the software)
Low voltage cut-off: 62.6v
Battery and motor phase wires gauge size: 12AWG
Dimension: 9" x 3.4" x 1.75"( 229mm x 87mm x 45mm) plus mount extensions
Total weight: 805 gram
In case you are thinking to upgrade it later onto became Methods-proof, Steveo-proof, and Doctorbass-proof, you may only need to thicken the traces on the circuit board in order to pull a bus like Doctorbass. We have a friend here Steveo who do awesome controllers upgrade for a fee.
I currently have only 75 made as of July 1st, 2013 since I am busy working on my other ebike projects. My intention for selling at such low price is to share the fun with other ES forum members instead of making them jealous.
I finally understand why Methods mentioned the cost of labor is steep after all this and I have to agree with him from now on. These controllers are not generic controllers. I have every single one serialized. Quantity is limited, buy it now and upgrade later once your piggy bank is filled up if needed.
$199 USD free ground shipping in the US & Canada. For other locations, please PM or email me at LYEN@HOTMAIL.COM. I accept PayPal, cash or money order. The controllers will be shipped out from me in San Francisco, California, USA. I will provide a tracking number and ship it out as soon as I have received the fund.

You may click on the PayPal Buy It Now link below to purchase the controller only for $199:
https://www.paypal.com/cgi-bin/webscr?c ... DKCQN23BGL

I can also provide the following add-on(s) in addition to the original:
1. Cycle Analyst connector plug (see picture below)
2. Regenerative braking can now be enable/disable by connecting/dis-connecting a wire with male/female plugs (see picture below)
3. External connector to the USB-TTL adapter
4. USB-TTL programming adapter for this edition. The USB-TTL adapter features a connector that can separate between the USB-TTL module and the controller. The USB-TTL adapter comes with a programming activate switch[/color]

Please click below to purchase the controller with the add-on(s) mentioned above for only $224. ($10 for CA connector, Regen Enable/Disable Jumper, USB-TTL plug; $20 for USB-TTL programming adapter; total = $30 if sold separate)
https://www.paypal.com/cgi-bin/webscr?c ... 68BQJPDG4U




Attached are the pictures of the controller. Please allow time for the images to finish loading since they are big files.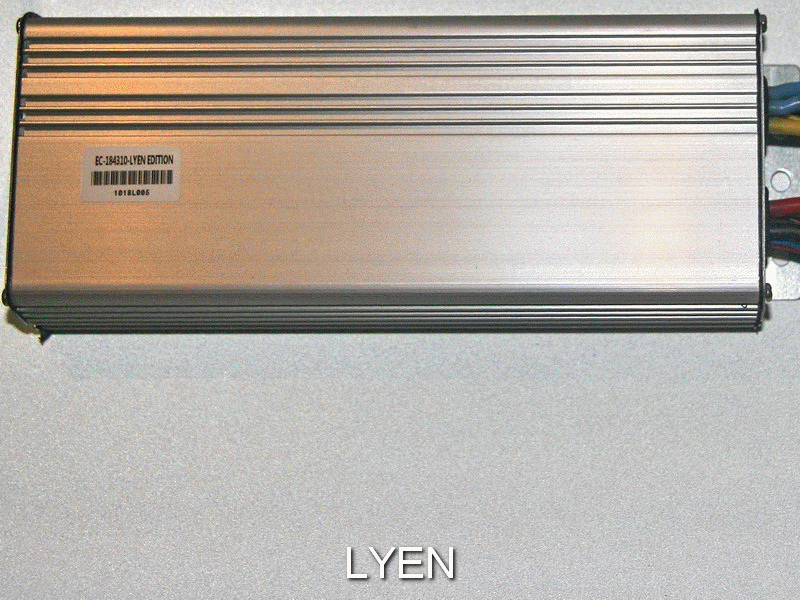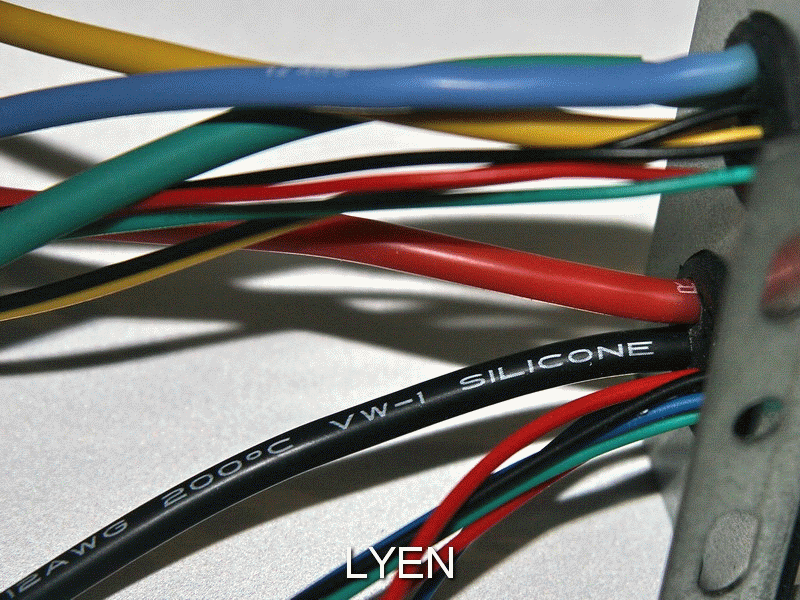 http://lyen.com/Products/Controllers/18 ... tsetti.png

Additional accessories (prices are reflected with controller purchase only. Please contact if you are interested to buy without controller):
$15 throttle (full/half/thumb) with mated left rubber grip (very good quality) (ebikekit retails @ $36)
$19 cruise control (manually installation required)
$15 three way speed switch (manually installation required)
$15 PAS - Pedal Assist System add-on (manually installation required)
$15 electric brake levers a pair
$29 motor/controller hall/phase/throttle tester