QS Motor 12inch 1500W~5000W 260 Electric Scooter Hub Motor
For 12inch E-Scooter wheel hub motor, it could be used for electric scooter, electric motorcycle.
260 motor means the diameter of iron ring/hoop of rotor is 260mm, for all 260 motor, e.g. 12inch,13inch & 14inch 260 e-scooter hub motor,
etc., the configuration & performance are the same.
There are four widths of wheel,
1. Narrow Tire 12X2.15inch, max. 1500W 260 30H V1
2. Middle Tire 12X2.5inch, max. 2000W 260 35H V1
3. Wide Tire 12X3.5inch, 1500W~5000W
4. Super-wide Tire 12X5.0inch, 1500W~5000W
(Newest!)
Super-wide Tire 12X5.0inch, suit for 165/55-12 Tire.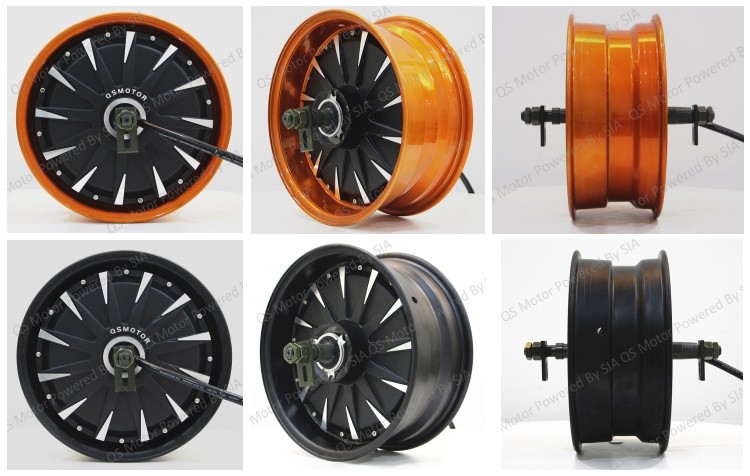 1st side cover design, black (as default)
black rim with orange cover
black rim with white cover
White rim with white cover (Luminous)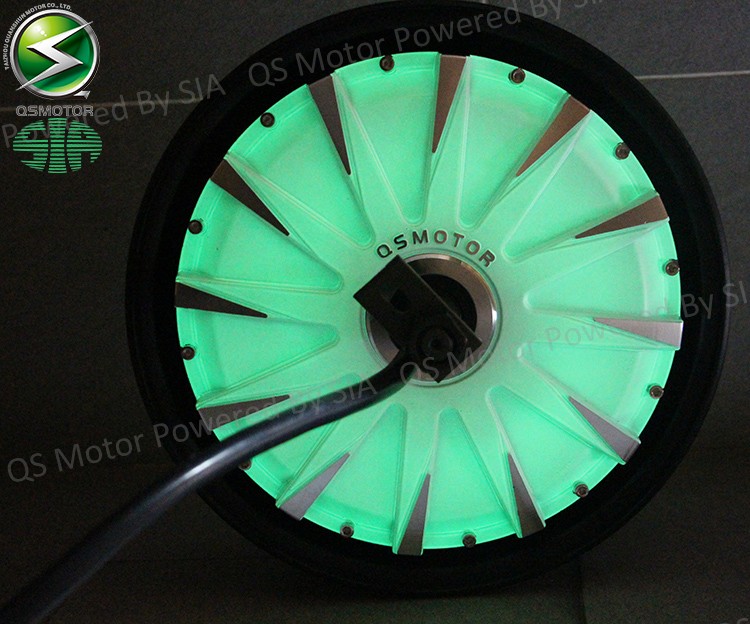 Orange rim with black cover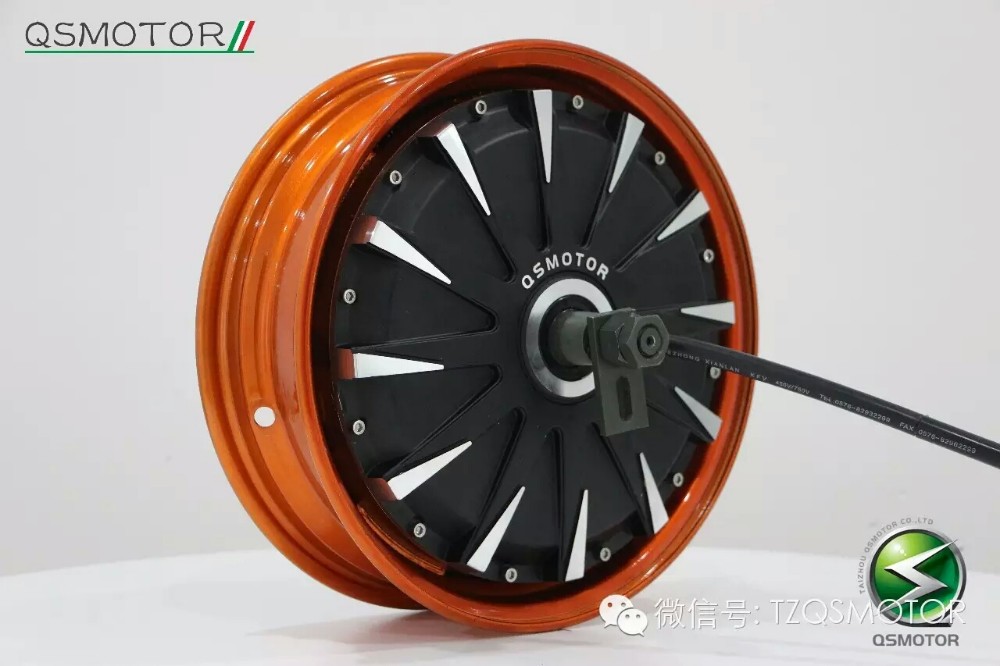 Orange rim with white cover
Due to our understanding and feedback of customer,
for 205 3000W motor, the max continuous power could be 6000W, peak power 12kW (even 18kW).
For EV enthusiastic, they could input more power to enjoy the high performance, but the motor might suffer from over heating or even burnt.
For EV Manufacture, we should notice the potential performance of motor, and keep some allowance for the whole e-scooter kits.
include motor, controller, battery. to get them as stable as possible & decress the repair rate (consider all the usage environment).
E.g. 3000W as continuous rating power.
QS Motor Specification (e.g. 1500W 260 30H V1)
Motor Type: BLDC Outer Rotor In-Wheel Hub Motor With Hall Sensor
Brand: QS Motor,QSMOTOR
Motor Design: Double axle with 12inch moped rim (integrated)
Rim size:12x2.15inch(Narrow Tire as default), Matched tire:90/90-12 etc.
12x2.5inch(Middle Tire), 12X3.5inch (Wide Tire), 12X5.0inch (Super-Wide Tire)
Magnet Height: 30mm
Stator: Iron Core
Rated Power: 1500W,
Speed(customizable): 30-50KPH, 48V-96V
Max Torque approix 141N.m
Thermic Probe: KTY83/122 (as default)
Max Efficiency above 86%
Brake type: Disc brake, PCD3*80mm-M8, CB 58mm(as default)
Drop-outs: 200mm
One Hall Set with normal connector
6mm² Phase Wire (not include insulation)
Waterproof Grade: IP54
Color: Black (as default), Yellow, White
PS. Temp Sensor Options: KTY84/130, KTY83/122, 10K@25C NTC(model MF58-103F3950).
QS Motor could work 120 ℃ in half an hour without damage.
Suggestion (Setting of Controller)
When it's 130 ℃ inside of motor (in 30s), the current should be limited 50%.
When it's 150 ℃, the controller shut down. When it drop down to 110℃, the controller work again.
More QS Motor Informaiton:
Optional Appearance
Motor Details, drawing(12X3.5, 12X5.0)
For more information, please feel free to contact with us.
How to find suitable hub motor
To customized a suitable motor, could you pls. inform below points:
1.E-scooter, E-tricycle or E-car, tire model?
2.Volt and wattage of motor, Speed(kV), and torque/climb angle ?
3.Your vehicle weight and loading weight?
4.Lithium or lead-acid Battery?
We could suggest most suitable motor accordingly, thank you for your cooperation.
PS. To calculate the speed, v(km/h)=n(r/min)*2rπ(m)*60/1000, n=load RPM, r=tire radius.
For speed less than 100KPH, consider the Windage Resistance & Rolling resistance.
the load RPM is appr 0.9 * no-load RPM. v(km/h)=0.9*n(r/min)*2rπ(m)*60/1000
For over 100KPH, V=0.85*RPM*2rπ*60/1000
Application
For more information, refer to below link on official web.
http://www.cnqsmotor.com/en/article_rea ... r/562.html
No QS Motor, No Super EVs!