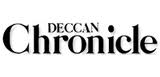 (Wiki:)
Deccan Chronicle is an Indian English-language daily newspaper. It is published in Hyderabad, Telangana by Deccan Chronicle Holdings Limited (DCHL). The newspaper's name derives from the originating place, the Deccan regions of India. The newspaper has a total readership of over 10.88 lakhs (1.088 million).
So, let's talk green: Clean vroom….vroom….!
http://www.deccanchronicle.com/lifestyl ... lanet.html
Article headed:
The organisers of Formula E have gone beyond everything and are doing some amazing work in raising awareness for electric vehicles.